Call Tracking for Lawyers: Complete Guide (Including 5 Top Software Choices and 5 Best Practices)
On average, it takes eight touchpoints to convert a potential customer into a paying client – and that's only if you're using the right marketing strategies.
If you're not, you're losing customers to law firm rivals and wasting money on ineffective marketing tools that aren't converting leads.
To spot trends, implement successful touchpoints, and build smoother customer journeys, you need a simple yet powerful law firm marketing tool to help you understand where your clients are coming from.
That's where call tracking for lawyers comes in. This tool helps you:
Trace which campaigns produce the most conversions
Learn more about what your prospects want
Reduce time and money spent on marketing
Capitalize on more leads and boost revenue
In this article, we'll look at how call tracking for law firms works, what its benefits are, and what to look for when choosing the best tools.
If you need immediate help choosing legal call tracking software, jump ahead to see our top five picks.
What Is Call Tracking for Lawyers?
Call tracking is a process that captures data from inbound calls, which you can then use to check how effective your marketing campaigns and customer service are.
For example, it can help you determine which ad campaigns drive the most phone calls and win you the most clients (conversions).
Call tracking is becoming more popular, meaning it's worth looking into just to keep up with your competition:
Global Call Tracking Software Market 2016-2023 (US$ Mn)
How Does Call Tracking Software Work?
Call tracking software helps you trace where a call came from, how a caller found your practice's number, and even why they called.
Traditionally, you'd need to ask your caller how they found you and record the details manually, either on paper or on a spreadsheet.
A call tracker does all of this for you by using dynamic phone numbers.
Dynamic numbers change depending on your callers' behavior. For example, people see different numbers to call when they:
Find your website using a specific search keyword
See a Google Ad
Read a specific page on your website
Visit your website at a particular time of day
Dynamic Numbers

Can Be Used For:
Visit Your Website At A Particular Time Of Day
Find Your Website Using A Specific Search Keyword
Read A Specific Page On Your Website
See a Google Ad
Trackers create different numbers to build unique marketing profiles for each caller, so you can see when they called, where they started their journey with you, and what piqued their interest.
The Benefits of Call Tracking for Lawyers
Call tracking gives you valuable insight into how to turn callers into clients, leading to a number of benefits.
Here's why call tracking makes all the difference to your law firm marketing campaigns.
| | |
| --- | --- |
| Benefit | Why it matters |
| Improved marketing attribution | With call tracking data, you know which marketing tactics are successful and which ones to ditch |
| Better visibility into client intake trends | You can understand why converting legal clients call your firm and focus your marketing strategy on the right niche (and their specific needs) |
| Better marketing return on investment | You can focus your marketing budget on channels that produce the most conversions, e.g., Google Ads or email marketing |
| Improved conversion rates and fewer lost leads | Call tracking helps you follow up on repeat or missed contacts – you have potential clients' phone numbers and insight into what led to them call you |
The Drawbacks of Call Tracking for Law Firms (and How to Overcome Them)
Using call tracking software offers huge benefits for law firms, but there are still a few potential drawbacks to consider.
These are the potential pitfalls to look out for when call tracking – and how to bounce back from them.
| | | |
| --- | --- | --- |
| Potential drawback | Why it's a problem for law firms | How you can overcome the issue |
| Could impact your search engine optimization (SEO) if you use online directories | Google requires that name, address, and phone number details are consistent across directories; if they're not, your online visibility could decrease | Use dynamic number insertion (DNI), which only changes the call tracking numbers on your website after the page loads, meaning Google only sees one number |
| Conversion data might be inaccurate | Not all calls are potential conversions – some people might use ads to seek legal advice | Use call tracking software to set specific conditions for calls to count as conversions, such as repeat calls from particular numbers |
| Data captured might violate privacy policies and compliance | You need to ensure you handle data in accordance with local and federal regulations | Choose software that observes data compliance regulations for your area |
| Clients might get confused | If your numbers keep changing online, some people might get suspicious | Give clients a single office number after their first call or after conversion |
What To Consider When Picking Call Tracking Software for Law Firms
There's a variety of software offering call tracking for legal services, so it's wise to narrow down the best tools for your specific needs.
Always prioritize:
Ease of use
Pricing
Features
Scalability
What To prioritize When Picking
Call Tracking Software
Ease of use
Pricing
Features
Scalability
Let's break these down.
1. Ease of use
Overcomplicated software adds more time to your already busy schedule.
Look for software with clear tutorials, simple interfaces, and integrations with other tools.
Then check reviews and ratings on websites like Capterra or G2, which break down usability and features based on user experiences.
2. Pricing
Budgeting is likely one of your chief concerns when choosing marketing tools, but don't head for the cheapest options.
It's worth paying a little more for extra features, as they save you marketing dollars and increase conversion rates in the long run.
Look at what users say about value for money, not just outright pricing.
Some tools allow monthly or annual payments, so compare options that fit your budgeting model the closest. Look for guarantees and free trials so you can back out easily if you need to.
3. Features
Your law firm needs may vary, but it's worth looking for a few core tracker features.
Moreover, don't always assume you need the most feature-heavy software. Look at individual features and consider how they could help you specifically.
Some of the best features include:
Inbound call tracking: Captures data from calls made to your office
Customer relationship management (CRM) integration: Helps you import and use call tracker information to build client databases
Real-time analytics: Taps into call data as soon as it arrives
Call recording and transcription: Gives additional detail on client conversations
Website form and chat tracking: Merges call data with any information clients leave via your website
4. Scalability
Don't choose call tracker software meant for smaller firms if you aim to grow your business.
What if your team of 10 employees triples in a few years? You'd need to change software.
Scalable software offers extensive user logins and data storage, meaning you can keep the same tools as you grow – and you only need to train employees once.
5 Best Call Tracking Software Solutions for Lawyers
Ready to explore some options?
Here are five of the best call tracking software options we've tried and tested for legal industry clients.
Tools with the best call tracking for law firms: A quick rundown
Call tracking software
Best features
Free trial?
Pricing (as of October 2023)
1. WhatConverts

Built-in data visuals
Lots of software integration
Very easy to use

Yes (14 days)
Between $30 and $160 per account per month
2. CallRail

DNI function helps support SEO
Highly scalable
Artificial intelligence call transcription

Yes (14 days)
Between $40 and $145 per account per month
3. Phonexa

Lead and call tracking all in one
Ideal for high volume
Great customer service reputation

No, but free consultation available
From $100 per month
4. Invoca

AI call categorizing
Staff call tracking
Easy to adapt to

Yes (30 days)
Price on quotation
5. RingCentral

Predictive call queuing
Extremely feature-rich
Flexible for remote users

Yes (14 days)
Between $20 and $45 per account per month (for RingCentral MVP™)
1. WhatConverts
WhatConverts's core features include keyword call tracking to help capture data from pay-per-click ads, chat and form tracking from websites, and detailed report generation.
You don't have to use a separate dashboard or CRM to break down the data WhatConverts produces, though it integrates easily with other software.
User ratings:
G2: 4.9/5 (133 reviews)
Capterra: 4.9/5 (50 reviews)
Pros:
Built-in report generation and visualization
Integrates with Pipedrive, Google Ads, and other third-party software
Interface and tools are easy to use and navigate
Technical support is responsive and helpful
Produces lead reports in real time
Cons:
The software occasionally lags when crunching extensive data
Some initial configuration is time-consuming
Pricing (as of October 2023):
Standard call tracking: $30 per account per month
Plus tracking: $60 per account per month
Pro tracking: $100 per account per month
Elite tracking: $160 per account per month
2. CallRail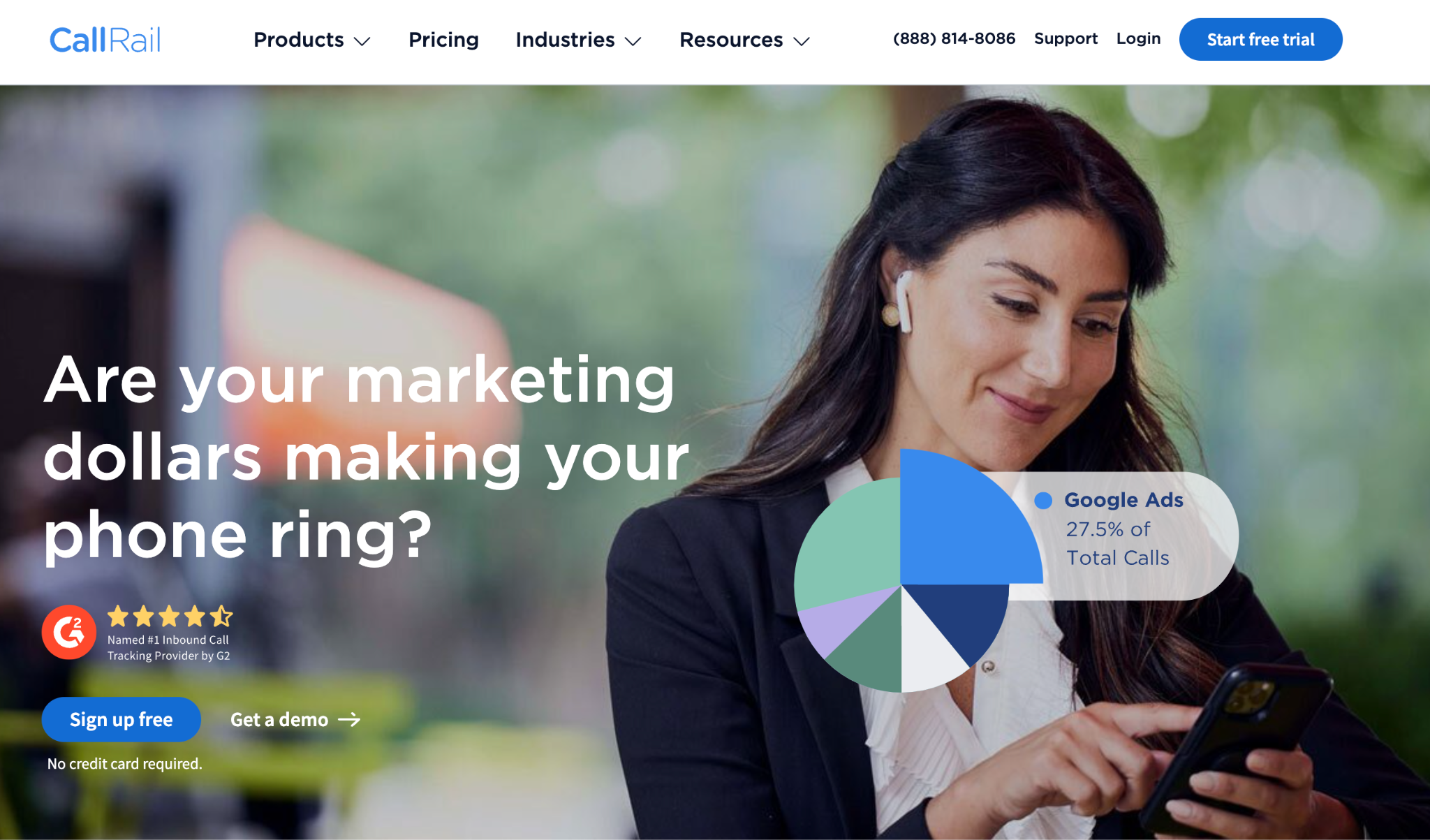 CallRail is a popular tool in law firm marketing because it offers complete oversight of client journeys. It tracks incoming calls, website activity, and search terms.
It enables law firms to create user profiles from numbers listed in physical ads. The software's DNI system also prevents any clashes with your SEO strategy.
The suite uses AI to transcribe inbound calls and highlight keywords, helping you tag client conversations for future analysis.
User ratings:
G2: 4.6/5 (1,343 reviews)
Capterra: 4.5/5 (162 reviews)
Pros:
Very easy to qualify and disqualify calls
Lots of scalability
Integrates with many different third-party tools
Actionable data from a wide range of sources
Landing page reports are highly detailed
Cons:
Some reporting features are complex and awkward at times
The pricing structure isn't the most competitive
Pricing (as of October 2023):
Call tracking: $40 - $45 per user per month
Call tracking and conversation intelligence: $85 - $95 per user per month
Call tracking and form tracking: $85 - $95 per user per month
Call tracking complete: $130 - $145 per user per month
3. Phonexa
Phonexa's tracking software is simple and customizable, helping you scale and produce unique reports with minimal effort.
This software's automation and self-service features help users organize leads based on the insights it provides.
The suite has built-in email marketing tools, behavior analytics, cloud phone support, and accounting recordkeeping.
User ratings:
G2: 4.9/5 (86 reviews)
Capterra: 5/5 (45 reviews)
Pros:
Call, email, and lead tracking tools are all built into one suite
Lots of features but very easy to use
Exceptional customer service
Ideal for managing high volumes of calls and queries
Affordable beyond the initial costs
Cons:
Higher cost upfront over other tools due to additional features
Setting up and learning take time
Pricing (as of October 2023):
Lite suite: $100 per month
Premium suite: $500 per month and $1,000 setup fee
Enterprise suite: Quote available on request
4. Invoca
Invoca combines call tracker features with data visualizations, which help you understand where calls are coming from, how long they last, and which topics people talk about when they speak to you.
This user-friendly software lets you break marketing efforts down into keywords, campaigns, web pages, and specific channels.
The AI onboard even helps measure your call quality, client interest, call volumes, and source data.
User ratings:
G2: 4.5/5 (898 reviews)
Capterra: 4.8/5 (18 reviews)
Pros:
AI helps categorize calls to easily capture data and correlation
Easy to integrate with CRMs
Highly user-friendly
Customer support is very responsive
Individual agent reports help law firms track client calls per staff member
Cons:
Call transcriptions aren't always accurate
Some connections and analytics are tricky and time-consuming to manage
Pricing (as of October 2023):
Invoca offers several packages for call centers and law firms with multiple locations. Costs are available on request based on needs
5. RingCentral
RingCentral is an all-in-one communications platform that offers what it refers to as its RingCentral MVP™ Analytics.
This software helps you see real-time tracking patterns, and it's scalable across in-office and mobile devices with weekly status reports.
The tool helps you measure queued calls based on why clients want to speak to you, and it's easy to route calls based on physical locations.
User ratings:
G2: 3.9/5 (697 reviews)
Capterra: 4.2/5 (1135 reviews)
Pros:
Extremely user-friendly interface
Responsive customer and technical support
Seamless for in-house and remote users
Plenty of different features to help drill down into call data
Look ahead at queues and see why people are calling
Cons:
Not dedicated purely to call tracking, it's just one of many features
Can be expensive for smaller law firms
Pricing (as of October 2023):
Core: $20 - $30 per user per month
Advanced: $25 - $35 per user per month
Ultra: $35 - $45 per month
5 Best Practices for Maximizing Legal Call Tracking ROI
Ready to start working with call data?
Here are some great ways to use your new call tracking tools to your advantage:
Use a data-driven approach to refine your digital marketing strategies
Integrate your CRM with tracking software
Analyze your call data for actionable insights
Use legal call tracking and A/B testing to analyze the most popular marketing channels
Record and listen to your calls
1. Use a data-driven approach to refine your digital marketing strategies
Drilling down into data helps you understand your potential clients more closely from an objective standpoint.
Data helps you fine-tune how you manage your digital marketing strategies, such as deciding which keywords to target and which groups of clients need more nurturing.
For instance, you could use your call tracking platform's integration with Google Ads analytics to break down your campaigns' financial values.
You could then calculate sale values from each Google Ad conversion and thus decide which campaigns drive the best return on investment.
Here's an example of how CallRail breaks down calls by searched keywords and custom advertising campaigns:
The data above shows you can also measure calls on specific keywords by duration. It's easy to see which search terms are driving the most productive calls.
While call length doesn't always denote productivity, it's objective insight you can use to build a better picture of what's working and what isn't.
2. Integrate your CRM with tracking software
Integrating CRMs like Pipedrive and Salesforce with call tracking helps push data from calls directly into your customers' records.
Call tracking data, such as contact sources and call durations, better informs you why people call and who drives the most revenue.
By attaching a CRM to call tracking, you spend less time aggregating and managing data yourself.
For example, here's how WhatConverts is represented as part of AgencyAnalytics' dashboard setup:
Weitz & Luxenberg is a law firm that needed help understanding exactly where their customers came from and which channels produced the most conversions.
By using Invoca and integrating with Shuttle and Salesforce, the company found it easier to attribute data to specific channels and sources, altering its focus.
Its new strategy led to a 14% increase in conversion rates through segmenting calls via in-house specialists and a boost of 17% to online marketing campaigns.
3. Analyze your call data for actionable insights
While you can use call tracking software to run a broad sweep of data and deliver generic reports, you can also answer specific questions and find actionable insights.
For instance, your call tracker data might tell you that potential clients who read your blog posts are likely to call. However, your blog posts simply aren't getting many website visitors. The solution might be to improve your SEO strategy to get more traffic.
From here, you might ask an expert in law firm SEO to help adjust your content so you rank higher on specific keywords.
Here's an example of call data in action:
Michelle, a WhatConverts client, was worried a Google Ads campaign wasn't driving enough leads for one of her clients.
The client found organic (non-paid) searches generated 5.6 times more leads than paid ads, which suggested her Google campaign wasn't performing well.
However, using additional WhatConverts data, she found that while the third party was getting more clicks through organic search, the conversion ratio through Google Ads was much higher, and both types of leads were similar in total quote value:
Michelle was pleased to report the paid ads were producing healthy conversions.
An action to take from here would be to keep monitoring this campaign's conversions and potentially increase advertising spending.
4. Use legal call tracking and A/B testing to analyze the most popular marketing channels
Consider using call tracking to test different channels of contact for your clients.
With A/B testing, you could measure two landing pages and see which drives more website conversions.
If more people call and convert from page "A" than page "B," you could:
Increase your marketing efforts for page "A" to make sure it reaches more people
Edit the content for page "B" so it's just as enticing as page "A"
Another option for A/B testing is to use it to optimize your media spending.
You can do this by attributing revenue to specific channels and tracing the origin of calls. You can then double down on your most popular and profitable channels and scale back the rest.
5. Record and listen to your calls
Several call tracker tools, such as Phonexa, have a call log and recording built in.
Call recordings and transcriptions help you analyze calls where conversions are lower than expected.
You could listen to calls and find out if you need to:
Retrain specific employees
Improve sales scripts
Address employee knowledge gaps
Understand customer objections
Call listening – and the actions you take afterward – ensure everyone on your team is providing the quality service your online marketing promises.
Use Call Tracking for Lawyers and Start Reaching More Clients
Law firm marketing is costly, intensive, and often extremely trial-and-error.
Thankfully, call tracking for lawyers helps you refine your strategies and reach people who genuinely need you.
At the same time, you're saving money, time, and effort that you can redirect back into your cases and client relationships.
It's time to find out where your converting clients are calling from, why they're calling, and which areas of your marketing just aren't working.
If you need help choosing the best call tracking software or advice on how to get started with this marketing niche, dNOVO is on standby.
In the meantime, brush up on your search results visibility with our guide to local SEO for lawyers and marketing tips for criminal defense firms.
Call Tracking for Lawyers FAQs
Here are a few final questions to consider before investing in a call tracker.
How do I track client calls?
Call tracking software helps you track calls to specific web pages, advertisements, and keyword searches.
It creates dynamic phone numbers you can use to trace calls back to specific ads and channels, which all still dial through to your office.
What is a call tracking number?
A call tracking number traces a call back to a specific page or advertisement where a prospective client may have discovered you.
Call trackers use these numbers to create unique profiles and sort data based on specific channels, such as through internet advertising (e.g., Google Ads) or web pages.
Here's more information on how call tracking works.
What software keeps track of calls?
Call tracking software such as CallRail, WhatConverts, and Invoca all record and track calls so you can see where people contact you and for what purpose.
These tools save you from surveying callers in every conversation you have.
For more details, read our rundown of five top tools you should consider to help your law firm track calls.