All You Need to Know About Google Passage Update Rolled Out on February 10th, 2021
Do you have pages with good content that is buried or diluted in the long text? This new update could be a lifeline for these web pages. In October 2020, Google made the first announcement of passage indexing update. There was quite some confusion regarding the update, mainly due to the term 'indexing' that was used. Google explained that they will not be indexing individual passages but will stick to indexing pages and considering information about the entire pages for ranking.
We shared a lot of new innovations in Search today as part of our #SearchOn event. Here's an overview covering things like spelling improvements, understanding passages and video moments, AR & Lens in Search and "hum to search" to find songs: https://t.co/iQoXktmSkt

— Google SearchLiaison (@searchliaison) October 15, 2020
Indexing individual pages or passages?
After Google posted this announcement in October, 2020, the SEO community responded, arguing that the message was still unclear and that there was a need to simply state whether Google will now be indexing passages.Google responded, clarifying that with the new update, passages from pages will now be considered as an additional ranking factor for websites. This would now clarify the misconception within the SEO community that Google would now be indexing passages.
A week later, Google made another announcement that the new update will result in a 7% improvement in search queries across all languages once rolled out globally. The technology will work by not only indexing web pages but also individual passages from the pages with the goal of getting more information that is relevant to every search query. The search result will now feature a highlight of the specific message that is more relevant to the query instead of bringing back a broader page on that topic.
Last week, we shared about how we will soon identify individual passages of a web page to better understand how relevant a page is to a search. This will be a global change improving 7% of queries:https://t.co/iQoXktmSkt

In this thread, more about how it works…. pic.twitter.com/2oqdoCkt6r

— Google SearchLiaison (@searchliaison) October 20, 2020
The main purpose of Google Passage Update
From last year's announcement, the update was designed to help identify key passages on a web page to give search users more relevant results. Since the algorithm currently considers a page as a whole, the new update was meant to help retrieve critical content on a web page that may have otherwise gone unnoticed.
What should you do to prepare?
Google went ahead to clarify that webmasters didn't have to make any new changes to prepare for this update. They claim that site owners should still focus on great content and stick to all the advice they've shared previously on improving site visibility on Google Search.
In a Twitter post, Danny Sullivan clarified to webmasters that the focus, this time, should be to create great content and quality pages that provide value to users. He insisted that Google's system is ultimately designed to reward great content and great pages.
There's nothing special creators need to do here. Continue to focus on great content, with all the advice we offer: https://t.co/gcM0rvYaFb

It just means in some cases, we may now do a better job of surfacing content, no work required on the part of creators.

— Google SearchLiaison (@searchliaison) October 20, 2020
Who will be affected by this update?
The Passage Ranking will mostly affect content creators who haven't implemented SEO best practices that focus on great content. This new technology is designed to improve the search engine's ability to identify and rank relevant passages within a web page. These passages are likely to be lost if a page is not properly structured. Site owners should focus on ensuring that their content is properly structured, relevant, and updated in order to get the best from this update. For webmasters who have been following these best practices, there's a low likelihood that a site with unstructured content will outrank you.
We still recommend that SEOs focus on creating deep and thorough content that delivers relevant and updated information to their users. Since Google can now identify and rank passages, detailed content will become even more critical on your web pages. We believe that this kind of content could lead to more visitors and higher rankings.
Google Passage Ranking Goes Live
On February 10th, the long-awaited Passage Ranking update was rolled out in US English search results. Danny Sullivan from Google confirmed that the passage update would be rolled out in more countries in English in the near future.
Update: passage ranking launched yesterday afternoon Pacific Time for queries in the US in English. It will come for more countries in English in the near future, then to other countries and languages after that. We'll update this thread as those further launches happen.

— Google SearchLiaison (@searchliaison) February 11, 2021
One of the main changes noticed by webmasters on Google Search was that the algorithm was now sifting through long pieces of content and returning different passages within that content depending on the query. This means that the same piece of content now ranks differently depending on the passage within that content that is relevant to the user's query. It doesn't mean that the passages are being indexed separately; they are just being ranked differently. It is not surprising that SEO-optimized websites are not greatly impacted by this update. You cannot see passage ranking in the SERP since it doesn't look different from what the search result snippets have been before. Even though it says that this update will only affect US searches for now, we at dNOVO noticed changes in rankings for our Canadian clients as well.
How this Google update affected dNOVO clients
Two months later we can look at bigger picture and see how this update actually affected out clients in long-term.
Client: Criminal defense lawyer servicing Toronto and surrounding areas
Improvements:As you can see from graphs below, right after Google rolled out Passage Update on February 10th our client's website visibility went up and kept increasing over the course of 4 following week. Estimated traffic has grown by over 25 points (from 29 to 54.61) compared to a week before the update. Average position improved by 2.14 positions (from 12.2 on Feb 3rd to 9.6 on March 25th, moving AP from second to first page of Google).
Client:employment lawyer practicing in Downtown Toronto
Improvements: average visibility has progressed by over 2% and keep showing positive trend. Ranking positions for most important keywords advanced as well, especially those inner pages providing detailed information on various topics about employment.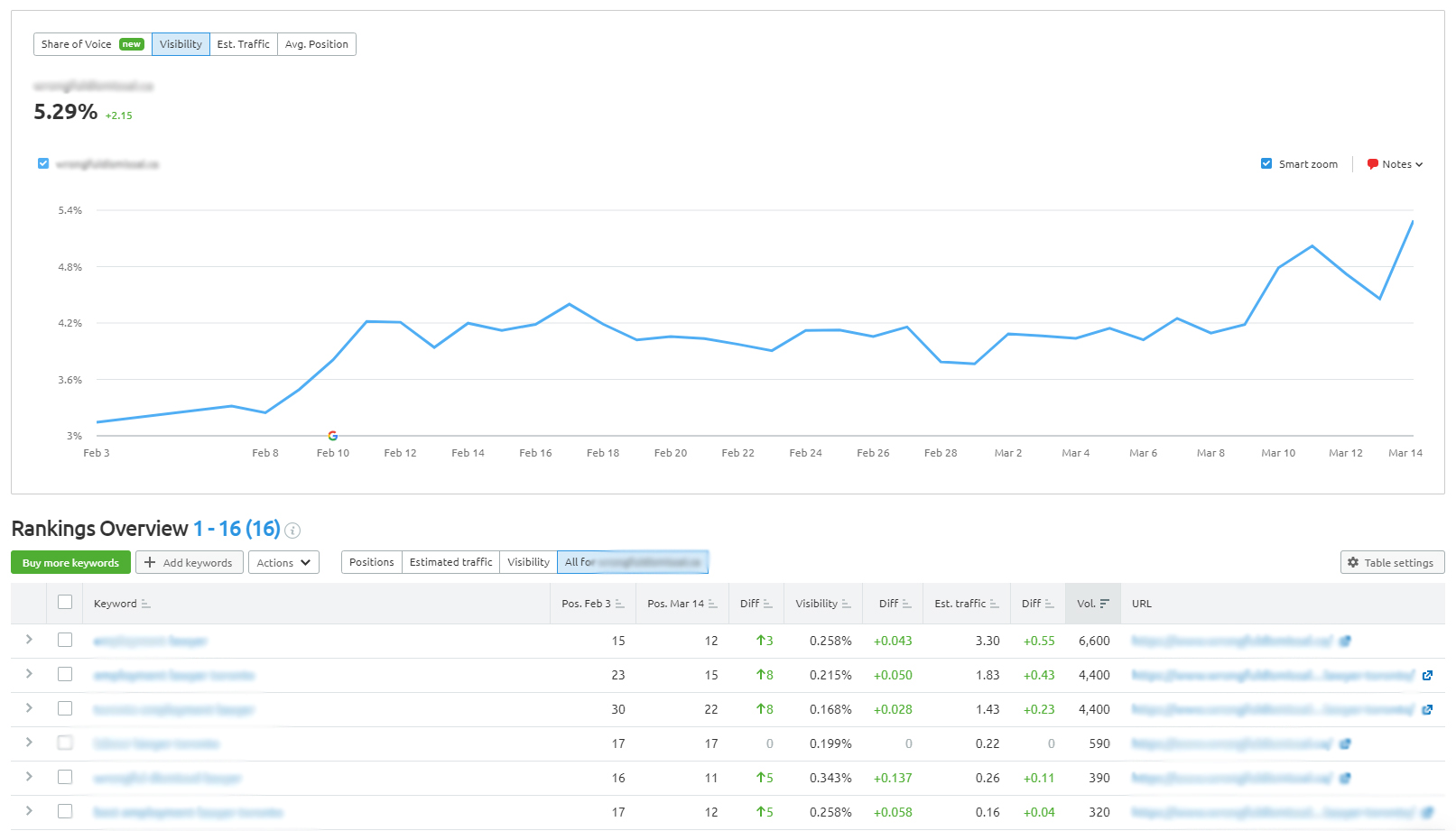 Our Final Thoughts
However, this update is not to say that Google can now accommodate poorly designed or structured pages. Consider this latest update as a bonus that allows you to dig deep into your content strategy and start working on changes that give you a prime spot on the most popular search engine. If your website already ranks well, there's a low likelihood that it has been negatively affected by this update. This update is only likely to change rankings for pages with great content but don't rank well.
The Passage Ranking Update proves that Google will continue focusing on web pages that maintain SEO best practices. This update has shown that in 2021, the focus remains on great content that is SEO optimized. For anyone who would like to grab the top SERPs, paying attention to high-value content is important now more than ever.