Instagram is a fantastic tool for building trust, sharing expertise, and increasing brand awareness.
However, while increasing numbers of law firms are starting to embrace the platform, two-thirds of all lawyers are yet to start their own Insta accounts.
At first glance, Instagram isn't the most obvious tool for lawyers to market with. However, it has a reach of two billion users globally, only outpaced by YouTube and Facebook. That's almost double TikTok's user base, too.
Given that most of your competitors aren't Instagram-savvy, a potentially lucrative opportunity is waiting for you to snap up.
Instagram for lawyers is also great for:
Sharing your specialist knowledge
Answering complex legal questions in bite-sized clips
Creating authoritative content
Targeting niche client demographics
That said, getting started is more challenging than it looks.
In this guide, we go over:
How to get started with a professional Instagram account
Best practices for "law Insta" success
Examples of law firms with fantastic social strategies
Let's get Instagramming
Should Lawyers Use Instagram?
More than 143 million people use Instagram in the US right now. Many of them could likely use your support.
Worldwide, monthly usership is growing:
Instagram isn't just a photo-sharing network. It's a platform that allows law firms to:
Add a "face" to their brand
Share advice on complex topics in digestible chunks
Weigh in on important, relevant subjects through hashtags
Instagram isn't known as a "professional" social network, which may be why it gets overlooked. However, over 80% of all Instagram users follow at least one business.
What Are the Key Benefits of Instagram Marketing for Lawyers?
We get it. Instagram has a reputation for being all about "influence" and not so much about sharing litigation advice.
However, if you're still undecided on the virtues of "law firm Instagram," here's a breakdown of further benefits for law firms.
Why you need an Instagram account
| | |
| --- | --- |
| Benefit | Explanation |
| Personal engagement with followers | Present a personality behind your professional branding so people find it easier to connect with and trust you |
| Low cost of entry | Break into the medium with a free Instagram business account and organic marketing – you only pay for ads |
| Easily boost your brand | Use hashtags and create authority content to improve your brand awareness |
| Opportunity to find new clients | Reach audiences who wouldn't typically find you through traditional search or legal directories |
| Great digital marketing supplement | Overlap messages and cross-post news and events for your target audience (and save time) |
| Boost your SEO | Give extra confidence to a search engine like Google about who you are with social media |
| Target people directly | Target specific groups and usage metrics with in-app advertising |
How To Get Started With Instagram for Lawyers: A 9-Step Guide
Getting started with Instagram for lawyers is technically simple, but learning common techniques early on helps you create higher quality content more often.
Here are lessons one through nine.
A quick summary
| | |
| --- | --- |
| Step | Why? |
| 1. Download the app and create your account | The easiest way to start using Instagram is via mobile |
| 2. Set up your profile and bio | Establishing clear, consistent branding gives your audience an understanding of who you are |
| 3. Find the right hashtags for your practice | Specific hashtags help you reach people who are searching for and discussing issues related to your firm |
| 4. Plan out a content strategy | Content strategies help to ensure your uploads are varied and engaging and that you avoid duplication |
| 5. Create posts | Posts keep your Instagram account ticking over with new content that's easy to read |
| 6. Create stories | Stories "stick" to profiles for 24 hours as "highlights" and create fantastic first impressions |
| 7. Create reels | How-to guides and explainer videos help to break down complex legal issues in plain detail |
| 8. Use Instagram ads for lawyers | Ads can help you reach targeted demographics through various content types |
| 9. Check Instagram's insights | Check who your advertising and general content appeal to and to what extent |
Step 1: Download the app and create your account
Head to your device's app store and search for "Instagram." Download the official app for free, and launch it.
When you first open the app, Instagram asks you to choose a username and a password. Use these to log in across different devices (such as other smartphones, tablets, and laptops).
Choose a username relevant to your law firm, and use your professional email. Brand consistency is crucial for building an online presence, so choose a username similar to your other online accounts – ideally, your username is the same across all your accounts.
Create a secure password suggested by your device, or use a mix of characters.
Once logged in, tap the "hamburger menu" button in the upper right, which opens up a sliding menu.
Head to "Settings," then "Account," and tap "Switch to professional account" when scrolling down. Sometimes, it's listed just underneath.
Tap "Continue" to launch a search box and a list of business categories. You won't see "Lawyer" or "Law Firm" right away, so search this and select the appropriate category that appears.
Tap "Business" and follow the details to enter your contact information.
Step 2: Set up your profile and bio
Choose an image for your account – a logo works well. It needs to be 140 x 140 pixels for the best fit.
Tap your blank Instagram profile placeholder and choose "Add Profile Photo."
Choose where to upload from (e.g., your camera roll, a Facebook album, or directly from your camera).
Then, enter the full name of your business and your bio. Start by tapping "Edit Profile," just below your profile image and name on your main feed.
A great Instagram bio for lawyers explains what you do, your specializations, and includes a contact (either a phone number or an email address).
On your business profile page, to the right of "Links," you can add a link to your website so your followers know where to find more details on your legal services. You only get one link here, so we recommend simply linking to your homepage.
Step 3: Find the right hashtags for your practice
Every successful Instagram strategy revolves around hashtags. These help people find you with specific search terms.
Use basic terms initially, such as #lawyer or #lawfirm. Then, consider searching for generic terms relating to your specialization, such as #familylaw or #employmentlawyers. Location tags such as #Illinoislawyer also help to target specific areas.
Here's an example of law firm hashtags:
Extra hashtags give added visibility to your post. On average, users select up to ten hashtags per Instagram post, so use that as a marker.
Look at other local practices for ideas, but try to diversify your hashtag strategy. Piggybacking on every keyword your competitors makes competition difficult, and you could miss out on niche or lucrative tags.
Step 4: Plan out a content strategy
Creating a content plan for your law firm takes time and even some experience with Instagram before it's perfect.
When planning, use a blank calendar or diary. Plan for a different piece of Instagram content to upload or post each day. We cover why varied content matters a little further down.
Consider using Instagram's schedule post feature or a third-party client such as Hootsuite to map out your content beforehand.
If you need inspiration, jump ahead to our best practices to help kickstart your ideas for engaging content.
Step 5: Create posts
Posts make up the lifeblood of your Instagram feed, and include photos, videos, promotional content, and memes.
Three examples of posts for a law firm on Instagram could be:
A visual testimonial from a client
A list of reasons to create a will
A behind-the-scenes photo of your team at the office
Start your first post by tapping the "+" at the top right of your screen. Select "Post" from the menu. You can then upload a photo (or several), or shoot via the app.
Once selected, crop your image as you wish. Add a caption describing the post and include hashtags relevant to both the image and your firm.
Tag other users if you wish and add your location before posting. Tagging helps to expand your potential audience, and to help promote other people and services.
Step 6: Create stories
"Stories" are Instagram photos and videos that "stick" to your firm's account as a highlight for 24 hours.
Your potential advertising audience for Instagram stories is around 996 million people – so do use them.
A great story could be a "highlight reel" from a recent charity event. Or, it could be a short video guide or "explainer" on a legal topic that's relevant to your specialization and recent news.
Select "Story" from the "+" menu, and upload or capture content you'd like to highlight. Then add text, stickers, or draw as you wish. Tap the "Your Story" button, and it shares to your profile.
If it's a clip longer than a minute, your story divides into different parts. You can trim videos, too, if you use iOS.
Step 7: Create reels
"Reels" are short and long-form videos composed of different clips and audio tracks.
Reels are "Stories" that remain on your feed. You could, for example, record "explainer" videos guiding visitors through reasons why they need a family lawyer, or why employee contracts help to protect your interests.
Many law firms use reels to condense complex information into digestible visual media (and therefore appeal to viewers who want quick answers without reading text).
Try and plan how you'd like your first reels to appear. Is it a multi-clip narrative or a single take?
You can either record a reel from the "play" icon on your Instagram feed screen or use the "+" menu.
Add clips from your camera roll into the reel editor with the "+" in its left-hand corner. Alternatively, record live by tapping and holding the central circle.
Add music with the "note" icon and search for a song you'd like to accompany with. You can then use the reel editor to select an area of the track to focus on.
You can edit clips together, change speed, add filters, and reorder your content from here. Dive in and take a look around.
Step 8: Use Instagram ads for lawyers
When your account is live, and you have content ready, try creating ads via stories, posts, carousels, collections, and shopping links. It's much like using Google Ads for your law firm off-page.
Start by "Boosting" an existing post or reel that's getting traction. "Boosting" effectively turns any post or reel into an ad, and expands its audience by targeting specific users.
Then, select if you'd like more profile or website visits, or more messages.
Beyond this, define your audience with a few demographic parameters or let Instagram decide based on followers.
The Instagram app lets you use "sliders" to decide your daily budget and how long you'd like ads to run for. Then, review your ad in the app and "boost post," providing you have funds in your ad account.
Step 9: Check Instagram's Insights
Instagram's "Insights" feature breaks down who's visiting and engaging with your content.
Head to your profile and tap the "Insights" feature under the hamburger menu.
The Insights manager tracks data such as how many people you reach, who's interacting with you, how many plays your reels get, where your followers are from, and how old they are.
Using this data with an Instagram marketer helps you fine-tune your content marketing strategy to reach potential clients more easily and frequently. It's also great for determining which content works well and which doesn't.
9 Best Practices for Law Firms on Instagram
Now that you know how to get started on Instagram as a lawyer, it's time to look at a few top tips to make your practice super-influential.
How to market a law firm on Instagram: Summary table
| | |
| --- | --- |
| Technique | Why? |
| Invest in high-quality equipment | Create compelling, professional, high-quality content that drives clients to you |
| Follow the 80/20 rule | Avoid pushing the 'hard sell' on your customers, instead focusing on helping them |
| Cross-post marketing content from elsewhere | Save time, effort, and money, and drive visitors to other funnels |
| Show who you are and what you do | Give your brand a friendly face and a human persona for added confidence and trust |
| Answer questions and create guides | Help clients with common queries and demonstrate you know what you're talking about |
| Make your legal specialization clear | Attract highly relevant clients you can genuinely help |
| Post a variety of content | Diversity keeps people interested and demonstrates you care about what they care about |
| Always reply to messages and comments | Show that you're highly responsive, that you care about customer concerns and what they think of you |
| Hire a professional to help run your profile | Save time on running your social media platform and spend more time litigating |
1. Invest in high-quality equipment
Invest in professional videography equipment to record helpful and insightful reels you stitch together. You want your photo or video quality to match the quality of your firm, after all. Alternatively, hire the services of a social media videographer or agency.
Do also invest in graphic design and suites to create eye-catching carousels and visual guides (such as Insta-friendly infographics).
High-quality content helps to drive confidence and trust on highly sensitive issues. It also travels far and wide if it's engaging, visually impressive, and easy to follow.
2. Follow the 80/20 rule
80% of your content should be "helpful" to your followers. That means only 20% or less should be promotional.
Instagram users usually won't care about what you have to advertise unless it solves their problems.
Posting 80% valuable content produces a "repository" effect – you build a profile people visit for quick advice on complex legal matters.
The 80/20 rule helps to build online authority and makes your content more shareable. That drives more interest and gains attention from "bigger fish" on Instagram.
3. Cross-post marketing content from elsewhere
If you already have a blog, a YouTube channel, or a LinkedIn column, always cross-share your content to save time (and keep things cohesive).
Cross-posting is great for redirecting visitors to long-form content. If they have a complex legal issue and need more in-depth advice, they can easily find your blog via your link in bio, for example.
People browsing Insta don't always want to read walls of text, especially if they're busy. Instagram carousels and reels help you condense and summarize the most important points from existing content.
If you want to direct users to other online content without mentioning it in every post, consider using tools such as Linktr.ee and Tap.Link. Both services provide "link tables" to add via your link in bio, making it easier for followers to find you elsewhere online.
4. Show who you are and what you do
The best way to garner trust on Insta is to regularly show who you are.
For example, consider sharing photos of your team, and short biographies of who they are (and what they stand for).
Create posts around important holidays and events (such as International Women's Day) to emphasize which causes are closest to your heart.
Share graphic and reel testimonials, too, from genuine clients happy for you to pass on their feedback.
Showing your ethos, voice, and values help you narrow your audience with laser precision. It saves time and guesswork for everyone involved.
5. Answer questions and create guides
Answering questions establishes your law firm as an authority. This helps your prospective clients find resolutions to common queries easily through visual content.
Creating short guides also shows off your credentials. You're proving to your audience that you genuinely know what you are talking about.
This also helps to show clients you care about helping them find resolutions to their problems.
Visual media is highly shareable both across Insta and elsewhere. It's free Instagram marketing for lawyers that stays on the web forever.
6. Make your legal specialization crystal clear
By using the above techniques, you niche down your appeal to your specialization. For example, family law Instagram accounts may answer questions about adoption and child protection.
This way, you welcome "warmed-up" leads who purely want help with your specific expertise (saving time for anyone looking for other types of lawyers, too).
Making your specialization clear is easy through hyper-specific guides, sharing details of recent partnerships and events, and, above all, making these details clear in your profile and in your stories.
7. Post a variety of content
A good mix of different posts is great for keeping people engaged. The same posts about how well your firm is performing soon get dull and irritating (remember the 80/20 rule).
For example, consider sharing:
Lawyer profiles
Behind the scenes (BTS) reels
Partnership news
Charity events
Q&A posts
Hyper-specific carousel guides
Diverse content also shows followers you genuinely care about your industry, which helps to warm up leads.
Moreover, keeping your content diverse makes it less likely that you duplicate the same information multiple times over.
8. Always reply to messages and comments
While answering comments is excellent practice on all social media, it's vital on Instagram because comment threads are transparent.
Answering promptly also shows your followers that they're at the forefront of your business.
Answer direct messages and public comments as soon as possible, and create a trustworthy, friendly, and proactive impression.
9. Hire a professional to help run your profile
You don't have time to answer questions all day or plan months of social content in advance. Don't expect your paralegals to be social media gurus, either.
Thankfully, law firm marketing on Instagram is a niche that more and more professional agencies are keen to explore.
Hiring an Instagram marketer for lawyers takes this pressure off your shoulders. Specialists ensure that clients get to see you at your best while you continue running your firm.
You do still have some input, however. You should always have full sign-off on any content (and its veracity).
5 Examples of Successful Lawyers on Instagram
Here are a few Instagram lawyers driving engagement by using all of the tips we just discussed (and more).
Grillo Law
Grillo Law, a dNOVO client, leads with tons of information above the fold about their personal injury practice, and six handy story links where you click to find out more.
Grillo's Insta feed also shows they're both happy to show their faces and show they care about specific causes and holidays. This helps to establish a human connection with their audience.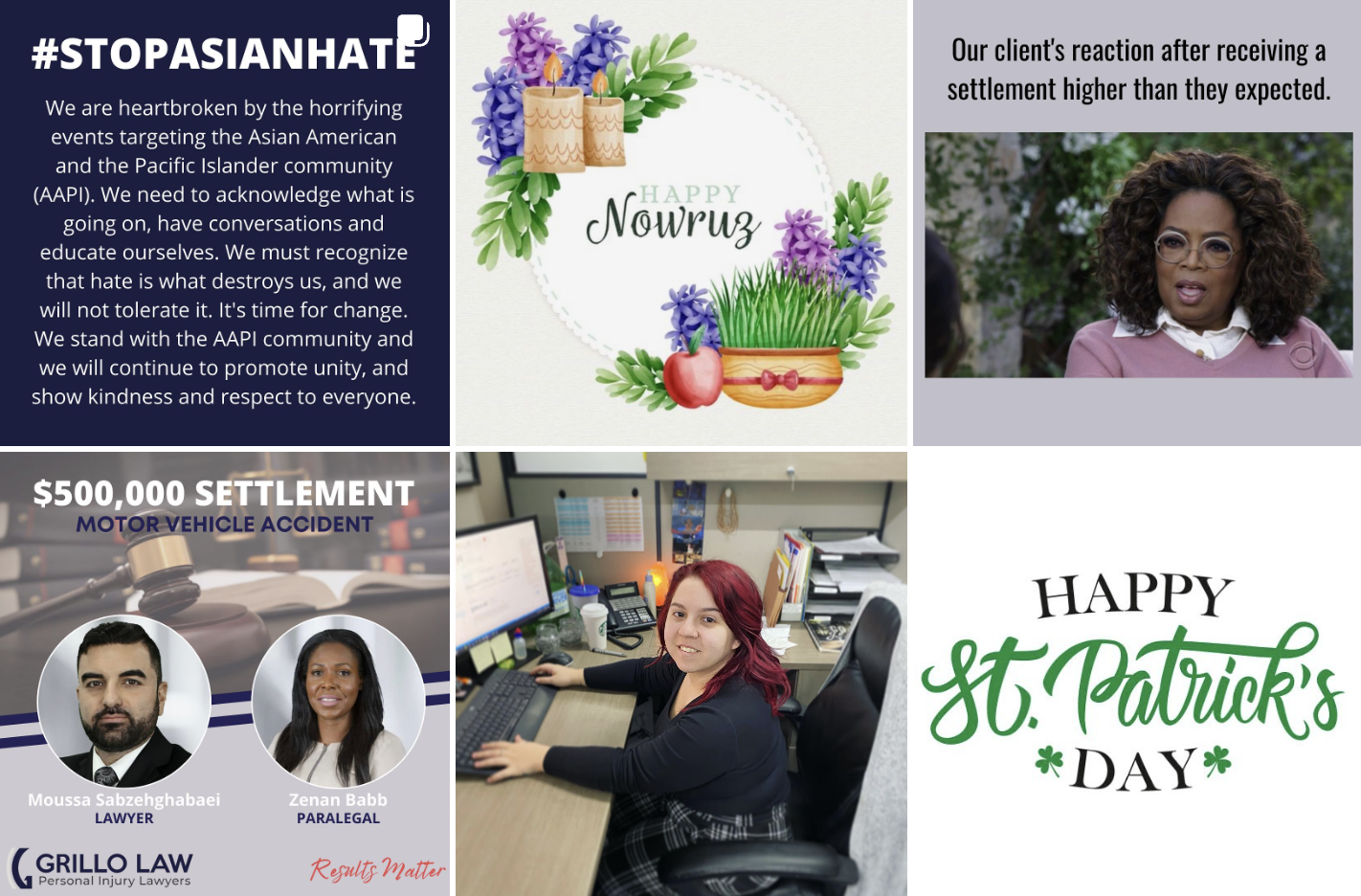 Grillo carefully plans space for occasional (tasteful) GIFs to keep their feed fresh and shares recent case wins.
Matthew Jeffery
Like Grillo, dNOVO client Matthew Jeffery leads with a simple strapline, five key areas of specialization, and a link to their blog for long-form information.
Further down the feed, we can see that this firm carefully plans various helpful, actionable content. There are video tutorials and digestible guides, and a testimonial from a recent case. Again, this follows the 80/20 rule.
Matthew Jeffery's reels focus on how-tos and important information affecting their regular clients.
Ross Lutz Barristers (Alberta Legal)
The profile of Ross Lutz Barristers (Alberta Legal) is brief but packed with detail.
Their posts focus on sharing blog posts and recent cases, and introducing their team of barristers to potential clients. This helps their audience navigate difficult legal concepts and understand when they should reach out to a criminal lawyer.
Ross Lutz also uses linktr.ee to provide their visitors an easy way to reach out, view their website, and learn more about their practice.
GDH Family Law
GDH Family Law provides a simple link to their blog and leads with a clean, easy-to-understand slogan. This ties in well with their gentle, straightforward visual approach – they never go too complex.
GDH offers a range of eye-catching posts focusing on everyday human life and values. That runs core to the needs of their clients.
Wagners Law Firm
Wagners Law Firm provides a variety of posts in the form of public notices, partner profiles, and client feedback.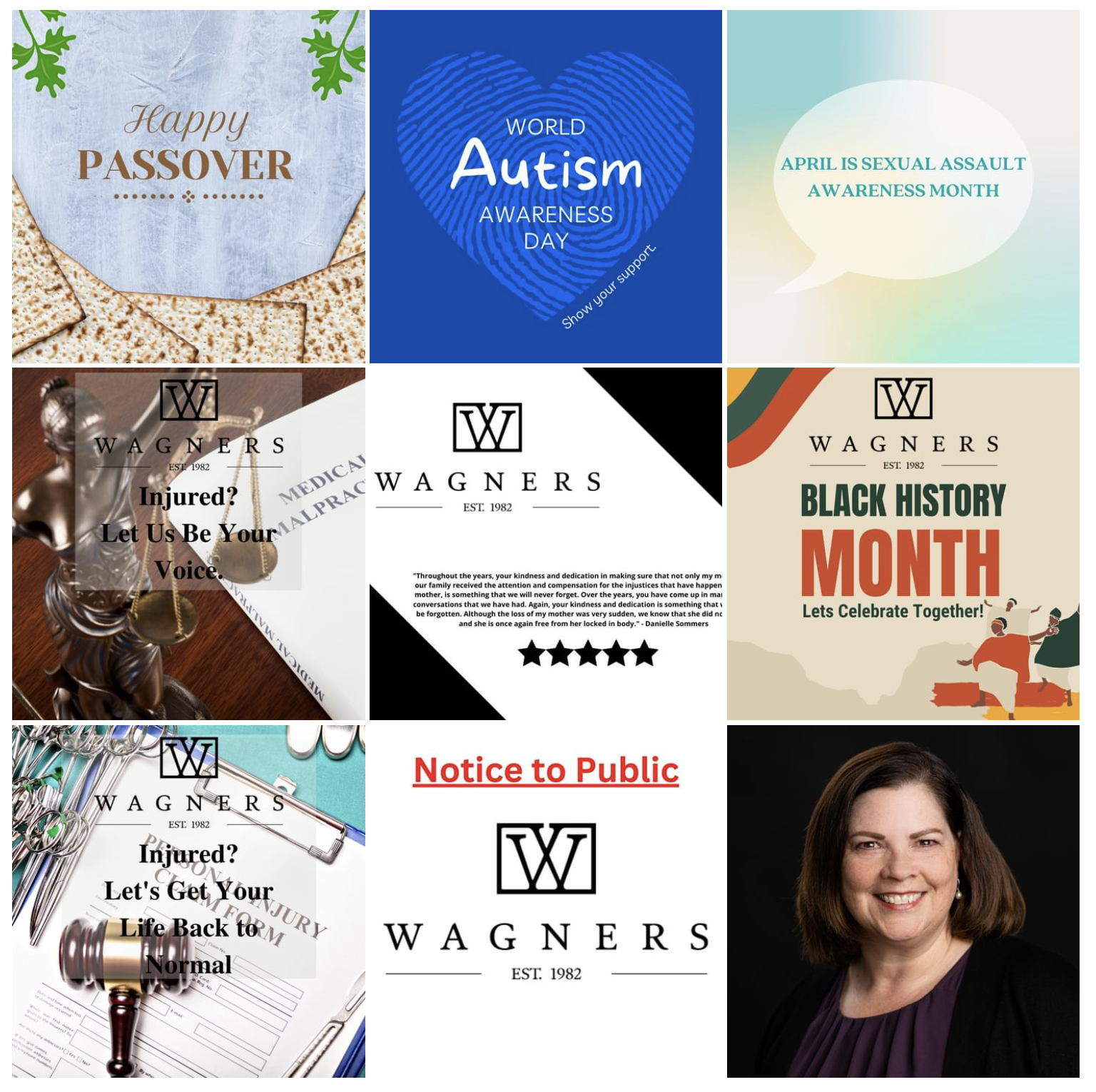 Alongside human interest posts, Wagners carefully uses its specific branding and firm name throughout much of its content. The firm is also unafraid to show its support for specific local causes.
Instagram For Lawyers: New Clients Unlocked
It's easy to assume law firms have no reason to use Instagram, but interest is growing, and more and more people are finding legal advice through their favorite social media apps.
So, while it might not have occurred to you before, now is the time to invest in Insta.
A clean, well-organized, and frequently updated Instagram for lawyers:
Inspires confidence in your clients
Helps you show your human side
Builds your authority and proves your expertise.
Naturally, it's only one piece of the social media marketing puzzle. While you're at it, we highly recommend you brush up on your lawyer SEO to keep clients clicking through.
Need help marketing a law firm on Instagram for the best? No problem. Contact the team at dNOVO for advice and guidance on getting your law firm seen online.