While your legal expertise helps win cases, prospective clients can't find you without a high-quality logo and visual branding.
People should remember and associate your logo with exceptional legal services. The wrong logo, however, is boring, unimaginative, and irrelevant.
You might be turning people away without even realizing it.
Up to 88% of people consider authenticity important when choosing businesses. To build authenticity and trust, your firm needs a logo that:
Embodies your brand
Shows people your expertise
Stands out from the crowd
Works flexibly across different media
Knowing where to start with logos for law firms isn't easy, but you're not alone.
Let's explore logos for law firms in more detail and break down some best legal practice tips.
Why Are Law Firm Logos Important?
A law firm logo represents your firm and what you stand for. It's shorthand for your culture, ethos, and professionalism. A well-designed lawyer logo design is inspiring and memorable.
Like well-chosen law firm photos, logos influence your audience.
For example, studies show law firm logo colors can influence emotion, inspire action, and build confidence.
Professional fonts, calming colors, and simple imagery show you're trustworthy, straightforward, and genuinely caring.
Moreover, research shows people expect your logo to demonstrate professionalism, knowledge, and tradition.
However, you shouldn't necessarily follow the pack. At least 50% of US adults find their favorite logos are simple yet bold in color.
Provided you follow a few key legal logo design principles, creating a unique logo can help your firm break out in a competitive area of law.
Our guide further explores principles and ideas you can practice in law office logo design. Jump ahead to explore our tips.
30 Examples of Inspiring Law Firm Logo
We collected the following law firm logo examples that excel at building brand identity, reassuring clients, and maximizing visual recall.
Use this list to inspire your logo creation and stir ideas you might share with a professional graphic designer.
1. Brookman
This creative legal logo design suggests that Brookman is a family law firm by using two connecting Os as rings. Purple and white is a refreshing, professional color combination.
2. Boland Romaine
This lawyer uses a modern font in uppercase and clean lines to create a simple professional logo. The only touch of boldness is a yellow divider, which shows how this law firm logo stands out without overpowering the text.
3. Stark & Stark
This great law firm logo is symmetrical and memorable thanks to its striking red ampersand dividing the identical names. The company uses a professional-looking font for its name and a simple, modern typeface for what it does.
4. Matthew Jeffery
This legal professional packs a lot of detail with no words wasted on three lines of text that are easy to read. The name takes center stage, making it memorable. The logo plays on the Canadian flag and uses two colors to establish the barrister/solicitor split role.
5. Gene C. Colman
This logo for a lawyer handling delicate family cases is gentle and appealing. The name style is almost signature-like, adding authenticity. A subtle GCC looms behind to help make the text pop.
6. Grillo Law
Grillo's company name is bold and modern, and the strapline is in title case to add approachability. A two-tone G is off to the side and is striking but not overpowering.
7. Merrick Law Firm LLC
Merrick's logo is a rare example of a law firm logo because it uses four colors, making it catchy. The background is professional, and the law firm's name takes center stage in bold uppercase for easy recall.
8. GLG LLP
This super-creative logo splits colors into white and petrol green, playing on the company's symmetrical acronym. The name on the left and the credential on the right are easy to remember. The strapline is very simple and neatly boxed, meaning it's easily flexible for use across different branding and printing functions.
9. Wood Law
Wood Law splits its logo into two colors, similar to GLG. It uses a luxury purple, refreshing white, and very few characters to tell us what the company does.
10. Alberta Legal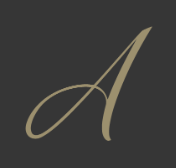 Alberta Legal leads with a single letter A across most of its branding. The font is elegant and demands recognition, showing a company that's experienced, professional, and worthy of your attention.
11. Diamond & Diamond LLP
The left shape here is clever, playing on the dual name. The logo uses strong, uppercase lettering that's modern and sharp to appeal to corporate customers.
12. Chand & Co.
This opulent law firm branding suggests Chand & Co. is a legitimate, experienced firm. It has an ornate coat of arms, giving the impression of long-standing expertise.
13. The Levin Firm
This bold logo and branding establishes Levin as THE firm to call. It has a disruptive, modern font and a simple, memorable L in a circle. This law firm demands your attention with consistent brand presentation.
14. Derek Wilson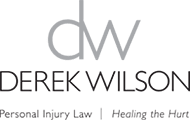 This delicate legal logo design uses lowercase initials in a gentle shade, flanked by a clean, uppercase name. It's approachable and easy to recognize. This logo maximizes space with a dual strapline to explain what the company does and why.
15. Northview Law
This brand logo uses just two colors and a deceptively simple visual, making it easy to remember. The N splits into another N, a V, and even an L for "law" at an angle. The typography is modern and bold to show professionalism and confidence.
16. Wagners Law Firm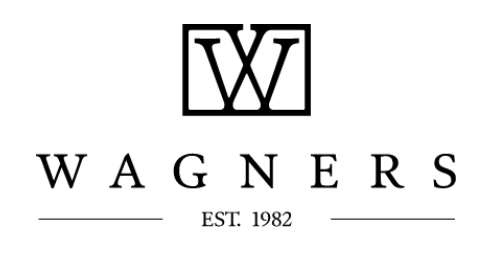 This modern take on a traditional logo style is classical and stylish, using "EST. 1982" to establish the company's experience. The crossed W is instantly recognizable and easy to use in different media.
17. Schwartz & Ponterio PLLC
Dynamic and eye-catching, this logo splits S and P for a modern, single-take, and unique yet easily distinguishable image. The wording is simple, and the company can split the text and image for different media functions.
18. Yegendorf Rashid
This striking logo uses a rare yellow-orange color against a blue background inside a square, suggesting an injury law service that covers all needs. It's clear what this firm does. The logo is bold, modern, and unafraid to stand apart.
19. YLAW
This logo does less with more using simple shapes. YLAW strips right back to a very basic font, making the law firm's name the star of the show with a gentle reminder of what it does. The colors are striking yet muted, making the logo reassuring and easy to read.
20. Prudent Law
The squared-in P and L make for a shareable and recognizable image, while the rest of the logo squeezes in just enough text to show off the firm's practice areas.
21. Fish & Richardson
Leading with a single name and a period is a bold choice that's eye-catching without being excessive. "Fish" is easy to remember, and the colors of white and turquoise against deep blue create a feeling of professionalism, inspiring trust.
22. Forum Law LLP
The F and L combined almost give off the look of a luxury car brand. The font is clean and classy, and the LLP underlining the name establishes who the firm is in a quick punch.
23. MacLean Law
This bold design uses yellow – rarely seen in law logos – with a striking, clean font. It's urgent and accessible, ideal for people looking for a professional yet friendly family lawyer who can help with pressing divorce or custody matters. It's audacious but not excessive.
24. Costa Law Firm
Costa's logo establishes what the company does and maximizes the length of the name to include details underneath it. The highlighted C is a recognizable logo in its own right.
25. Clifford Law Offices
The name is classy, with a registered trademark to build importance and value. The button to the left is the firm's first initial, whose white line appears to be cutting through several others, suggesting this law firm is willing to read between the lines.
26. Frenkel Tobin LLP

The FT is lowercase in an elegant font and color that's easy on the eye, showing us this firm is professional yet grounded. The name next to the lettering is bold, modern, and easily split for different media.
27. Korngut Paleudis LLC
Here are two logos for the price of one. The left logo combines two bold, professional, and confident colors, telling us the company is an LLC. On the right, the two names have similar colors and lengths, showing the two legal professionals are on equal footing.
28. Damien Frost & Associates LLP
Damien Frost uses a simple series of shapes alongside an elegant font to make the company name and headline stand out. The color scheme is trustworthy and calm, and the logo creates a sense of competence.
29. Zehl & Associates
The bold white-on-red Z in this logo presents a brave and professional face. The title case font in a delicate gray helps ease readers into what the firm has to offer. The Z logo can also easily be adapted for branding on this firm's website and other material.
30. GDH Family Law
GDH uses a lowercase font in a bold color with a green circle to show that it's approachable yet professional. This family law firm comes across as careful, considerate, and trustworthy.
9 Best Practices for Designing Logos for Law Firms Logo Design
Let's explore nine top tips on designing your own logo now that you've seen a selection of the best law firm logos.
Law firm logo design points to remember: A summary
| | |
| --- | --- |
| Best practice | Why adopt it? |
| Consider modern vs. traditional logos | Choose a logo style that reflects your approach, your specialty, and who you like to work with |
| Choose the right typography | Use classical serif fonts to show experience and expertise, and use clean, sans-serif fonts to create approachability and confidence |
| Show people who you are | Show your specialty in your logo through creative visuals or a quick, simple strapline |
| Use shapes, patterns, space, and symbols to your advantage | Consider minimalism to ensure your logo is easy to read and reuse across online and offline media |
| Study color psychology | Choose two or three colors that represent your brand's energy and your firm's approach to client work |
| Protect with trademarking and copyright | Apply to the Principal Register for exclusive logo usage rights |
| Stand out from the crowd | Avoid cliche imagery such as scales and gavels and choose a simple design that's easy to remember but central to your brand |
| Think carefully about where your logo is visible | Create a logo that's easy to adjust for physical media and online spaces |
| Optimize the best file types | Export logos in file types that compress and expand easily for different mediums, such as online content and physical merchandise |
1. Consider modern vs. traditional logos for law firms
Your choice between modern and traditional depends on your brand identity, the people you wish to represent, and the area of law you practice.
Think about your firm's place in the industry.
Is it long-established and a cornerstone of local law firms, or is it a younger, more disruptive firm that stands apart from older practices?
Also, think about your audience. Do you work with high-value clients on corporate cases or attend to family disputes and personal injury claims?
Choosing a modern legal logo makes you more distinctive and approachable. On the other hand, traditional logos suggest expertise, competence, and experience. There are benefits and drawbacks to either approach.
Here's a great example of a modern logo.
Here's a more traditional approach.
2. Choose the right typography
The best fonts for law firm logo design differ from company to company. The font you choose defines your visual brand, as company names frequently take center stage.
That means choosing law firm fonts that suggest professionalism and authority while keeping your company approachable.
For example, choose a sans-serif font to be modern and disruptive. These fonts lack the tails you see in some law firm typography, keeping lettering clean, simple, and easy to read.
Firms looking for more sophistication might choose fonts with serifs. Serifs provide a sense of trust and tradition, implying experience, heritage, and competence.
For modern logos, choose simple typefaces but don't stray from professional serifs. Choose uppercase lettering for boldness and lowercase for a softer, more welcoming appeal.
Traditional logo design should lean into serif fonts such as Garamond or Bodoni, which are easy to read but still sophisticated.
However, several font types adapt well for different purposes.
Take a look at what other lawyers choose in your specialty for inspiration.
3. Show people who you are
Some of the most effective law firm logos give clients lots of information with little effort. For example, while it's worth adding LLP to the end of your firm's name, consider theming your logo around your law area instead.
This theme doesn't have to be overly artistic or grandiose.
Establishing your area of law and expertise could be as simple as adding "family lawyers" to your logo.
Alternatively, follow Brookman's lead with their creative "wedding ring" design.
Try creating a logo with the strapline for what you do and scale down to a smaller image you can use in tighter spaces if needed.
4. Use shapes, patterns, space, and symbols to your advantage
Simplicity is always best in law logo design because it's easy to recognize and replicate.
Many law firms lead with their names, practice details, and little else. However, it pays to be unique and memorable with a shape logo or glyph that people can recall.
You could choose a single letter or your initials as a scalable logo that converts well to business cards, mobile web browsers, physical stationery, social media, and website banners.
Here's Alberta Legal's example.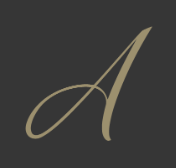 Opt for strong but uncomplicated geometric shapes. Try to tie these in with your law firm's brand image and appeal.
For example, do you want to frame your logo with strong, bold, straight-edged boxes or squares? Or use softer circles and curved lines to appear more approachable?
5. Study color psychology and pick the best colors for your law firm logo
Within 90 seconds of seeing a logo's color, most people have decided whether or not they'd like to proceed with a brand. The same applies to law firms. However, there are a few specifics you need to remember when designing a logo for your industry.
Research shows the vast majority of law firms opt for blue, black, white, green, and gray for their logos: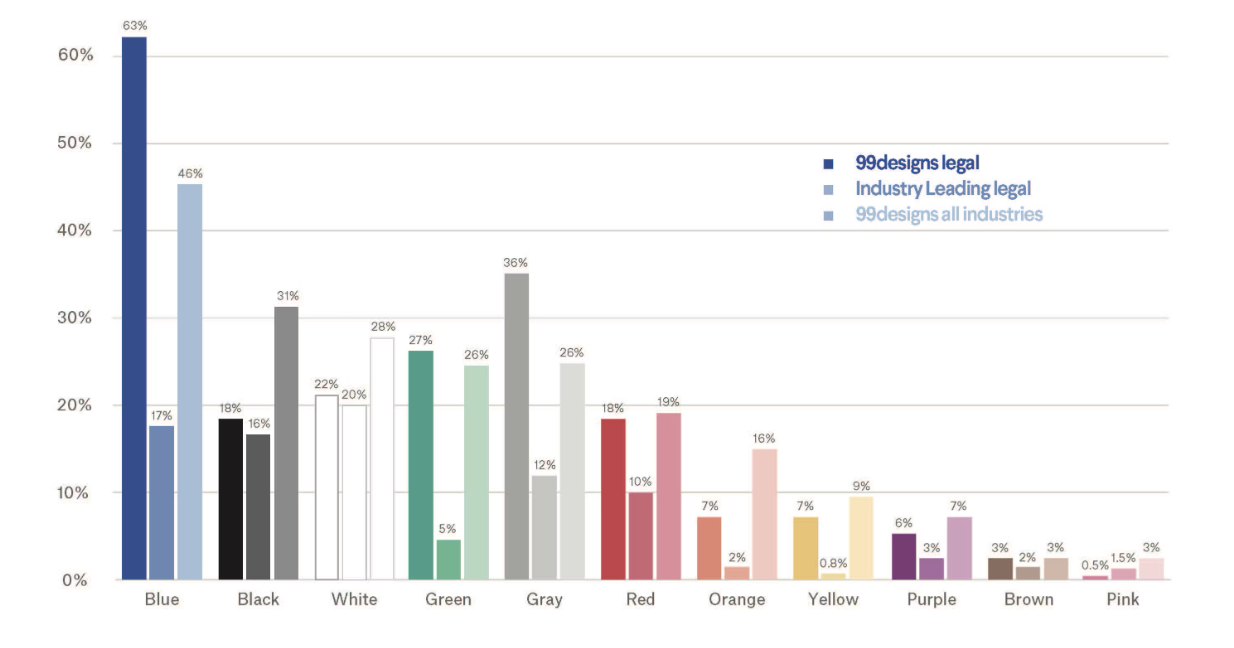 The most popular law firm logo colors in 99designs and among industry leaders, set next to their popularity across all industries. Data visualizations designed by MH Designs.
Let's revisit a few examples from our top law logos list to see this in action.
The best colors for law firm logo design aren't the same for every company – aspects of your brand, such as its energy and audience, should dictate your ideal color palette.
For example, a high-energy, high-value law firm may lean toward dynamic purples and magentas. A modern, approachable firm might choose calming, welcoming greens and teals.
The best strategy for law firm color schemes is to choose two or three colors at most.
It is the perfect professional balance that's easy to scale across websites and offline merchandising.
6. Protect law firm logos with trademarking and copyright
Trademarking your law office logo isn't always necessary, but it gives you additional rights. Typically, using the logo for law firm purposes should protect you as-is.
Consider registering your logo with the Principal Register to gain legal protection. You can use your logo freely across the US and make claims if someone uses your work without your permission if you're registered.
Copyrighting protects your original work, and trademarking prevents it from being used by others.
7. Stand out from the crowd
Make your logo stand out to your potential clients in a way that doesn't dampen your professional image or cause headaches.
Consider your needs rather than following the crowd with your legal logo. Don't fall back on usual cliched visuals such as:
Gavels
Courthouses
Scales of justice
Lady Justice
We've seen them all before, and you don't need to rely on heavy-handed imagery to show what you do.
Look carefully at the best logos from across your industry. What is the best law firm logo for you?
Follow their simplicity while keeping your company name as the main focus.
8. Think carefully about where your logo is visible
Creating a series of logos or variations on a theme is good practice.
You can use your logo on letterheads, email signatures, website banners, and physical merchandise.
Your logo needs to fit several functions. Consider whether or not your design easily translates to physical printing and online branding. Does it look as powerful on a large billboard as on your law firm's Instagram account?
Refrain from assuming that you found the best law firm logo that can do all the work for you.
9. Optimize the best file types
The different file types used in logo design vary in their versatility. Typically, the most common types used in graphic design include:
JPEGs or JPGs: common files used to compress large photos into smaller storage sizes
PNGs, or portable network graphics: types of raster files that designers use to stretch and expand images without losing quality
Vectors: digital graphics created from mathematical points, lines, and shapes that use little storage space but retain image quality
Out of the three options, professional designers recommend vectors and PNG rasters for the crispest online logos.
When you change their size, these images retain their resolution and preserve quality without over-compressing.
However, designers recommend using PDF or Adobe Illustrator files for physical merchandise.
These formats provide the best resolution protection when printing different sizes of logos.
How To Create a Law Firm Logo: Your Three Options
There are three routes you can follow to create law office logos:
Use a stock image
Create your own
Hire a graphic designer
The best value choice for an enduring, effective logo is to hire a designer.
However, let's take a look at each option.
Option
Pros and Cons
1. Use a stock image

Cheap and easy to license
No exclusive rights, and may look careless and unprofessional

2. Be your own law firm logo maker

Cost-effective and gives you complete control
Difficult with no design experience and highly time-consuming

3. Hire a graphic designer

Work with an experienced professional, which is a genuine investment
The most expensive option of the three
1. Use a stock image
Using a stock image for a new logo is likely to be your most efficient and affordable choice. They're easy to license and pay for.
However, this approach typically doesn't grant you exclusive rights.
If you can license a stock image, so can everyone else.
Picking a stock logo often looks lazy and careless. A stock image isn't your best law firm logo, regardless of how you build it.
2. Be your own law firm logo maker
Creating your images is cost-effective, provided you have:
Access to professional software
Some experience in graphic design
Clear ideas in mind
Time to produce several designs from scratch
The DIY route is ideal for many creative business owners.
However, if you're a graphic design novice, you might benefit from help using shapes, colors, and professional software to create your new law firm logo.
3. Hire a graphic designer
Hiring a graphic designer for your lawyer logo is a good investment.
You pay a one-off fee for multiple visual assets that appeal to your clients for as long as you need them.
However, there are a few points you need to consider when approaching a graphic designer.
Finding a designer
Look for designers on online job boards, LinkedIn, social media, and through recommendations.
Alternatively, use a search engine to look for a specialist in lawyer logos in your area.
Choosing the right designer
Never work with the first designer you find – be prepared to compare different experts before you settle on a contract.
Choose a law firm brand designer with a significant online footprint and a full design portfolio.
Does your designer have a Google Business Profile? Look for Google posts, authentic reviews, and social media listings.
Tips for optimizing how you work with a logo designer
Provide your designer with as much detail as possible. Let them into your brand. What's important to you? What do you want to achieve with this logo?
Encourage your logo designer to approach you with multiple ideas and designs. It's highly unlikely that they'll come up with the perfect logo immediately.
Always communicate clearly and patiently with your designer and keep in regular contact.
The Best Logos for Law Firms: Show the World Who You Are
Most people, when they visit your website or find you online, see your logo first.
You risk that crucial first impression falling flat if it's boring, sloppy, or hard to remember.
With a few clever creative choices and the help of a designer, you can build a bold, evocative, and professional legal logo that:
Shows clients who you are
Introduces your expertise
Helps you stand out from other firms
Ensures clients remember you
Logos for law firms are windows into what legal practices have to offer.
Your logo should be the crucial first step in building your visual identity alongside a professional lawyer website design.
Start by ensuring you have the support of experienced law firm logo designers. At dNovo, we are specialists in creating eye-catching legal logos from scratch, and we're here to help.
Logos for Law Firms FAQs
Before you go, we'll break down a few final legal logo queries.
What is the best color for a law firm logo?
Many law firms choose blue and gray, as they suggest professionalism and trust and evoke confidence.
What is the best font for logos for law firms?
Law firms that want to show experience and traditional values should opt for serif fonts.
Other law firms aiming for a modern, disruptive brand appeal should consider sans serif fonts.
What is the significance of a well-designed law firm logo?
A well-designed law firm logo should help clients recognize you at a glance and can instill confidence that you can handle their cases.
What are the best practices for law firm logo design?
Consider hiring a logo design firm to produce visuals for you. It's cost-effective because you pay for years of experience and reduce your workload.
What options are available for creating logos for law firms?
You can approach a logo design firm, create your own logo from scratch, or use a stock image.
However, the latter option isn't wise as others could legally use the same image.
Do you need to trademark your law firm logo?
It's wise to trademark your law office logo and name if they might be misused. However, it is not vital to do so.
How do you make a law firm logo unique?
Avoid using cliche imagery such as scales of justice, gavels, and courthouses in your logo.
Create a logo that's easy to adjust for online and offline media.