Your website's loading quickly, bursting with helpful content, and your contact form is easy to find.
Yet, potential clients still aren't reaching out to you at the rate you'd expect. They lack confidence. Why?
Believe it or not, your photos might be to blame.
If you're quick to use stock photos of gavels and paperwork, and your law firm background images are ripped straight from Google, it's time to rethink your content marketing and visual appeal.
Around 67% of your visitors invest in you based on the quality of your photography alone.
The very best attorney website photos:
Show the people behind the cases
Help put prospects at ease
Establish your authority and professionalism
Well-chosen photos for law firm websites are quicker to mentally process than walls of text. If they're poor quality, visitors will likely exit your own website and look elsewhere.
Here's how to ensure your photos show your firm at its best.
Why Are Photos for Law Firm Websites Important?
The best lawyer website photos help visitors feel at ease and better connected to you.
They help people make decisions they feel are relevant to them.
Moreover, web content receives up to 94% more visitors when you include quality photos and videos.
Once visitors find your website, they're likely to use emotions and experiences to help evaluate whether or not you're right for them. Images are quicker and easier to engage with than text.
In lawyer website design, creating this engagement and trust is vital. You're handling extremely sensitive, high-profile cases where people might feel embarrassed or unsure how to proceed.
With warm, friendly imagery, you:
Give your law firm a "human face"
Welcome visitors to your company
Reassure prospective clients before they speak to you
For example, here's how our client, Frenkel Tobin's family law website features a "human" face.
Clients want to hire lawyers for their personalities as much as for their knowledge. Personality is easier to convey through imagery than through text.
On average, web visitors only read around 20-28% of your text. They're paying attention to your visuals.
There's also the fact that up to 67% of general consumers consider image quality to be essential when making purchase or investment decisions online.
It's possible to improve your search engine optimization (SEO) with well-chosen images relevant to specific pages across your website, provided you upload them correctly and take mobile devices into account.
It's worth also using local photos to help support local SEO strategies.
Finally, visuals make or break a brand image in the legal industry. You need to create a consistent, appealing brand through well-shot and well-positioned images.
Stock Images Versus Custom Photography: Which To Choose?
Stock photos are highly controversial and don't offer much value for law firm marketing.
This is especially the case if they are forced, stuffy, and blatantly staged. They may save time and effort with minimal investment, however.
Digital marketers sway toward free stock photos, with 69% preferring this route. However, 62% of marketers use custom shots, and 52% of the same study pool invest in paid stock photography.
For your law website, it's best to walk a fine line between stock and custom shots.
Both have their place on specific pages but for different purposes.
Let's start by comparing the two types. Take a look at the difference between this relaxed yet professional group shot of our client, Wagners:
Compared to a standard stock photo from a competing site:
The stock image is polished, but it's posed for promotional purposes and doesn't present real lawyers front and center.
Visitors who see real people who work at your firm instead of posed models are 35% more likely to follow through and call you.
However, there are occasions where stock photography may be beneficial.
When should you use stock photography?
Ideally, to improve your site's functionality, you should never use stock photos on your:
Home page
Lawyer profile pages
General "about us" landing page
These pages likely gain the most traffic, so you must appear genuine and passionate and build rapport with your audience.
Instead, consider using stock photos for blog posts and practice area pages. They help convey complex topics or ideas and tie written content together.
Here's how our client, Yegendorf Rashid, a personal injury law firm, presents a complex topic in a blog post with an emotive stock photo:
Try to avoid well-worn cliches if possible. Shots of crime scenes, banging gavels, and courthouse steps are unimaginative and uninspiring.
When should you use custom photography?
Web designers often agree you should use custom photos almost everywhere. They make for the best law firm website photos overall because they're unique to each company.
There's no harm in using them in blog posts if they convey ideas, but they're most relevant on your home page and in the About and Bio sections.
Here's a bio section example from our client, Costa Law Firm, a criminal defense and family law firm: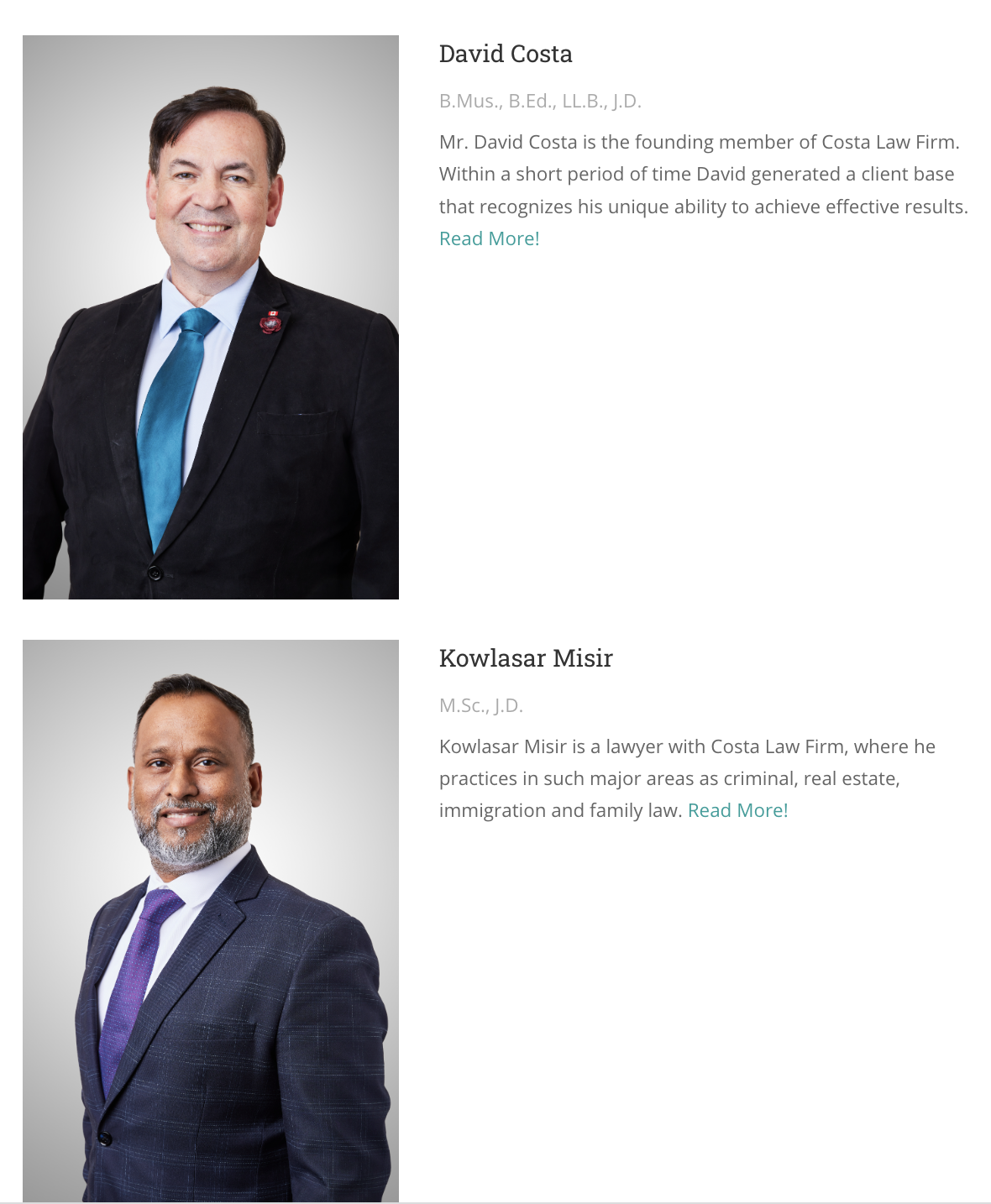 Custom photography creates personality, breeds familiarity, and offers windows into your practice before a client calls.
Active shots of genuine lawyers working in earnest on cases establish your brand as a unique firm in a sea of stock-reliant competitors.
Uninspired visitors click away from passive shots and seek a firm with more personality, energy, and confidence.
The 8 Top Tips for Custom Photography
Now that we're clear on how important custom shots are for your law firm's website, you must start planning them.
Here are a few ways to make custom photos work to your advantage.
| | |
| --- | --- |
| Top Tip | Summary |
| Decide on style and tone early on | Visualize your brand and help your photographer create your ideal look |
| Choose a photographer carefully | Research professionals with varied portfolios and prioritize versatility |
| Create high-quality law firm background images | Choose relevant background images that are energetic yet put your ideal clients at ease |
| Take multiple shots | Make the most of your photographer's time so you have a wider pool to choose from |
| Be active | Avoid stuffy, posed portraits |
| Keep it simple | Don't overfill your shots with cluttered desks; focus on keeping people or relevant objects in focus |
| Avoid the flash | Flash photography makes scenes seem forced and unnatural; choose ambient lighting instead |
| Dress to impress | Wear bold yet appropriate clothing that you can crop down in photo editing – and always avoid patterns |
1. Decide on style and tone early on
Always decide how you'd like to appear before hiring a professional. Without a clear idea of your brand and ideal style, your photographer works in the dark.
Consider your ideal clients.
For example, are you looking for dynamic action shots to appeal to injury claimants who want hard-hitting support immediately?
Choosing the right photo style creates an effective first impression before a photographer gets behind the camera.
Our client, GDH Family Lawyers, a family law firm, uses a soft, understated tone for their lawyer gallery that bursts into color when you scroll across. It's a gentle approach for a company dealing with sensitive family matters.
2. Choose a photographer carefully
Screen your photographers. Don't opt for the cheapest local professional. Research experts in law firm photography and closely examine their portfolios. Do they specialize in the shots and tones you're looking for?
Test the versatility of your photographer.
Inquire if they replicate specific styles and looks of photos that personally appeal to you.
Request to see as many examples as possible, and work with a web designer to choose a photographer who provides the right formats for your site. You need to interview on the technical side and the visual. A web design company can help.
3. Create high-quality law firm background images
While you're likely to focus on the people in shots first, choosing appropriate backgrounds changes the mood and impact of your imagery.
For example, don't be afraid to step outside of the office. The cliche is that law firm websites are full of office shots and photos of desks neatly stacked with case studies.
Consider taking shots outside your building or of the team standing just outside the premises.
Here's a shot our client, Stacey R. Ball, uses to establish the outer office:
Choose evergreen backgrounds that are peaceful and calming but still create a sense of energy. Wide background shots are also easier to crop and edit if needed.
For law offices with a view of a fantastic cityscape, don't be afraid to put it on display. It's a dynamic look that adds to the professionalism of your practice.
Use landmarks in backgrounds that add to your branding and also reflect your practice. Here's an example from our client, GLG LLP, a business law firm:
The best law firm background images aren't flat or generic. They're unique to your company, and at the very least, they're just as evocative as your portrait shots.
4. Take multiple shots
While you might hire a fantastic photographer from the get-go, it still pays to take as many shots as possible.
This way, you have a library to choose from before editing. Again, images should crop down to help you create new scenes and styles.
Having "too many" photos is better than "too few."
If your photographer's pricing is by the hour, using their skills as much as possible makes sense.
The best images for law firm website purposes aren't always obvious at first "snap." Take the photos first, and carefully peruse them later.
5. Be active
Apart from biography sections and some homepage content, avoid the posed portrait look.
Ask your photographer to take shots of the team in active discussion to catch moments of animation, passion, and humanity.
Your visitors warm to these elements when they head to your website. These tiny moments of character assure people that you're not "empty suits" working on cases.
Don't sit or stand around. Have your team engage in activity, potentially out of the office or in a naturally-lit space.
Action shots can also be simple and work better than static, posed shots. Here's an example.
This photo shows us that:
This company employs people who enjoy working together
These lawyers care about their work and what they do
They're professional yet clearly feel at ease
6. Keep it simple
The more cluttered a photo, the less professional and more distracting it is.
It's tempting to use shots of your desks "in use," but this is counter-intuitive if said desks are stacked high with papers, or there's stationery left idle.
Clean your space and make sure pictures focus on your people.
Your visitors won't hire you based on how neat your desk is. They want to see who you are.
Here's an example from GLG LLP:
7. Avoid the flash
Ambient light is perfect for law firm photos. You should create shots as naturally and unfiltered as possible, keeping the camera flash "off."
Using a camera flash is risky. It destroys natural shadows and makes shots seem unnatural and uncanny.
You should add to comfort and familiarity, not subtract from it.
Ambient lighting is great for illuminating spaces and controlling shadows. It's ideal for creating a relaxed atmosphere and adding warmth to your subjects.
8. Dress to impress
Depending on your brand personality and audience profile, consider dressing your subjects in a bold color scheme or simple shades.
However, avoid patterns at all costs. They're distracting, often unprofessional, and take attention away from people.
Choose a wardrobe that's "crop-friendly." For example, do outfits look good if cropped at shoulder height, or do they look awkward or incomplete?
See our client, Wagners:
Discuss wardrobe choices with your team beforehand and consider the effect on tone. Are you looking for dynamic, bold, and proactive or gentle, thoughtful, and refined?
Here's an example our client Boland Romaine leads with – bold yet professional.
The 8 Best Practices For Adding Photos to Law Firm Websites
Taking photos for your law website is one thing, but implementing them effectively is completely different.
Here are a few tips on how to get the best out of your shoots after the photographer leaves.
| | |
| --- | --- |
| Practice | Explanation |
| Use high-quality photos | Use high-resolution images that are flexible to edit and reshape and show your team at its best. |
| Only use relevant shots | Ensure you keep readers engaged with specific images that tie in with the context of posts and pages. |
| Check your images are SEO-friendly | Edit descriptions, URLs, and filenames to ensure Google understands your photo intent. |
| Don't cram your pages with photos | Give readers space to breathe and the ability to skim content if they need to. |
| Follow the law | Check if your local bar allows stock photos to advertise your firm. |
| Remember that photos aren't everything | Ensure your content, UX, and UI are all fighting fit. |
| Keep your message in sight | Don't use random photos for the sake of doing so. Keep branding consistent to resonate better with your visitors. |
| Lean toward the personal | Show your visitors you're human – use action shots and create a character they can warm to. |
1. Use high-quality photos
High-quality images look good everywhere. The higher the quality of your photos, the easier they are to edit, scale up and down, and repurpose for different pages and needs across your website.
Poor-quality photos fail to make a good first impression.
Website visitors looking for a good law firm website – only to find low-resolution photos that are difficult to make out – assume your company is as amateurish and as careless as your digital marketing strategy.
High-quality photos show absolutely everything – you're bold, honest, and showing legal intake leads what they want and need to see.
Don't underestimate the power of color, either. Studies show 83% of law websites use solely full-color photography, while 16% opt for a mix with monochrome.
Here's a fantastic high-quality shot our client Damien Frost & Associates uses to introduce you to its team.
2. Only use relevant shots
Photos are visual aids and great legal marketing tools for lawyers. Therefore, photos that make zero sense in the context of a page or among blog content confuse and frustrate visitors.
At this point, you can rely on stock photos again. Randomly chosen shots of your team might cause jarring effects for readers expecting something more relevant.
In cases where you need to discuss complex topics, relevant photos help prepare readers by creating an emotional context or breaking up the reading.
Here's another example of a highly relevant blog image from our client, Derek Wilson.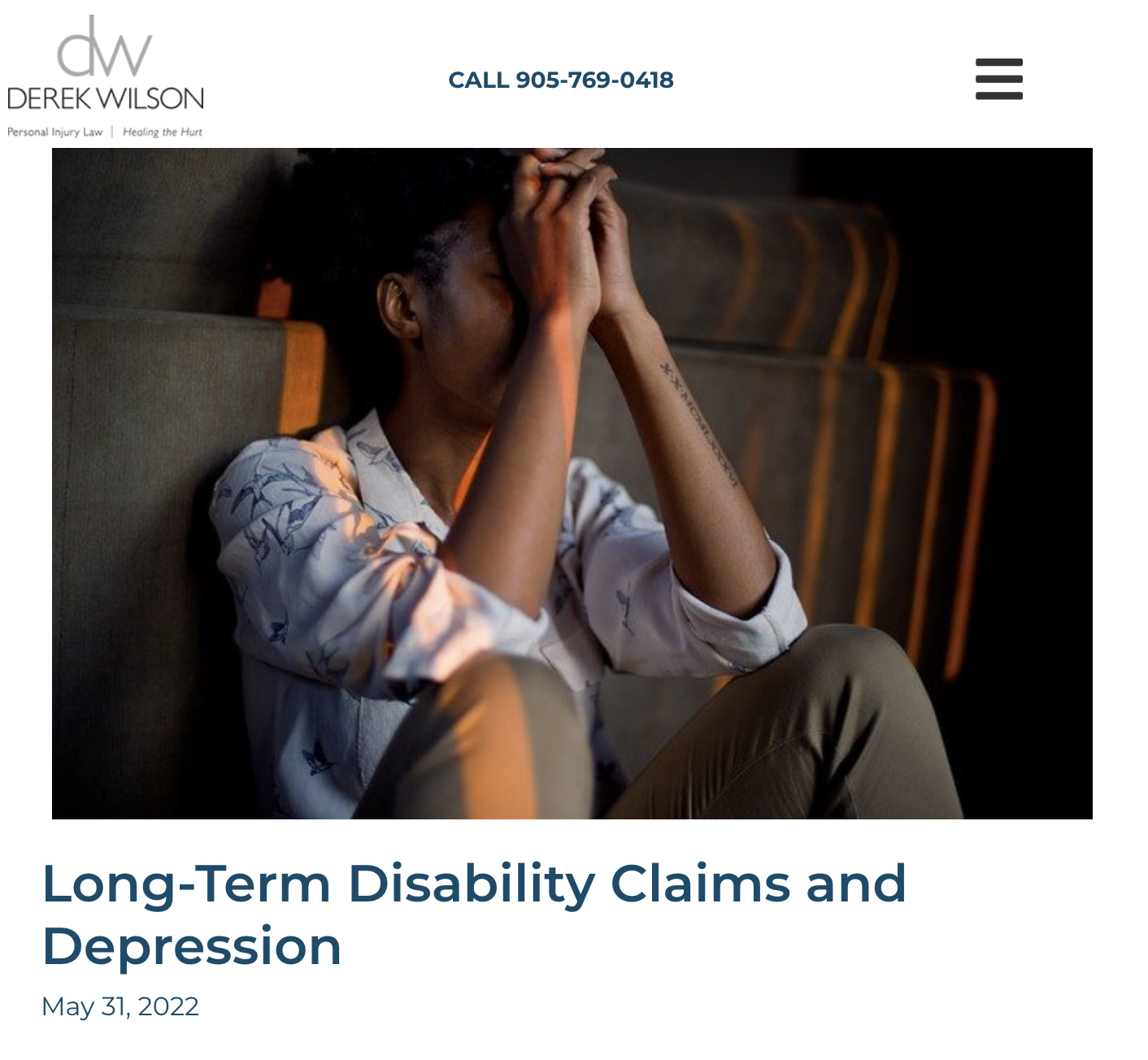 3. Check your images are SEO-friendly
As Google advises, you need to ensure your photos (and all media, for that matter) enhance and support the user experience or UX.
That means making sure your photos add value and make sense in context.
Place them close to relevant blocks of text, like testimonials, for example.
Create image captions and alt text so Google crawlers understand the intent behind your photos to help your potential ranking on search engine results pages (SERPs).
Always ensure your images have relevant, descriptive filenames and URL paths for reasons similar to the above.
4. Don't cram your pages with photos
Using too many photos comes across as unprofessional, unfocused, and cluttered.
While the right shots speak volumes about your brand and legal services, you still need to give your audience visual space to breathe. Web designers refer to this template as "white space."
White space covers unused areas in your visual design. It makes pages easier to scan. Breaking up images this way helps to improve the aesthetic quality, creating a professional first impression.
Say "more" with "less." If you only have a handful of high-quality team shots, they will resonate more with visitors than a cascade of uninspired stock photos.
Here's how our client, Yegendorf Rashid, balances space and photos.
If you're keen to build your brand with walls of photos and media, consider creating and managing a professional lawyer Instagram account.
5. Follow the law
Advertising laws for legal firms vary from area to area. For example, advertising rules for lawyers in Ontario likely differ from those you'd follow in Chicago, IL.
In some cases, for example, using stock photos to depict your enterprise may be considered "false advertising" or "misleading communication."
It's why many law firms stick with stock photos without people and why so many opt for uninspiring shots of contracts, desks, and Lady Liberty.
The best protection against advertising law is depicting people working for your firm.
If anyone leaves your company, refresh your photographs to reflect this.
Sometimes, you may not even be able to use stock photos. Check your local bar before you start.
6. Remember that photos aren't everything
For all we extol the virtues of using photos in this guide, don't rely on them wholesale.
A few photos here and there won't fix a legal website with a poor user experience.
For example, you need:
Helpful content relevant to keywords
A mobile-friendly interface that's clear and easy to navigate
Easily readable fonts
Loading speeds of less than ten seconds per page
Clear contact information
Internal links that connect to each other (avoiding 404s and orphaned content)
Photos play a large part in reassuring your visitors, but ensuring your website offers a great experience with relevant information delivered quickly is just as important.
Damien Frost, another one of our clients, offers a website that uses quality imagery sparingly. It balances them with valuable white space, a simple navigation bar, clear contact details, and content that's easy to read.
7. Keep your message in sight
Relaying your central message, promise, ethos, and brand image revolves around consistency.
While blending different photos of different styles may be tempting, your clients crave harmony.
Message consistency is brand consistency. Keeping your photos on-brand and on-theme makes your message easier to swallow and remember.
Failing to keep your message in sight likely results in a cluttered, unfocused law firm web design that's unsure of itself.
8. Lean toward the personal
People like working with other people, not with faceless entities or obvious stock models. They want to know that the lawyers they work with are "real."
Lean into a sense of personality in your law website photos.
Show your team in active debate, displaying open body language, smiling, and laughing where appropriate.
Choose positive images where your people appear poised but ultimately relaxed. Here's an example from a bio page where the team seems approachable yet professional:
Remember, never lean too heavily on posed photos. Reserve these images for "meet the team" pages and biographies.
On the homepage and about page, show your team involved in an authentic activity. Dare to show their personalities front and center.
Photos For Law Firm Websites FAQs
While we cover the basics of legal practice photos above, here are a few final points to consider before choosing a photographer.
What should I wear to a law firm photo?
Wear professional attire that's a little more conservative than you'd typically wear for a working day.
Consider suits, ties, blazers, and dresses. Choose bold colors within your branding, and avoid patterns.
What makes a good law website?
A good law website is welcoming, helpful, professional, and easy to navigate.
The best law firm website design should be fully responsive for mobile browsers and provide clear contact information and calls to action.
Why do I need professional photos for my law website?
Professional, high-quality photos create great first impressions.
They grab attention, convey your message, and show you're passionate about your work.
Professional photography reassures customers that you take your work seriously and care about your reputation. Moreover, you can use these shots elsewhere on social media as part of your marketing strategy.
What should I avoid in professional law firm photos?
Avoid wearing casual clothing, using the camera flash, and cluttering shots with busy backgrounds.
Avoid overly posed photos and lean into active shots that show your personality and energy.
Could the Best Law Firm Website Photos Boost Your Client Base?
It's possible, but photos for law firm sites shouldn't be your sole marketing focus.
Professional law firm background images and team shots help reassure prospective clients as part of a superb user experience.
Photos speak volumes about your professionalism and your brand when you choose them well.
What's more, research shows image quality is more important to your prospects than descriptions, service detail, and even client reviews.
The best law firm website photos are ideal for:
Showing your clients you're "human"
Assuring visitors of your commitment to your cause
Making your brand stand out and resonate
Breaking up text and white space to keep web design appealing
Professional law firm photography could boost your case intake rates if you'd like more reviews for your law firm or are struggling to get conversions.
If you need help from professional law firm web designers along the way, dNOVO is always on call.