Submitting your law firm to Canadian legal directories is a simple and fast strategy for building an online presence, acquiring backlinks, and driving traffic as part of law firm SEO. They can also help you build partnerships with law firms and grow local brand awareness.
Legal directories are websites that compile and list law firms for prospects to find. Users can filter by name, location, practices, and other options. A directory appears like this:
Your firm should be active on as many directories as possible to maximize this marketing strategy. There is no limit to the amount of directories you can submit an application to.
Continue reading to view a hand-curated list of the best legal directories in Canada and the U.S. along with information on maximizing the effects of legal directories as a marketing tactic.
Why are Canadian legal directories important?
Legal directories in Canada and the United States serve as an important part of any firm's marketing strategy. They are both a free and paid platform that can be used to drive traffic, get clients, and increase exposure. Let us explain further.
Referral traffic
One of the greatest upsides to using law directories is the traffic it will drive back to your firm's website. Since it is targeted traffic, it has a much higher chance of converting. Users are specifically looking for law firms in Canada or a certain town and yours will appear. This appeals to prospects who are in the consideration and decision stage of the buyer journey.
These prospects have already performed research after realizing they have a legal problem that needs a solution. After doing their due diligence, they are likely to land on a directory where they will find your practice and reach out for relevant services. Make sure that your website is placed on the directory with a call to action for this reason.
A call to action is a statement or phrase that instructs users what to do next. In this case, it would be to contact your firm for a consultation or more information. You could use calls to action such as:
"Contact us today"
"Get in touch with us"
"Email or phone us"
"Get a free consultation"
Get the legal help you've been seeking"
Local and national brand awareness
The second reason you want to invest in legal directories is for the fact that they instantly increase brand awareness both locally and nationally. Local directories will help you generate leads for nearby clients interested in finding firms like yours. National directories can get you clients and partnerships from all around the country.
Creating a consistent brand image across different channels including social media, your website, and directories can substantially increase company value.
For this reason, it's essential that your firm's image remains consistent across all assets and directories. Ensure that the same logo, images, sales copy, and offer is being used. Otherwise, it can confuse prospects and potentially prevent good opportunities. For example, this is the directory page for Wagners Injury Law Firm:
The same logo and colors can be seen on its website.
Additionally, the branding is kept similar on its social media profiles. All of his creates a similar brand appeal that clients can recognize and remember.
Backlinks and search presence
After submitting your law firm to a Experienced Toronto Lawyers directory, your profile will include a link back to your website. The profile will look something like this:
According to the SEO company Ahrefs, backlinks remain as one of the most important rankings factors. You can think of them like a voting system inside search engines. The more links that point to your website, the higher quality and authoritative algorithms interpret it. Your domain then is ranked higher than other websites and prioritized in the SERPs.
However, not all backlinks are the same. They come in all shapes and sizes. As you can see from the above graph, Ahrefs study found that the URL rating of the referring website is one of the most important elements of how it will impact your website. This is the referring website's authority.
The number of backlinks and "dofollow" links are critical as well. "Dofollow" is applied to an HTML hyperlink to pass authority from one website to another. The organic visits and sum of all traffic to referring pages is also important.
You can check the authority of any domain by entering the URL into Ahrefs domain checker.
Click "Check website authority" and it will generate a score out of 100 along with backlinks and referring domains.
The higher the authority, the better. It's also a positive sign if a legal directory for Canadian lawyers has a large variety of linking websites as we mentioned with Ahrefs data.
Imagine your law firm was submitted and accepted onto dozens of legal directories. That would equal dozens of authoritative backlinks driving traffic and increasing organic rankings.
You can analyze the backlink profile of your firm by entering the domain into a tool like SEMrush.
Scroll down to the backlinks section and you will be able to view referring domains and their metrics.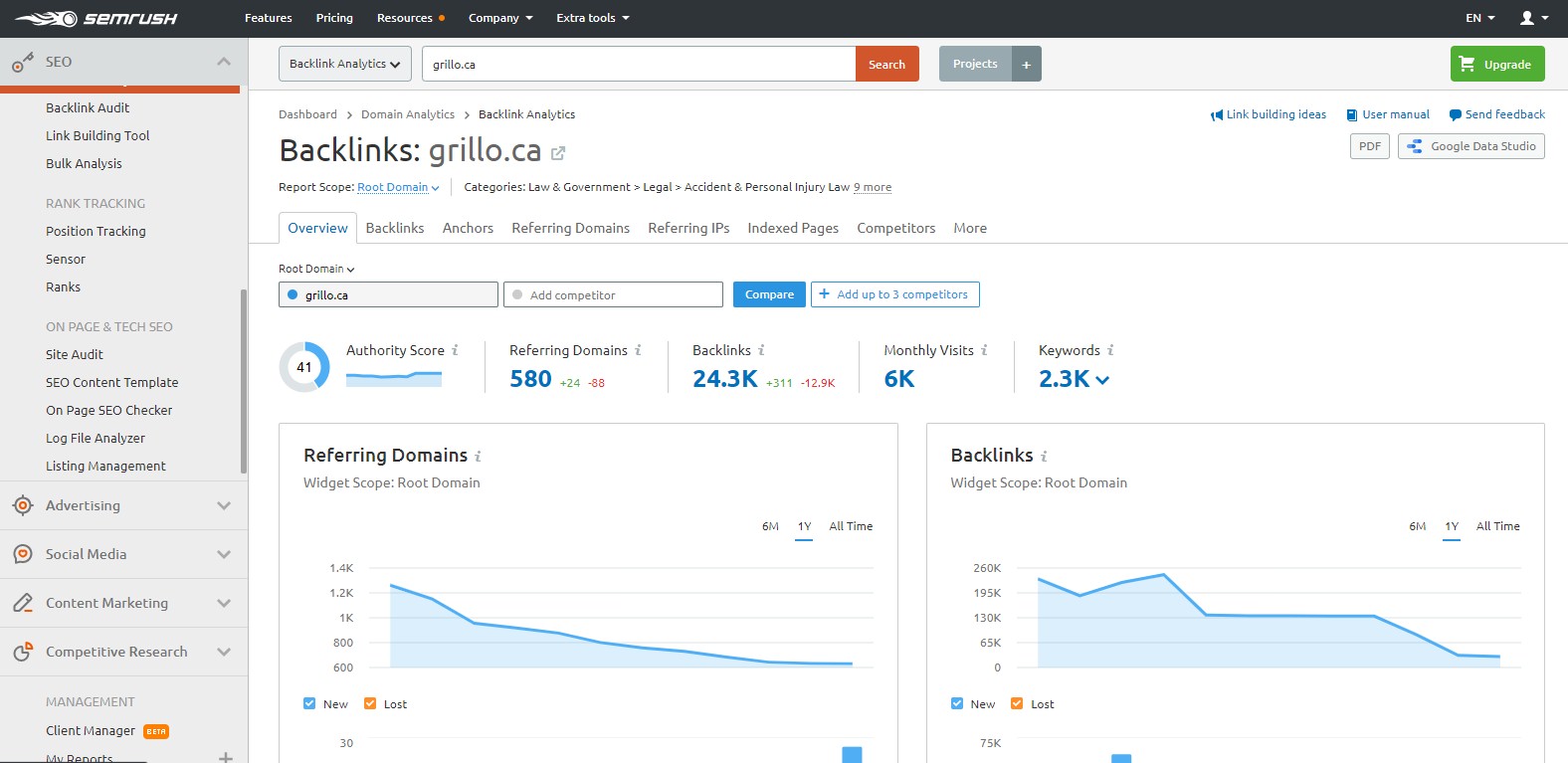 As you will be learning later in this article, these are crucial metrics to analyze before submitting a profile to directories. Performing this level of due diligence will ensure that your firm gains the most upside from this marketing strategy.
An example of the effectiveness of law firm SEO is dNOVO Group's client Matthew Jeffery. The Canadian immigration lawyer based in Toronto was interested in improving his firm's position in the SERPs, generating more traffic, and increasing conversions.
Our goal was to position the firm as an authority in their market, increase web traffic, generate demand, and increase its brand awareness. Search engine optimization ended up being one of the core strategies used to achieve all of these goals for our client. This is an approach that has worked well for our other clients as you can read in our case studies.
The first part of our strategy for Matthew Jeffery was on-page optimization. This is the process of optimizing website content, how it's written, and positioned. dNOVO Group also knew that we required an off-page strategy to improve search engine rankings. Social media was used to have the firm's voice heard by a larger audience, generate links, and drive traffic.
All of these strategies combined have allowed us to help clients like Matthew Jeffery increase their online reach, attract prospective clients, and grow their practices. Contact us today to learn how law firm marketing services can do the same for you.
Best Canadian legal directories and for the U.S.
Based on dNovo's research, these are some of the best legal directories for Canadian lawyers and attorneys in the United States.
| | | |
| --- | --- | --- |
| Rank | Name | Website |
| #1 | Canadian Law List | https://www.canadianlawlist.com/ |
| #2 | Canadian Lexpert Directory | https://www.lexpert.ca/directory |
| #3 | LegalTree | https://www.legaltree.ca/node/104 |
| #4 | Canada Lawyer List | https://canadalawyerlist.com/ |
| #5 | LawyerListings | https://www.lawyerlistings.ca/ |
| #6 | Canadian Bar Association | https://www.cba.org/For-The-Public/Find-A-Lawyer |
| #7 | The Legal 500 | https://www.legal500.com/c/canada/directory/ |
| #8 | Law Society of Ontario | https://lso.ca/public-resources/finding-a-lawyer-or-paralegal/lawyer-and-paralegal-directory |
| #9 | U Toronto Press | https://utorontopress.com/us/ontario-legal-directory |
| #10 | NALP Canada | https://www.nalpcanada.com/ |
| #11 | Top Lawyers Canada | https://toplawyerscanada.ca/top-canadian-lawyers-about-top-lawyers-canada/ |
| #12 | LawyerLocate | http://www.lawyerlocate.ca/ |
| #13 | LawyerNetwork | https://www.lawyernetwork.ca/ |
| #14 | Langlois | https://langlois.ca/canadian-legal-lexpert-directory-2019-en/ |
| #15 | The Law Society of British Columbia | https://www.lawsociety.bc.ca/lsbc/apps/lkup/mbr-search.cfm |
| #16 | Gowling WLG | https://gowlingwlg.com/en/news/awards-recognition/2019/2019-canadian-legal-lexpert-directory/ |
| #17 | Law Blogs | https://www.lawblogs.ca/ |
| #18 | Ontario Bar Association | https://www.oba.org/For-the-Public/Find-a-Lawyer |
| #19 | Chambers | https://chambers.com/guide/canada?publicationTypeId=20 |
| #20 | Nonprofit Law Ontario | https://nonprofitlaw.cleo.on.ca/onca-legal-help/lawyer-directory/submit-a-lawyer-listing/ |
| #21 | CLSA | https://www.acds-clsa.org/?q=en/node/7 |
| #22 | CanLII | https://www.canlii.org/ |
| #23 | Law Society of Alberta | https://www.lawsociety.ab.ca/public/lawyer-referral/ |
| #24 | Thomson Reuters Canada | https://www.thomsonreuters.ca/en/westlawnext-canada/litigator.html |
| #25 | Avvo | http://www.avvo.com/ |
| #26 | Justia | https://www.justia.com/ |
| #27 | Lawyers.com | http://www.lawyers.com/ |
| #28 | HG | https://www.hg.org/ |
| #29 | HireMeLegal | http://hiremelegal.com/ |
| #30 | LegalZoom | https://www.legalzoom.com/join-attorney-network.html |
| #31 | Superlawyers | https://www.superlawyers.com/ |
| #32 | LawInfo | https://www.lawinfo.com/lead-counsel/application/ |
Here are ten of the best directories and more information on how to use their submission feature.
Canadian Law List
Candian Law List has served the Canadian legal community for over 150 years. They have provided different ways for the public to access detailed information about Canadian lawyers and judges to keep the industry transparent. Its online directory includes law firm profiles, affiliations, personal biographies of attorneys, government departments, and more.
Add your firm to Canada Law List by selecting "New Listing" from the top navigation.
Begin by filling out the basic fields including your name, company, address, and email. This is completely free to publish, however, you can pay a fee to have a profile, website, logo, social profiles, practice areas, and extra comments.
Lexpert
The Canadian Legal Lexpert Directory was published in 1997. It includes the lead practitioners across Canada and in more than 60 different practice areas. It is consistently updated and will help your firm reach a targeted audience. You can create a listing by clicking "Submit a Listing" under "Directories & Rankings"
Begin by filling out your full name, job title, email, company name, and other personal/practice information.
Below this you may select up to five different practice areas. Select five if possible as it increases your online visibility. Spend time crafting a value and benefit-driven biography. Prospects should immediately understand the value proposition of working with your practice versus others.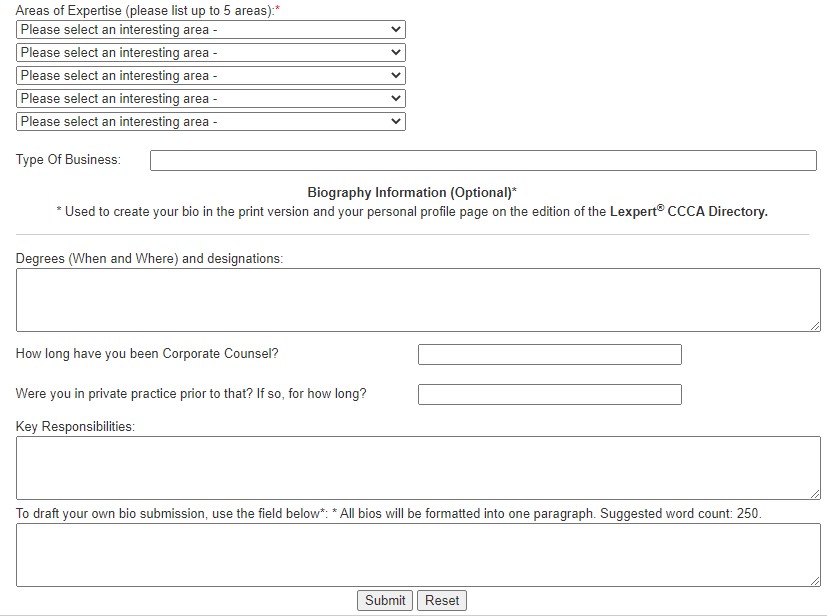 Click "Submit" once you are finished.
Canadian Lawyer List
The Canadian Lawyer List website is a directory of active lawyers all over Canada. It contains a comprehensive database of more than 20,000 lawyers and firms. They include different practice areas ranging from civil to criminal and real estate. This means that no matter what niche you practice in, you will be able to use this directory as a channel for driving traffic and awareness.
Begin by clicking "Add New Lawyer" or "Add New Law Firm" from the top navigation.
Choose between a free or paid listing. Free submissions including a Google Map location, street address, phone number, and appears on Google's search results. The premium option includes city/province indexing, contact email, service description, expertise categories, social links, and edits.
After selecting either option, you will be prompted to enter personal and business information. You can sign up and complete the submission once you're finished.
Lawyer Listing
This website includes over 800 law firms in 200+ cities in both the Canada and United States. It helps people find the closest law office to them making it ideal for local lead generation. They also allow you to submit individual law profiles. Begin by clicking "Add New Listing" on the top navigation.
Enter your user information and choose between a package. Currently there are Silver, Gold, and Diamond plans to choose from. Each one is increasingly expensive but includes more features.
Silver costs $9.99/month and includes instant approval, a do-follow backlink, law firm profile, lawyer profile, and awards section. Use this if you only wish for a basic listening. Gold costs $24.99/month and gives you a lifetime listing with events, videos, and appointment setting. Diamond is priced at $53.97/month and includes all of the features in Gold plus five listings.
Lawyer Locate
Lawyer Locate is one of the most effective directories to be a part of because of its wide range of membership benefits. The directory began in 2002 when very few law firms had websites or an online presence. It helped connect clients to firms and attorneys. Now that digital marketing is popular for lawyers and similar practices, prospects are researching them in different ways which is where Lawyer Locate helps.
Lawyer Locate's directory is optimized for search engines so your profile doesn't become stagnant and do nothing. It will continually gain exposure and organic traffic. Some of the biggest law firms in Canada are on this website and you will be placed alongside them to build trust.
They will review your profile information and give you advice to ensure that it generates the most traffic and converts prospective clients. Links to your firm's website will build authority and help prospects directly engage with you. Contact information is also listed so users can get in touch right away. The most important feature you will gain from working with Lawyer Locate is its referral service. They match prospects with lawyers like you in their database to generate more leads. These individuals are pre-screened for quality, area, and delivered directly to your inbox.
How to submit your law firm to a Canadian legal directory
Follow these steps to successfully submit your law firm to a Canadian legal directory to drive traffic, leads, and more.
Step 1: Choose a legal directory in Canada
The first step is picking the correct legal directory to submit your firm to. Remember, not all directories are equal. Some are better than others. This means that your marketing team needs to carefully select directories that will drive the most relevant traffic and backlinks.
One of the main aspects to consider is the type of directory. There are directories for local, national, and industry-specific law firms. For example, some may only be for Toronto lawyers while others include firms across all of Canada or only personal injury attorneys. Ensure that you are submitting your practice to the correct legal directory or you risk wasting time and budget.
Reference the list dNOVO has curated above to make the correct choice. Then, move onto the second step below.
Step 2: Analyze if it makes a good fit for your firm
How do you know which legal directories are worth your time and which aren't? How do you know whether or not they will contribute to your firm's bottom line? Quite simply, actually. The first step is to have your marketing department analyze its web traffic. You can do this with a tool like SimilarWeb.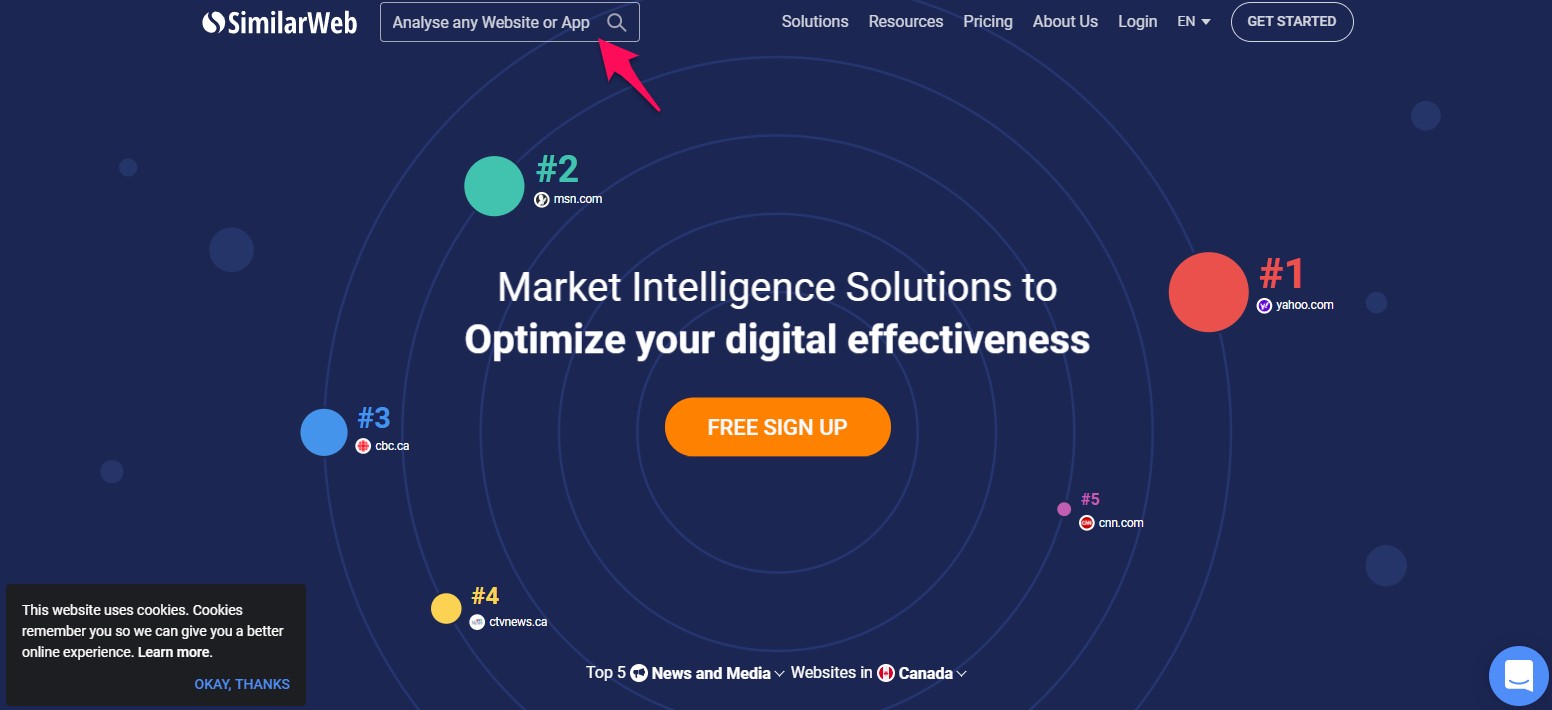 Enter a URL into the top bar on the homepage and it will analyze the domain's performance and authority. SimilarWeb will first display a directory's global rank, country rank, and industry rank. The higher the rank, the more SEO power it will be able to pass to your website.
Scroll down to view the traffic analysis. For example, the directory we searched from our list generates 1.12 million total visits per month with an average visit duration of 7 minutes 18 seconds. These are phenomenal stats and would indicate that the directory will be able to drive valuable traffic to your firm's assets.
Below this you will find where the traffic originates from. This is critical because you don't want traffic from other countries presuming you primarily service local clients. In the case of the above directory, 93.38% of users come from Canada.
We suggest leveraging the referring sites after this for further inspiration. Some of the top referring websites may be other directories or businesses you can partner with.
The "Competitors & Similar Sites" section can be utilized for this purpose too.
Next, it's crucial to audit the SEO profile of a directory to ensure that you are not receiving low quality traffic or backlinks that can be damaging. Take the URL of the directory and enter into a tool like SEMrush.
The "Domain Overview" section displays an authority score, monthly organic traffic, and the number of backlinks. The higher the authority score, the better. Backlinks will pass more authority and make a larger impact on your firm's domain. Ideally the directory has equal to or more authority than your website.
Studies have found that the average website only generates 411 visits per month. If you analyze a directory and determine it has more traffic than this, it's a good choice. Additionally, look at the backlink profile to ensure the directory has thorough link diversity. This makes its backlinks more useful in the eyes of a search engine.
Read our guide on how to pick the right SEO provider if you'd like to learn more about outsourcing processes like these.
Step 3: Submit your website
Once you have found directories that are good investments, visit them and search for a submission option. This should be found in the main navigation or footer at the bottom of the website.
It will require you to fill out a form including your name, location, and contact information.
Click the submit button once you're finished. Depending on the directory, the submission may go live instantly or after it's reviewed. Some will require payment before it's published as well.
The best U.S. attorney advertising directories
Is your law firm headquartered in the United States? We've updated our article to not only focus on Canadian legal directories, but platforms available for firms in the U.S. as well.
This is because establishing effective marketing and advertising strategies as an attorney is crucial. It enables you to reach more prospects, drive revenue, and be seen by the right audience. However, it's easier said than done. Marketing and advertising as an attorney can be complex and expensive.
In fact, 68% of law firms have increased their focus on marketing due to internal pressure while 43% of firms do so because of rising competition.
It can be daunting to choose from all of the available channels but one remains universally effective: attorney advertising directories. These cost-efficient websites allow you to create a public profile to be seen by large audiences seeking legal counsel. Leverage these to improve brand awareness, generate leads, and drive traffic back to your firm's website.
Below details some of the best attorney advertising directories your legal practice can use in 2021 and how to get the most out of them.
#1 – Avvo
Avvo is one of the largest advertising directories for attorneys. They help generate $8 billion for law firms and attorneys that use their services. You can get started by clicking the "Grow your practice" link in the main navigation.
Enter your first name, last name, and location to see if a profile already exists for your practice.

If it does, you can claim it. If not, it will present the option to create a new profile through the "create a profile" link.
Fill out the first part of the form that asks for personal and license details.
Create an account at the bottom of the page via the social media icons or email after completing the form.
Accept the terms and conditions to continue once you are finished. Your profile will be successfully created and listed for prospects to discover. Make sure to read our full review of Avvo tio learn more.
#2 – Justia
Justia offers free professional profiles for lawyers to enhance visibility on the internet. It's as simple as claiming a profile to reach more prospects and strengthen your online reputation. They also generate over ten million visits per month, offering massive exposure.
You can get listed for free by visiting Justia's website and clicking "Lawyers – Get Listed Now!"
Select the red "Lawyers, Get Listed For Free" button on the next page.
Enter your email, name, address, and phone number in the following form fields.
Click "Get Started" once you're finished and the profile will get listed on both the Justia and Legal Information Institute directories.
#3 – Lawyers.com
Lawyers.com is an attorney advertising directory that is owned by Martindale. They allow you to create profiles that are shared across their network of sites giving you exposure to over 15 million visitors every month. These are prospects that can easily convert into leads, clients, and referrals.
You will also be listed on Lawyers.com℠, Martindale.com, Nolo.com and other sites within their portfolio.
Unlike the other websites in this article, you have to perform more steps to secure a profile because of the high amount of traffic and visibility you will gain.
Instead of simply registering for an account and signing up, you have to complete the contact form at the bottom of the page here.
Select the "Inquire about New Professional Listing on Lawyers.com" option from the dropdown menu. Fill out your name, email, and phone number. Then, explain in the message section you would like your firm listed on their directory and they will get back to you with more information.
#4 – HG.org
HG is a legal directory that attorneys can use to create a profile, publish legal articles, and more. They remain as one of the highest traffic legal websites for the past 21 years. To list your firm and leverage their audience, click "List Your Firm" from the top navigation.
Unless you already have an HG account, select "List Your Law Firm" on the right panel.
Choose between the free or paid memberships. The free listing includes basic contact information, a listing title, brief firm overview, and article submissions. The premium listing includes unlimited form description, full contact information, positions, practice areas, logos, pictures, and more.
Click "List Your Firm" when you're ready to move onto the next step.
Enter the URL of your law firm on the next page.
The next page will ask you to fill out information about your personal details, firm,and  areas of practice. You will also need to create a user ID and password.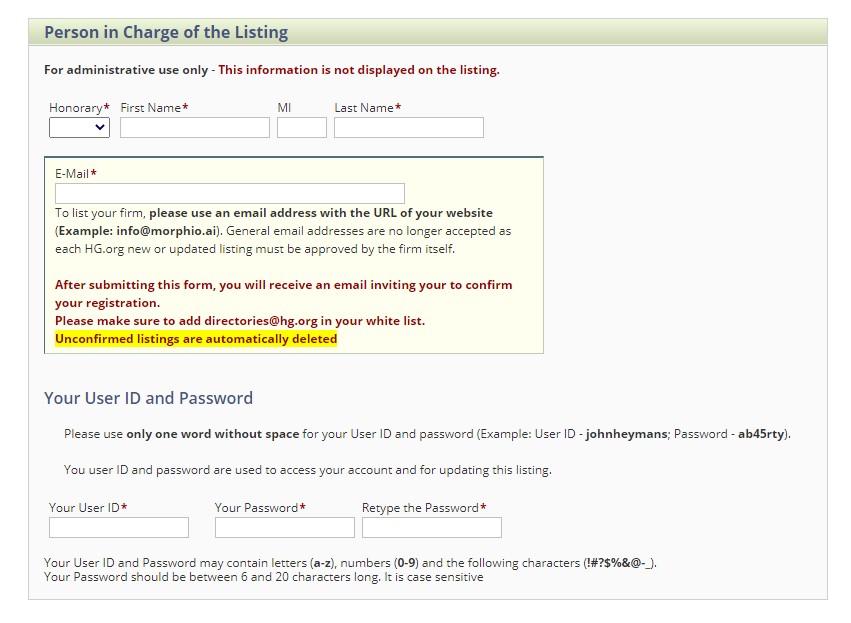 At the bottom of the page, click "Save this Form" when you are finished to submit your application. After being accepted, you will be able to log in and choose the free or premium listing options.
#5 – HireMeLegal.com
HireMeLegal helps clients find the perfect attorney fast. Users can post their case and lawyers will come to them so they can hire the right person in their times of need. However, attorneys can use to have cases sent to them automatically.
To start, simply choose a plan, create a profile, and you will be able to increase brand awareness while generating leads. Begin by clicking "Join Our Attorney Network" from the top navigation.
Then, select "Try Now" under the appropriate plan you wish to choose. The free plan offers the most basic features while Starter ($99/month), Professional ($199/month), and Unlimited ($499/month) offer increasing amounts of features and limitations.
Enter your first name, last name, email, and select a password to register.
Log in after registering and you will be prompted to fill out your attorney profile information. It begins with personal and contact information along with a biography section. Talk about the role you have at the firm, how you help clients, and results you've generated as social proof.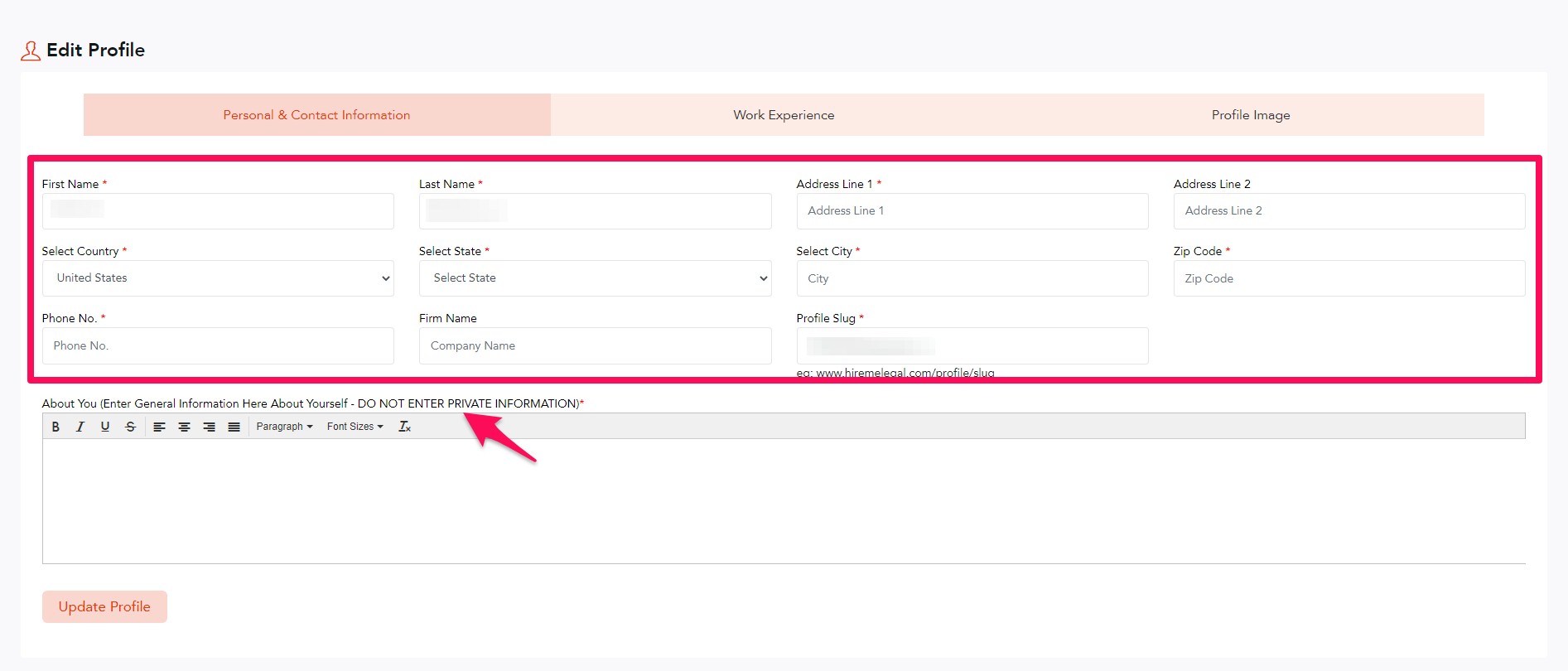 Finish the work experience section, add a profile image, and your profile will then be publicly listed on HireMeLegal.
#6 – LegalZoom
Do you have a passion for law and providing excellent service to clients? LegalZoom offers a platform for you to help more people and drive growth for your firm. It is a platform that helps legal aid be more accessible to people across all 50 states in America.
Their solution will help you grow through scheduled consultations, finding clients, and new programs that you will have first access to. However, you must meet the following requirements:
5+ years practicing law.
Passion for providing great client service.
A spotless state bar record and online reputation.
The ability to explain complex legal issues in simple ways.
Experience with technology and comfort with virtual collaboration.
Here's an example of what a profile looks like on this attorney advertising directory:
Fill out the form at the bottom of this page including your name, firm name, size, and practice areas.
Click "Submit" and LegalZoom's team will get in touch with you if they believe you're a good fit. You will receive more information and steps needed to publish a profile.
#7 – Superlawyers
SuperLawyers is a platform that helps individuals find the top rated lawyers in their area. Attorneys can use this directory to expand their visibility by registering for a free account. This is what profiles on SuperLawyers look like:
They include a photo, phone number, email, location, practice areas, and detailed biography. Enter your name, email, and request to create an account in the "Question / Comments" section of the form here.
Once approved, you will be given an access code where you can register an account. We also recommend providing a link to your firm's website and more background information to improve the chances of being accepted.
#8 – LawInfo
LawInfo is an advertising directory for attorneys that helps individuals find the best lawyers for cases locally. Users can choose between legal issues, location, and gain access to various resources to assist them with their case.
As an attorney, you can apply to have your profile created and verified if you meet the following requirements:
Professional experience in the relevant practice area.
Currently in good standing with the state's attorney governing authority with a clean disciplinary record.
Once verified, you can use their Lead Counsel Verification program as a marketing channel to generate clients and traffic. Get started here by completing an application. You must pledge to the commitment declaration and attest by the statements.
Fill out the form on the following page. The first section includes your personal information, attorney bio page (website, LinkedIn, etc.) and primary practice area.
Complete the firm information page and bar info. Click "Next" when you are finished filling out this. LawInfo will contact you if you are accepted. When you are accepted, your profile will be liev and you will be able to login and modify the information if needed.
Additionally, your profile will then be placed in their database to be found by potential clients looking for lawyers in your practice area and location.
Final thoughts on the best Canadian legal directories
Legal directories for Canadian lawyers are a great marketing strategy to drive referral traffic, increase brand awareness, and acquire high-quality backlinks. They list local and national firms or industry-specific attorneys.
Use the list of directories we provided at the beginning of the article. Visit each one of these websites and submit your firm's domain and information. Some will instantly accept your application while others have a wait time and fee. Once published, your practice will instantly have more exposure and web traffic.
Reach out to dNOVO if you need law firm marketing services to grow your practice and acquire more clients.