8 Tips:
Keep it Personal
Make it Easier for Clients
Keep it Simple
Create a Review Collection Process
Follow Up and Automate
Go Extra Mile
Respond to Every Review
Provide Quality Service
Online reviews are for a law firm like the book of laws is for a lawyer; the importance of which cannot be stressed enough. They are crucial for any service-based business, especially for law firms. When people are in dire need of legal advice, they don't want to settle for good lawyers; they want the very best. The first thing potential clients do when deciding whether or not to hire you is to go online and read through all your reviews. The word of mouth has gone digital and is now the stroke of fingers. Having a strong portfolio of positive online reviews can be the cornerstone that differentiates you from the crowd and pulls clients through the door. This article provides a detailed guide on everything you need to know on how to get more positive reviews for your firm and convince clients long before they even get in touch.
Keep It Personal With the Client When Asking For a Review
People buy from people. The graph above is proof of that. When asked whether you are comfortable or not interacting with AI, non-AI users were mostly uncomfortable or had no say in the matter. And law firm mostly deal with people with limited or no AI experience, unless it's an IT industry client. It's all about likeness, relatability and trust. Majority clients don't want to work with a faceless firm, but with real people who stand behind it; and that is doubly the case for law firms. That is why it is extremely important to put a lot of time and effort into making the whole interaction with your client as personable as possible from the very start. First impressions matter. The impact that you leave on your client from the moment they walk through the door will influence your entire relationship. Building rapport with your client will also help you achieve higher overall client satisfaction. There is one problem, though. It's very rare for satisfied clients to leave any review at all unless they are prompted to do so – they need to be reminded. Ask yourself this; when was the last time you felt a particular urge to leave a review? In most cases, people only leave a review when they are dissatisfied with the service one way or the other. If you don't ask for a review from satisfied clients, you will end up only with reviews from:
Clients that were satisfied beyond their expectations, and
Those that were full of grievances, justifiable or not.
Now, where does that leave you and your firm? With a bag of mixed reviews that will only serve to confuse potential clients and lead to a bad start. That is the last thing you want. The prospect of asking clients for a testimonial might make you a bit uncomfortable. However, to make it easy on yourself, make it an integral part of your business process. Perhaps an automated email after every project completion? Gmail allows you to do that, but there are better, dedicated software to streamline the process further. Yes, you're right to think that your deliverable and services should speak for themselves, but place yourself in a new client's shoes. Unless they have worked with you before, they don't know a single thing about you, apart from what they read from online testimonials. With everything being so readily available on the internet these days, there should be no doubt in your mind that clients will read everything they can find about your firm before scheduling an appointment. Your clients want to know that when they hire you as their lawyer or attorney, they will have someone that fight tooth and nail for their rights, interest, and ultimately help win their case. That is why the testimonials page is one of the most clicked-on pages on a law firm's website. Make sure to fill it up with as many positive testimonials from your clients as possible. And the easiest way to get them is to ask. 5-star reviews are worth their weight in gold. You should do everything you can to maximize their number. If a client is especially satisfied with your service, ask him right there and then for a review. See how they the negative reviews get drowned under the heap of positive ones? They're there, yes; the 4.8 out of 5 shows that, but nobody will get to them unless they're really committed to finding dirt on your law firm. Just… don't cut any corners. Don't try to hide negative reviews. If anything, a couple of them will help make it seem the positive reviews more real.
Make it Easier for Clients – One-Page Google Handout
To maximize the number of reviews from your clients, make it as easy as possible for them to leave one. One way to go about it is to create a simple one-page Google review handout or letter explaining the review process and present it to them. The great thing about a handout is it's something palpable and appears more official. Let's face it., even if you ask your clients for reviews they still might forget about it when routine catches up to them. And their routine is more important for them than your review. When giving your clients something physical such as a simple one-page handout, it is something more tangible to remind and instruct them on leaving the review. The physical page is rather effective when working with clients who aren't that tech-savvy. They can simply enter the link you gave them and leave a review on the pop-up page. It's much easier than trying to explain how to find your business online and leave a review. Don't stop there. You should not feel uncomfortable reminding your clients to leave a review. Think of this way: you provided a good service and asked them to help you out by returning the favour by leaving a review. Their "forgetfulness" is on them and you should not feel bad about politely reminding them. Include the review link in your email signature and business card so that it is easy to find. It's a passive approach to get online reviews, but it works. When the time comes to request a review, your clients will have already been presented with so many different ways to leave their feedback that they should have no excuses. At that point with emails, handouts, and verbal requests it is difficult for them to find an excuse why they have not yet left one, or forget.
Keep It Simple
Ultimately, the process of getting more clients involves active outreach in some shape or form. How and where should your clients leave a review? To make it as easy as possible, create a Google Review Link for your firm.
There are a number of review or "reputation" software that charge a hefty monthly fee to simplify the whole process. Unless you need or want to spend extra, this simple Google Link Generation Tool does the trick just fine.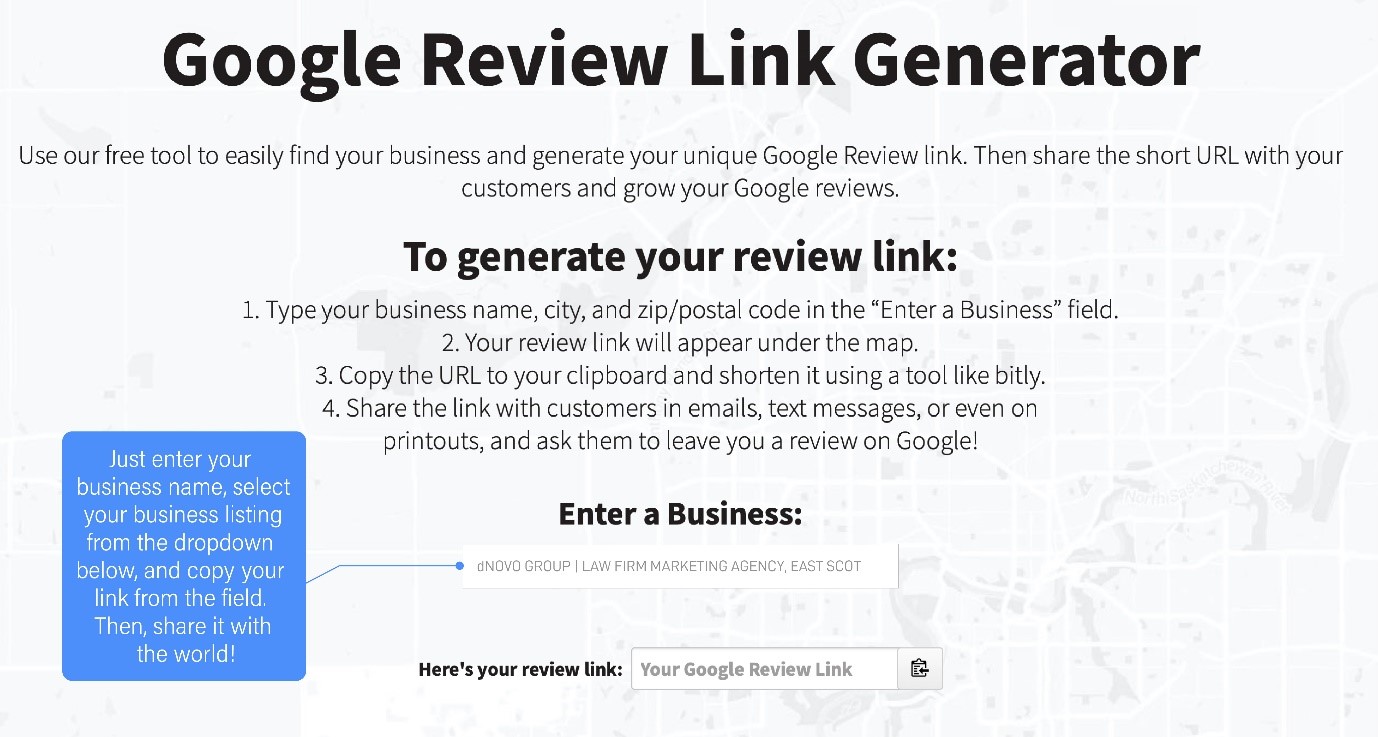 Why does a Google Review link work so great for getting more reviews? Most of the communication with your clients will be done over the email, so it's easy to copy and paste your link when corresponding. They can simply click on it and it will lead them to your business listing on Google so that they can write a positive testimonial. There are many tools that will further create review links for other platforms as well, giving your reviewer a choice where to leave the review. You want your clients to take action, so make sure to make the entire process as painless as possible. Need an alternative to creating a Google Review Link? Explaining the long reviewing process to those who are not tech savvy.  Even if you do everything right, there is still a possibility that the client might make a mistake and lay waste to all your efforts. If you don't want someone else to enjoy the fruits of your labour, don't leave any room for errors. Once you create a simple Google link you can use it in your email signature when sending emails to a client, or post it on your website.
Create a Review Collection Process
The secret for success of any business lies in processes. The more streamlined they are, the better you'll perform. If you haven't yet, create a review generating process for your law firm. Online recommendations won't cost you a penny, but will give you impeccable results nonetheless. But to truly maximize the number of testimonials, have a system in place for generating them. While you probably have some processes in place when it comes to managing your employees or regular day-to-day operations at your office, most lawyers fail to design a process that will generate new clients. Standardize the entire customer journey from head to toe. Collect client data and have systems to dictate when and how you will reach out to them for a review.
For example;
Maintain a personable and amicable relationship with your client
When the case is resolved, ask them a few questions to probe out if they are satisfied
During their visit to your office hand them a Google review handout together with the files for their case
Ask them if they would like to receive an email from you to guide them through the review-writing process
Store their information in your firm's CRM or in a simple planner
After a week, check if they have left a review. If they haven't, follow-up with an email where you will include a Google review link. When you see a business that has numerous reviews on their Google listing, you can be sure that they have designed a process for getting and managing client's reviews. That is why it's crucial to automate the process as much as you can, every step of the way.
Follow Up & Automate
The most valuable commodity you have is time. As a lawyer, you must be painfully aware of the statement; "there are only so many hours in a day," especially if you charge hourly. How can you grow your business without putting in insane work weeks? You can't. Instead, you can only make better use of the time you have. Find a way to automate your business as much as possible. Following up and asking for review should be part of your standard routine. The best time to follow up is right after the successful completion of the case and capitalize on the good taste your service left in their mouth. While the automation process can get rather costly, chances are that if the need to use them is arising, you are dealing with a large pool of clients. Keep track of your client's information and if you find those who haven't left a review in the last 30 days, remind them. When sending follow-up emails, do your best to personalize each of them. If you're working with a larger pool of clients you may be tempted to use an email template to speed up the process, but it may backfire. Everyone likes the personal touch.
Go The Extra Mile
If some time has passed before your last communication, remind them to leave a review with a simple email.  Here's an example;
You've probably had clients that were greatly impressed with your service and couldn't stop praising you. After a particularly successful case or settlement, they were in total awe of your achievement and would give you the moon. While you shouldn't have preferential treatment when it comes to providing your clients with a professional service, you may want to put some additional effort into making those ecstatic ones into your brand ambassadors. They will become your greatest salesmen if you give them a chance to speak. For such clients, don't skimp out and take the easy route. Yes, it would be tempting to just send them a simple email reminder and call it a day, but we recommend going the extra mile for them. Give them a call or, even better, send them a hand-written note. The reason why a handwritten note works so well is that in this day and age, no one takes the time to write it anymore.
This is the pinnacle of a "personal touch," and makes them feel special and will go a long way. Just make sure you have good handwriting. The graph above shows that people prefer reading longer texts on paper, be it messages, letters, emails, invitations, and more.  If you put some extra time and effort into making your clients feel special they will reciprocate tenfold. That will prove invaluable when it comes to the time to leave their opinion about you and your firm online. When contacting your special clients, make sure to mention some personal details you've remembered. It will serve to remind them of the special kind of relationship that you've formed when you were working on their case. But keep it subtle.  You can expect that you will receive a review full of praise and which will prove invaluable when it comes to attracting future clients. While having plenty of positive reviews is important, they won't do you much good if they are mostly bland and generic. Your future clients would like to get a feel for your firm and yourself as a person before they decide to work with you. When they read a long and descriptive review that has painted a clear picture of your firm, in the best light possible, people are more likely to trust you and hire you. Take a look at this long review left for Wendy's.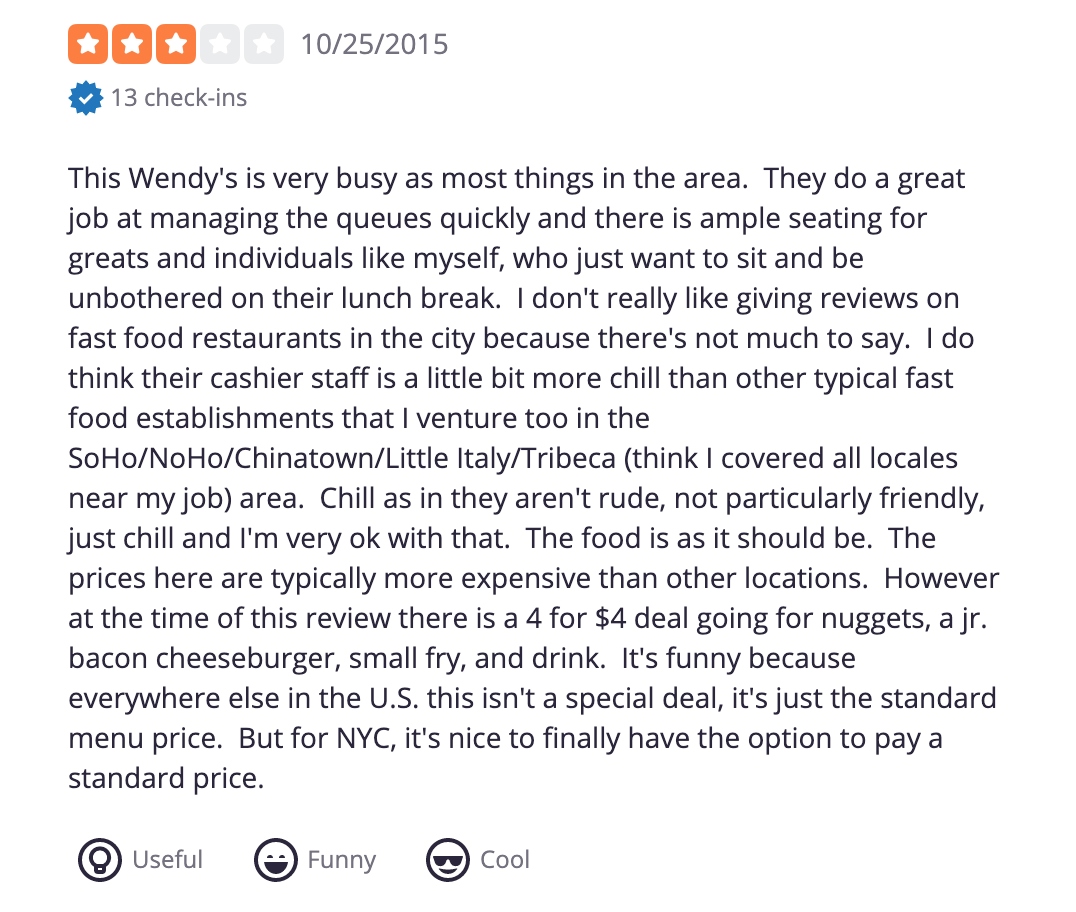 Longer reviews work even better for law firms, considering it is a relatively professional establishment compared to a restaurant. Readers will form a positive image of your firm, together with certain expectations, and it is up to you and your office to nurture and uphold it.
Respond to Every Reviews – Especially Negative Ones
According to a study by Harvard Business Review, when businesses respond to reviews they pave a pathway for more reviews – up to 12% more. When choosing between different law practices, all other things being equal, people will choose the one with the highest rating.
Since the value that one client can bring to your firm can be quite significant, it pays off to have even the slightest edge over your competitors. Also, when people see that you respond to reviews they will be more encouraged to leave one as well.
Responding to reviews signals to your clients that you actively engage with your clients and that you care about your online reputation. The graph above shows how responding to reviews by accommodation management on TripAdvisor (worldwide) resulted in an increase in the number of reviews and average review rating.
Who Should You Entrust To Respond to Client Reviews?
Ideally, it should be you or other trusted lawyers within your firm. It's tempting to assign this kind of task to an intern or to a receptionist, but a better choice would be to let someone with proper knowledge and authority do the job. The person responsible for responding to a review speaks for the entire office, so it's very important to maintain an aura of professionalism when communicating. When you come across a negative review do not give in to the urge to ignore it or get angry. It leaves an impression that you also address to grievances.
Ultimately, the best way to maximize the quantity and quality of reviews is by having the best service possible. Any kind of service-based business should put great emphasis on creating and maintaining a reputation for professionalism and great client-care. Law practices are no exception. While some times you can't control the outcome of a case, you most definitely can have control of the level of attention and service you provide to your clients. And the promises you make. Treating your clients well during the entire legal process will prevent most negative reviews as well. Your clients will understand that you've done everything in your power to influence the outcome of the case in their favour; and they will appreciate you for it. The happiest of the clients will become your brand ambassadors and their words of recommendation will be your firm's greatest asset.
Importance of Online Reviews For Lawyers
When people need legal advice, they don't want someone good, they want the best. Lawyers are needed when careers, family lives, or one's future are at stake. If not handled with utmost care, it might cause a lot of damage to one's financial and personal situation. Put yourself in your client's shoes.
In A Sea of Lawyers, How Can Your Differentiate Yourself?

The statistic above shows that in 2018, people believed reviews for businesses if there were multiple reviews to read. However, this wasn't the case a few years ago. In 2014, people read reviews of only certain types of businesses. This shows that as you get more reviews, you will start standing out of the crowd. You might be the best attorney in the state, but it won't do you any good if no one knows you exist. No matter if you're practicing law independently or partners running a firm, you have to think of yourself as someone who is both, a marketer and a professional attorney at the same time. Having a strong online reputation as someone who is a true expert and problem-solver should be one of your top priorities. Here are some things that you should keep in mind:
People will write testimonials about you and what they write matters
You will probably have negative reviews as well, but that is just part of business
You CAN influence the amount and the type of reviews people will be leaving
The image that you create in people's minds will be the most important determining factor when they decide whether to hire you or not Another thing to keep in mind is that reviews are an important factor in Search Engine Optimization. Consistent reviews are a strong ranking signal for Google and other search engines and an indicator that your practice is giving clients what they want. Remember, you aren't getting just an audience, you're getting the search engine's customers, so it is also in their best interest to offer the best of the best to them. The easiest way to get more clients is to have a consistent stream of reviews that will have more people visiting your website and consequentially, you will have more clients. Before you continue, you should truly take some time to understand the colossal importance of online reviews for your business. According to BrightLocal's Local Consumer Review Survey for 2018, 86% of consumers read local business reviews and more than half of all people state that they would consider a  business only if it has a 4 star or higher rating. Here is some more data for your consideration; 84% of all people say that they consider online reviews as important as referrals or personal recommendations. Your clients are also willing to commute to hire you if you have a strong reputation and high ratings. Once you get a grasp on how to generate and manage client's testimonials you will create a machine that will consistently generate more clients for you.
Constant & Systemized Approach Is Key to Getting Online Reviews
The only way that you can guarantee results is by implementing processes for getting client reviews. Once defined, it's easy to tweak and optimize them. Like Peter Drucker famously said: "What gets measured, gets optimized." Asking for reviews should be a regular part of your interaction with the clients. If you leave the responsibility of posting reviews entirely to your clients, you will end up with a mixed bag of results. That will do you no good in the long run. You and your firm will be run over by more agile and marketing-savvy firms who made review acquisition a priority in their marketing efforts. To make sure that doesn't happen, create an entire workflow that revolves around the satisfaction of your clients. Implement every piece of advice presented in this article and you will secure yourself a steady supply of reviews that will put you way ahead of your competitors.
If you have a workflow management system incorporated within your ERP or CRM, you are more likely to get more business. And as this statistic published in 2020 shows, people are more likely to use a business with more positive reviews. Incorporating a review collection system or procedure from satisfied customers as part of normal business operations can help you amass more reviews. The measure of the quality of an attorney or lawyer lies not in his writing or arguing ability, nor in the numeric value of a settlement. It lies in the attorney's capacity to improve people's personal and professional lives. You as an attorney will be measured by your ability to protect your client's rights and heal their relationships. You and your firm will be judged by the impressions of your clients.With that understanding, read on and learn actionable advice that you   (and should) implement for your law practice today.
Here are some questions that you should ask yourself;
When should I ask a client to leave me a review?
How should I ask a client to leave me a review?
Where should I ask clients to leave me reviews?
What to avoid when asking clients to leave a review for my law practice?
What if I receive a negative review?
Is it ethical to offer an incentive when asking to leave a review?
What are the top review generating platforms for law firms?
What if a client wants me to write a testimonial for them?
When Should I Ask a Client to Leave Me A Review?
Asking for a review before the case is completed isn't only in bad taste, but also risks tainting the relationship forever. That holds especially true if the client is going through some turbulent emotional times – which is the case most of the times. The best time to ask for a review is near or after the successful completion of the case. When all the formalities are completed and you are still fresh in your clients' minds. Before you ask them to leave a testimonial start by probing them with a few questions about their experience. Ask them questions like: "Are you satisfied with my work on your case?" or "If you had the opportunity would you recommend my firm to your friends or colleagues?" If the client is full of praise, that would be a great time to tell them to post an online review. Anything less than total client satisfaction and it would be best not to ask for a testimonial. Keep in mind that your clients have obligations of their own. To make sure that they don't forget about you, give them an already prepared handout that includes a link for posting a review and send them out on a high note. If you are corresponding via email, include a request for an online review together with the final files for their case.
How Should I Ask a Client to Leave Me a Review?
The important thing to keep in mind when asking for a review via email is:
Be personal
Send an email from your private account
Write in an informal and appreciative tone
Here is a simple example of such an email:
You don't want to be too pushy in your interaction. Guide your clients through the entire testimonial writing process. Give them hints for the nature of testimonial they could write. Not all clients can be bothered with writing a descriptive testimonial. But, if you have a client that shares his unsolicited praise about your firm, it's better to send him a more descriptive testimonial request.
Here is an example of such a request for a private person:
Where Should I Ask Clients to Leave Me A Review?
While there are plenty of websites where you can list your business, the main sites for client reviews include:
1. Google/Google My Business
Google is the most important generator of online reputation for any local business – that counts for lawyers and law firms as well. You'll see marked differences as you start focusing on Google.
2. Facebook
With the amount of traffic that Facebook generates, having a strong presence there will heavily influence people's opinion of you and your business. The importance of Facebook lies in the fact that many people use it to ask for recommendations for businesses as well. With the amount of traffic that Facebook generates, having a strong presence there will heavily influence people's opinion of you and your business. The importance of Facebook lies in the fact that many people use it to ask for recommendations for businesses as well.
3. Yelp
Together with Google and Facebook, Yelp makes the "big three" in online review sites. The strength of Yelp comes from the fact that it is extremely popular with a large audience, and leaving and reading reviews posted there. Is more than just easy.
4. Your Website
Your website should be your strongest asset when it comes to attracting potential clients. You have total control over it, from the design implemented to the content posted. If you don't already have one, make a separate section dedicate to the client testimonials. It's best to have at least 5, well-written testimonials that paint your firm in the best light possible. You can use a sample testimonial request listed above as a future template.
What to Avoid When Asking Clients to Leave a Review for your Law practice?
Reaching out and asking for a review should be done in a manner that is consistent with your character. Having the right approach is key when asking for anything. Here are some things that you should avoid when asking for a review:
Sounding too formal
Putting too much pressure by giving a specific deadline for submitting the review
Don't ask for a review from clients with whom you didn't form a positive relationship
Avoid asking clients when a lot of time has passed since the completion of the case
Don't offer any money in exchange for a review
Never ask for a positive review, ask them to share their experience
Asking for a review should be a natural extension of your relationship with the client. If you've done everything correctly (from the first meeting all the way to the conclusion of your client's case) they will be more than happy to leave a positive review.
What If I Receive a Negative Review?
Negative reviews are bound to happen at some time or another. When you receive a negative review keep these things in mind:
Make sure to respond timely
Remember that you are writing not only to the person who posted the review, but also to everyone else who read the reviews
Acknowledge their issue and be brief
Try to redirect them offline to resolve the issue
Is it Ethical to Offer an Incentive When Asking to Leave a Review?
Offering incentives to clients when you ask them for a review is generally frowned upon by major players such as Google, Facebook, and Yelp. Yelp outright forbids offering incentives in exchange for a review. On the websites, though? That's an entirely different story. When it comes to rules governing the professional conduct of attorney advertising, consult your Bar. Many Bars, for example, implicitly allow incentivization in exchange for a review if you identify the testimonial as a paid endorsement. It can be argued that offering incentives in exchange for a testimonial creates a conflict of interest. The best way to ensure a steady stream of positive reviews for your law firm is having great customer service and a reliable process for getting reviews.
What Are Top Review Generating Platforms for Law Firms?
There are quite a few reputation management services and review generating websites that you can use to get more reviews. The best ones are:
What If a Client Wants Me to Write a Testimonial for Them?
Some clients are simply too busy to write a lengthy and descriptive testimonial like the one you're looking for. They may be completely satisfied with your service, but they would rather sign the draft than take the time to write it. So, what should you do in that situation? It seems that most Bars have no opinion on that subject; which makes sense. The only necessary thing is that a client is willing to sign a testimonial and endorse it. A notable exception is The Florida Bar where it is forbidden for lawyers to display a testimonial that has been "written or drafted by the lawyer". So, you should check with your local jurisdiction if there are any rules that prohibit pre-drafted testimonials. If they are not explicitly forbidden, there is no reason to save your client some time.
Closing Thoughts
Your clients look for recommendations online. That is why a steady stream of online reviews is crucial for the success of any modern law practice. To ensure you get that, create a process that revolves around the happiness of your clients. Collecting reviews should be much easier once you have a systemized approach in place. After the case is closed, reach out to them in a friendly and considerate manner and provide them with alternatives on how they can leave a positive testimonial. Accumulating plenty of positive reviews online is one of the best ways to differentiate your firm and position your law firm as a source of authority and trust in all legal matters.