Canada plans to welcome 465,000 immigrants in 2023 – and half a million in 2025!
This is great news for immigration attorneys, but only if they have a solid SEO strategy.
Without this fundamental marketing channel, your firm won't be visible to the thousands of people searching for legal guidance with visas, residency, and citizenship.
However, when it comes to SEO for immigration lawyers, it's difficult to know where to start.
You might be paralyzed by questions like:
Am I supposed to write blogs about immigration law?
How should I allocate my legal marketing budget?
What marketing methods work best for immigration lawyers?
When should I expect to see results?
We've created this immigration law SEO guide from the knowledge we've built over 12+ years helping law firms succeed with their marketing.
No buzzwords or snake oil here, just clear guidance and actionable tips so you can start growing your online presence and attracting new clients right away.
What Is SEO for Immigration Attorneys?
You probably already know that SEO stands for "search engine optimization." SEO is an umbrella term for the set of practices that position your immigration firm's website ahead of competitors when prospective clients search for your services on search engines like Google.
While obscure trends come and go, SEO for immigration lawyers always involves these fundamental tactics:
Keyword research: identifying the search terms that prospective clients use to try and find your business, and building content based around those terms
Content creation: producing engaging and informative content (e.g., blogs, videos, podcasts, and email newsletters) that helps your target audience and establishes your firm as a trustworthy guide
Technical SEO: optimizing the technical aspects of your website (like its structure, mobile responsiveness, and tags) so that Google's algorithm registers it as valuable and ranks it higher on the search engine results pages (SERPs)
Link building: earning backlinks from other reputable sites (like directories, newspapers, and legal experts) to build your website's authority and be more visible to prospective clients
These are the basics – now let's look at why 79% of law firms say that SEO is their most effective marketing channel for gaining clients…
Why does SEO for immigration lawyers matter?
SEO is important for most businesses, but even more so for immigration attorneys. This is because 85% of prospective clients use Google as their primary source when searching for a lawyer.
So if your website doesn't appear when someone searches "immigration lawyer [your city]," you'll struggle to get new clients!
Generally speaking, immigration law isn't as lucrative as other legal fields, but with SEO, you can build a steady, long-term pipeline of clients.
SEO strategies help you build consistent revenue compared to the feast or famine caused by the fluctuating yields of pay-per-click (PPC) marketing campaigns.
While SEO is a substantial upfront investment, your investment goes much further because you're investing in evergreen assets – your website, case study videos, and articles – with results that compound over time as your domain authority increases.
In a recent study on the impact of SEO for law firms, the average 3-year ROI from SEO was 526%!
We know that's got you listening.
The Key Components of SEO for Immigration Law Firms
Now you know that SEO as a whole is important – but, as we said earlier, SEO is a huge field containing many separate disciplines.
Knowledgeable marketers understand what these SEO disciplines are. Experienced marketers understand which ones are worthwhile for a law firm – and which are a waste of time and money!
We've taken the guesswork out of legal marketing by exploring and refining the most effective SEO components for immigration law firm websites.
Here's a summary of why these seven practices are essential to immigration law SEO:
| | |
| --- | --- |
| SEO Component | Why it Matters to Immigration Law Firms |
| SEO audit | An SEO audit shows you immediate issues to fix and helps you prioritize and strategize your marketing based on "low-hanging fruit." |
| Keyword research | Keyword research guides your content creation and website optimization by revealing the search terms used by your target audience to find immigration law services. |
| Website optimization | SEO marketing efforts are only effective if they direct leads to a fast, responsive, and engaging website. |
| Content creation | Discerning legal clients choose their immigration lawyer based on their content's quality, authority, and support. |
| Internal and external link building | Signals of credibility are a major factor in online visibility for search engines and prospective clients. |
| Local SEO and Google My Business (GMB) profile | Most search traffic for immigration lawyers is local, and the majority of people who search for services nearby visit that business on the same day. |
| Reporting and continuous improvement | SEO tactics need to be tweaked to get consistent results as Google's algorithm, industry trends, and client demand constantly evolves. |
Let's take a closer look.
If you're ready to skip ahead to the actionable strategies, click here.
SEO audit
An SEO audit is a thorough primary evaluation of your website to identify the technical issues impacting your domain authority.
Your SEO expert analyzes your website using an auditing tool and focuses on various technical factors, such as the structure of your website, the quality of your content, and how effectively you've used relevant keywords.
SEO tools can crawl through a website and provide an immediate report for an SEO audit. Here's what the SEO audit dashboard looks like on SEMrush:
An SEO audit reveals picks up on issues like:
Poor website structure
Missing title tags and meta descriptions
Low-quality or duplicate content
Slow load speed
Poor mobile responsiveness
Because these problems hurt user experience, they negatively impact your search rankings.
An SEO audit is an essential starting place for immigration lawyers wanting to kickstart their marketing and see results quickly.
By evaluating what's not working, you can quickly identify the "low-hanging fruit" that will immediately improve your domain authority and visibility once fixed.
From your SEO audit results, you and your marketing team can prioritize the SEO activities that make the most impact and decide how best to allocate your budget to generate long-term results.
Keyword research
Keyword research is the process of identifying the search phrases that your target audience uses to find your services and then using those phrases throughout your content – website content, blogs, URLs, meta descriptions, and title tags.
A simple example can be seen here, where our client has optimized their website copy and headings using location-based keywords relating to their service:
Doing this indicates to Google's algorithm that your website is relevant and valuable, which it rewards by ranking your content higher on the SERPs. This then helps you attract qualified leads to your website and through your marketing funnel.
That's a very simple explanation, but keyword research is a very nuanced and complicated process. Investing in a results-driven legal marketing team with proven success is crucial.
Marketers generally use SEO tools like SEMrush, Ahrefs, and Google's Keyword Planner to identify keywords based on:
Search volume: how many people are using that search phrase each month (and whether that's increasing or decreasing)
Relevance: how closely related the search phrase is to your firm's service offering or expertise
Difficulty: how easy it is to rank for that keyword, based on whether other firms are already spending big bucks on targeted ads to push them to the top of the SERPs
Keyword research is one of the foundations for immigration attorney SEO efforts because it helps you generate topics for content creation. It also identifies the phrases you should use throughout all your content – from your website copy to your blog posts to your URL.
Website optimization
Website optimization practices are a combination of one-off and continuous improvements to amplify your content, help increase your visibility on the SERPs, and attract eager immigration clients.
This could include minor tweaks like compressing images and bloated Javascript to make your website load faster to consistently reviewing all your content to ensure it includes relevant keywords.
Website optimization is a crucial SEO strategy for immigration attorneys because it helps maximize the impact of your other tactics.
For example, you can create a series of high-quality services pages, but if they're not optimized for Google search, mobile, and page load speed, you won't see results because Google won't rank the pages. What a waste!
Take a look at the difference between:
A homepage that's not optimized for mobile
Our client's website, which we've made sure is perfectly readable and engaging for the 63% of website traffic that comes from mobile.
The most important thing to know about website optimization is that it's a long-term game. For the best results, you should hire an expert team to continuously monitor your online presence and make those all-important optimizations to amplify your visibility.
Content creation
Content is a broad term these days – it could include service pages, blogs, videos, podcasts, social media posts, and email newsletters.
Your content is what Google crawls to figure out whether your website is worth presenting to those who search for your services.
Content is also what your increasingly discerning clients want to read to determine whether your firm is knowledgeable, approachable, and trustworthy enough to solicit services from.
Without a goldmine of relevant, high-quality, engaging, original, and authoritative content, you can't boost your immigration law firm's SEO. It's that simple.
Many attorneys see content creation as an obstacle because they think, "How am I meant to find time to write articles or create videos about immigration law?"
The secret is outsourcing your content production to teams of experienced creators, like:
Digital marketers
Copywriters and content writers
Videographers
Photographers
Social media strategists
Once you find a specialized provider, you can simply continue with your daily work while someone else focuses on creating and publishing your content for you.
Internal and external link building
As a lawyer, you'll know all too well that credibility is everything. Internal and external link building is an SEO tactic that boosts your site's credibility by including hyperlinks to:
Other reputable sites outside your firm
Relevant content within your website that users may find helpful
An internal linking strategy for immigration attorneys can be seen on our client's website. Within this dedicated services page on immigration services for citizenship, there are internal links pointing visitors to more specific legal guidance and application forms for two types of citizenship: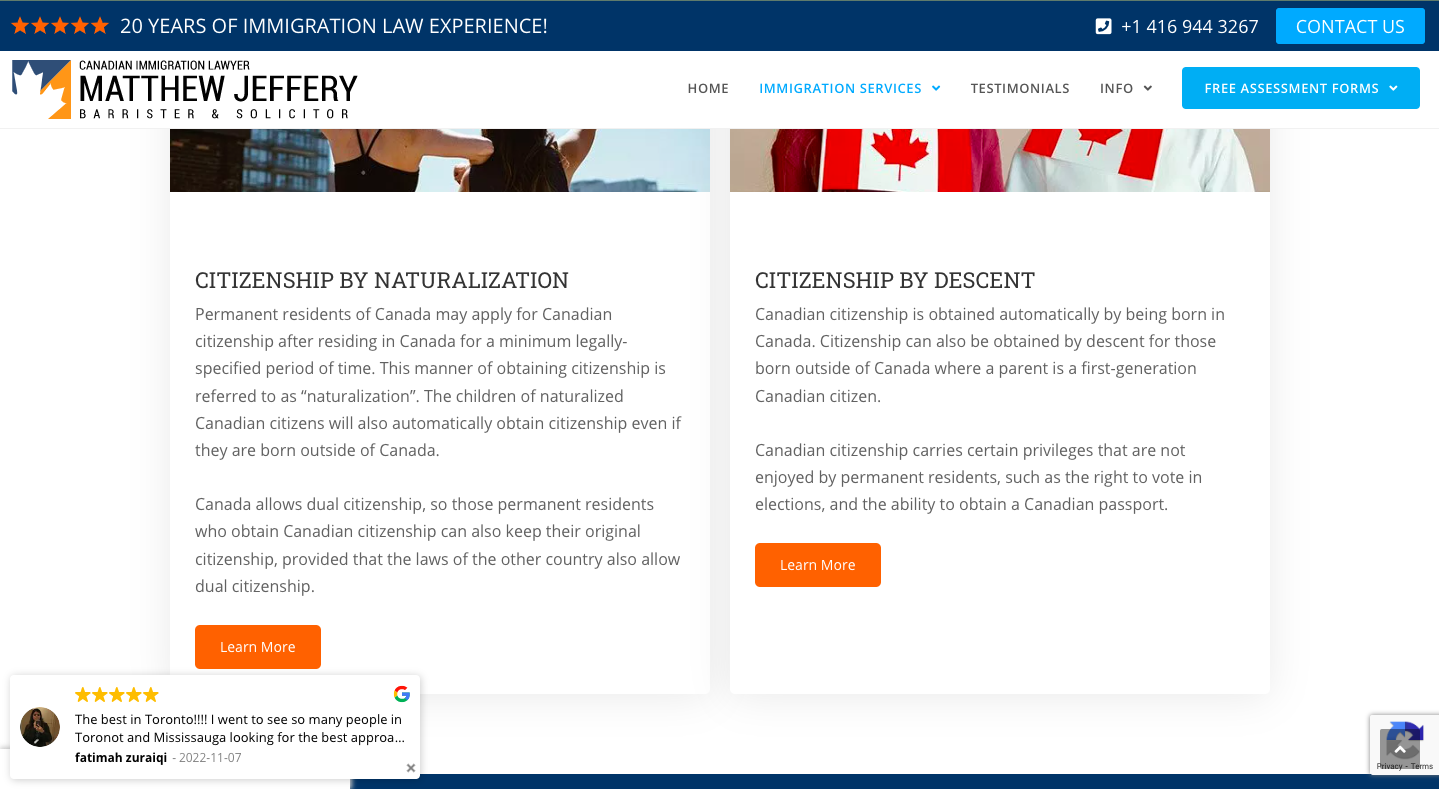 As well as helping visitors find relevant, helpful information, this strategy also helps search engines crawl your site and determine whether your content is valuable. You'll be more likely to rank if you have a clear, cohesive, and thorough internal linking strategy.
External link building is more complicated and involves reaching out to other reputable websites – legal directories, law school publications, or community newsletters – and asking them to include a link to your website.
Offering to write a guest post, appear in a podcast or interview, or provide their audience with a free consultation could earn you a reputable link that helps direct organic traffic to your website and signal your credibility.
Local SEO and Google My Business
As an immigration lawyer, most of your clients are either from your local community or hoping to emigrate to your local community.
A 2020 study from iLawyerMarketing showed that:
85% of prospective clients use Google as their primary source when searching for a lawyer
Almost all of them would read the firm's reviews before deciding whether to hire them
Focusing on local search and your GMB profile is a fairly straightforward yet hugely effective way to boost your firm's visibility and attract potential clients.
Local SEO is simply a matter of leveraging location-based keywords – e.g., "immigration lawyer in Ontario" – in your core content, like website copy, URLs, and social media bios.
Creating and optimizing your GMB listing makes it as easy as possible for potential clients to find your phone number and evaluate your firm against your competitors based on:
Years in business
Expertise
Reviews
Proximity
Response time
Photos of your practice
It's a no-brainer to take advantage of this highly effective and completely free marketing channel – especially when 76% of people searching for a business nearby will pay a visit that same day.
Tracking performance and committing to continuous improvement
SEO is not a set-and-forget task. It's a long game; your success depends on whether you can continuously improve, pay attention to performance metrics, and be responsive to successes and failures.
Let's not forget that SEO best practices and Google's algorithm are always being updated to provide users with the highest quality content – and keep legal marketers on their toes!
With that in mind, immigration attorneys need to have an experienced legal marketing team on-hand to report on SEO progress and make adjustments to the marketing strategy based on:
What's working and what's not working
New trends in legal marketing
Changes in demand from clients
New immigration laws and application processes
Changes to the marketing budget
Staying fresh and open-minded about SEO – and prioritizing user experience over black hat tactics – ensures that your law firm stays visible and reputable in an incredibly competitive industry.
5 Top Immigration Lawyer SEO Tips
Now you know what areas of SEO to focus on for your immigration firm, let's break down how these components feed into actionable tactics.
1. Create content in different languages
If you're serving international clients for whom English is a second language, you should create multilingual content.
You might be thinking, "My clients learn to speak English if they want to emigrate to Canada. Why should I go through the effort of translating all my content for them?"
Offering content in other languages isn't simply a matter of being accessible – it's actually a powerful SEO strategy that could win you far more clients.
Here's why:
Benefit of translated content
Why?
Reach a much wider audience
●     The more people you reach, the more opportunities you have to attract new clients

●     Research shows that 7% of Canadian immigrants can't speak English or French

Demonstrate credibility and trustworthiness
●     Immigration can be a daunting and emotional process, made even more stressful by a language barrier

●     If your content is available in your client's language, they'll be more likely to choose your firm over another because they feel welcome and understood

Rank for keywords in other languages
●     Google is more likely to prioritize content that is available to a diverse range of audiences

●     If your translated content is SEO-optimized, you'll rank for keywords in more languages than just English
So, how should you translate your content?
While you could engage freelance translators from sites like Upwork, the safest option is to go with a specialized translation service with experience translating legal content into many different languages.
It's more expensive, but an experienced legal translator provides you with accurate and professional translations and minimizes the risk of miscommunication.
2. Collect reviews on your Google and Yelp profiles (and answer all of them)
You don't need marketing studies to know the value of your firm's reputation. Or that the more important the purchasing decision, the more it's influenced by a company's ratings, reviews, and responses.
Here are a few stats for good measure, though:
Contrary to what you might think, collecting reviews isn't a passive exercise. It's a mistake to assume that clients will leave a review if they have a positive experience – or that it's unprofessional to ask for one!
Perhaps the most meaningful and impactful way to boost your immigration law firm's SEO is to:
Actively ask your clients to leave a review once you've finished working with them
Reply to every single review – positive or negative, short or long
Here are some effective ways to do it:
Set up an automated email within your client management system that politely requests a review as soon as you move their case into "completed." You can make it easier for clients to leave a review by including a direct link to your Google or Yelp profile.
Ask directly when clients give positive feedback. If your client praises your practice or it naturally comes up in a conversation or an email, you can just say, "Thank you so much. Would you mind sharing that in a review on Google and Yelp?" If you explain how much positive reviews help your practice, your happy clients will be more than obliged to leave a review.
Allocate a monthly slot in your schedule to respond to reviews – and stick to it.
If you're wondering how to respond to reviews, the key is to respond in a way that accurately represents your practice – because, remember, future clients see the response as an indication of what you're like to work with.
Our client, Prudent Law, does an excellent job of responding to reviews in a natural yet professional way that showcases their firm: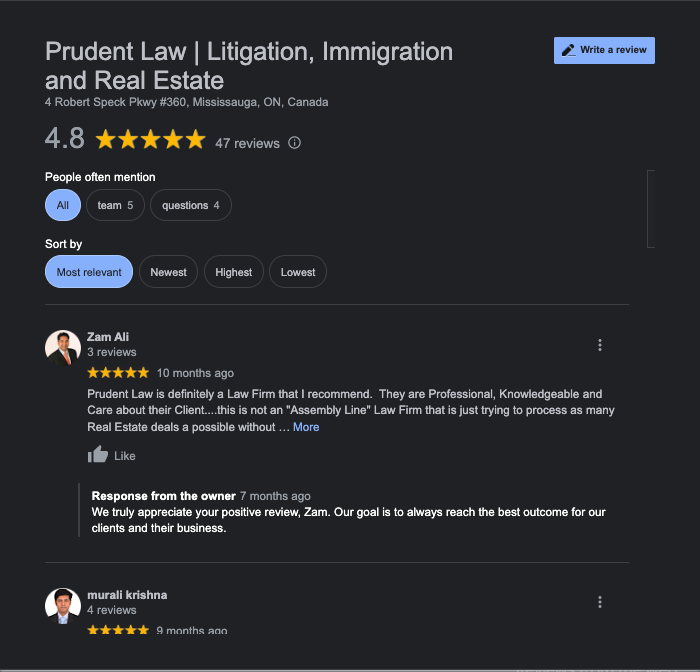 3. Produce high-quality video content deep diving into immigration topics
Informative, engaging, and meaningful video content marketing can greatly enhance your immigration law firm's SEO.
Google's algorithm factors in the amount of time users spend on a page, and research consistently shows that people spend 1.4x more time on a web page with video vs. without.
However, the value of video content for immigration law firm SEO is much more than tricking people into staying on your website.
By creating videos that accurately showcase:
Your firm's expertise and professionalism in immigration law
Details of client success with your practice
What type of clients you serve
Case study videos are arguably the most effective form of video marketing that an immigration attorney could use because they culture the story behind a successful immigration experience.
With this valuable and insightful content, your audience can quickly identify with your client ("Hey! I'm in their situation, and that's exactly what I need!") and get a personal insight into the value of your service.
The common barrier to producing video content is budget.
Producing a high-quality video is certainly expensive, but by investing in a high-quality, long-form video, savvy immigration lawyers can maximize ROI by repurposing that content into:
Interview snippets to use for social media marketing
Images to use on social media platforms and throughout your website
Targeted ads for TV, radio, or YouTube
If you find the right legal digital marketing agency that specializes in creating videos, your firm gains an evergreen piece of content that can continue to attract and engage clients – years after that initial investment.
4. Use schema markups
A schema markup is a type of code – specifically, a set of tags that are embedded into your website's HTML that signals important information to Google about what's on that specific page. For example, a schema markup for your home page's on-page SEO would include structured data about:
What your services are
Who they're for
Where you're based
How people can contact you
Having a schema markup in your HTML makes it as easy as possible for search engines to crawl through your website and register it as valuable and relevant to your target audience. Google wants to rank the most valuable and relevant content at the top of the SERPs, so having schema markups is a crucial part of SEO for immigration attorneys.
There are two ways to add schema markups to your immigration attorney website. One involves learning code, and we highly recommend talking to a web design specialist before making any changes to code on your website.
The other is Data Highlighter, a no-code tool that enables you to tag markup data without having to make changes to your HTML.
5. Build citations in legal directories
Being featured in reputable legal directories is a strong tactic for both boosting your local SEO and attracting new clients who choose your firm from the directory.
You have to pay to be featured in a legal directory, but it's certainly worth paying top dollar for a thorough citation in a leading Canadian directory because they expose your firm to the most traffic.
You can read our list of the best Canadian legal directories here.
Once you've decided where you want to be listed, here are some practical steps to get maximum SEO impact from your citations:
Set a realistic target for citations and build from there
Prioritize local and practice area-specific directories
Share your expertise by contributing to forums, answering questions from readers, or publishing articles on popular immigration-related topics
Create individual profiles for each of the lawyers at your practice to maximize reach for your firm
3 Ways To Get Started With Immigration Law Firm SEO
Even if you're confident in your understanding of SEO and how it works for immigration law, the most paralyzing part of the process might be deciding where to start.
Because SEO can be an expensive marketing channel, it's better to take the time to evaluate your options before wasting your budget on an experimental DIY SEO campaign.
Let's take a look at the three options:
Learn SEO best practices and DIY it
Build a team of in-house specialists
Hire an SEO agency
Your time and budget are precious. While learning about new marketing techniques to boost your practice's SEO is exciting, choosing a pathway that gets the best results quickly is important.
1. Learn SEO best practices and DIY it
We respect the desire to take a DIY approach to your law firm's SEO. At first glance, it might seem like the best option because:
You got through law school – how hard could learning SEO be?
You would save the cost of hiring a marketing agency or an in-house marketing team
You might think that your SEO content would be more valuable "straight from the horse's mouth"
However, when you put the upfront cost-saving aside, DIY SEO is actually a far more expensive and risky option for immigration attorneys.
There are three main reasons for this:
Your SEO suffers when you're busy, and this only further prolongs the yields from a long-term strategy
Time wasted on laborious tasks and ineffective strategies is a huge cost to your practice (and your clients)
The risk of getting it wrong or using dodgy tactics from disreputable sources could damage your reputation or get your site blacklisted
Ultimately, DIY SEO is never the best option for immigration attorneys because the risks are too great, and even if you do some things right, you'll never be able to invest enough time to see results quickly.
2. Build a team of in-house specialists
Hiring a marketing team to operate in-house could be a great option for large law firms with the budget to cover the salaries, office space, equipment, and software required.
The average base salary for a Canadian SEO specialist is $63,672.
The common problem with hiring an in-house team is that SEO is a multifaceted channel requiring many resources distributed across various technical and creative tasks.
Once you've hired one marketer, their time will quickly cap out on a few big tasks each week. This makes it very expensive to scale and see SEO results quickly.
3. Hire an SEO agency
Hiring a legal marketing agency with proven expertise in SEO is always the best option for an immigration law firm. Here's why:
Better value for money: your budget goes further, as experienced SEO companies know exactly what tactics will work best for your firm and absorb the costs involved with running an agency and managing contractors
Proven tactics: you get the peace of mind that the methods used have produced tangible results for other law firms – and, if something doesn't work, you can part ways more or less immediately
Scalable service: within reason, a marketing agency can work around your budget and adapt your SEO activities as your budget and business goals change
Fighter in your corner: the best SEO service providers for lawyers have the guts to tell you if your ideas aren't going to work because they want you to win
Success with SEO for lawyers takes serious expertise built through years of fine-tuning techniques and putting your reputation on the line with other businesses.
Here's a quick snapshot of what dNOVO helped immigration lawyer Mathew Jeffery achieve with his firm:
What sets dNOVO apart as a reputable agency is that we don't work with your competitors once we start working for you.
#1 SEO Tip for Immigration Attorneys: The Worst Thing You Can Do is Nothing
We recognize that marketing your law firm can be daunting, but you have to start somewhere.
While trending tactics come and go, the most important thing to focus on to see results with SEO is producing the most valuable and relevant content for the people you serve.
With that mindset, you can't go far wrong.
If you're ready to take your firm's online presence seriously, it might be time to call in the experts to help you get maximum results from your budget and attract high-quality leads.
dNOVO is proud to empower attorneys by leveraging high-quality content and proven SEO tactics. We offer free consultations to immigration attorneys and a growing resource hub where we share our knowledge.
For more actionable guides to boost your immigration law firm, check out our guide to the best fonts for lawyers.