Lawyer Marketing
Marketing for Law Firms and Individual attorneys - Grow your legal practice!
Lawyer Marketing – Key To A Successful Law Firm
Lawyer Marketing is simply vital to the growth of your practice. With the increase in reliance on digital services there are two core truths: Firstly, there are more opportunities for your firm to acquire clients and generate revenue. Secondly, there's an increased amount of competition that you have to overcome so you can achieve this.
How can your law firm marketing practice combat the rising amount of competitors to become the top firm in your area and dominate? This is accomplished by investing in the right lawyer marketing services to help your law firm acquire more clients and overcome competition like we offer at dNOVO Group servicing Toronto and Chicago Legal Market.
Why Choose Our Lawyer Marketing Services?
dNOVO is a world-class law firm marketing agency that leverages custom-tailored approaches for each client we work with. You won't receive cookie-cutter strategies that most other agencies apply which generate little to no results. We're obsessed with helping our legal clients generate new business, enhance their online visibility, and improve practice management.
You don't have to take our word for it though. Browse our legal marketing case studies and you can see the exact results, theory, and processes that go into growing our clients' firm. We've worked with hundreds of businesses, mastering our lawyer marketing strategies and processes that we can tailor to your needs.
We believe in our work. Just ask our clients.
Law Firm Marketing Guide
1. Your law firm website must be up to date
Websites are the new business card in the digital age. Having an outdated website may cause a loss in web traffic and prospects. As part of lawyer marketing it is essential to portray your firm in a professional manner through a modern website. For example, this is a website we designed for our client Matthew Jeffery:
This Canadian immigration lawyer based in Toronto, Canada was interested in improving the firm's position in the SERPs, driving more traffic, and increasing its conversion rate. As part of our specially curated lawyer marketing strategy our goal was to establish the firm as an authority in its area, drive more website traffic, expand brand awareness, and generate leads. After consulting with Matthew Jeffery, we made the decision to focus on SEO and digital marketing for driving the highest return on investment. These strategies have had the most success for other firms and dNOVO's clients. Matthew Jeffrey is now one of the top positions on Google's map pack and organic results page.
We have been able to increase the firm's digital presence, attract more high-quality prospects, and convert website visitors into clients. What are some of the most important aspects you should optimize to take your lawyer marketing to next level? Firstly, streamline the metadata of every page including the title tag, URL, and meta description. Google's algorithm scans all of these small areas of a web page to determine its context and quality. You can use a free plugin like Yoast (if you're on WordPress) to do this quickly.
Later we will show you how to optimize the page speed and user experience of your website. This plays a massive role in organic rankings and search performance. The design and branding itself are also crucial to streamline. Most prospects will visit your website and make an immediate judgement based on how it looks and feels. A professional site gives better impressions and increases the likelihood of potential clients reaching out for a consultation. Good design elements include:
Whitespace and balance.
Compartmentalize each major section.
Colour palettes and contrast.
Effective sales copy and typography.
Simple and easy to understand.
Logical structure and hierarchy.
Want to climb to the first page of Google and increase your organic traffic? Learn more about dNOVO Group's lawyer marketing services.
2. Use pay-per click campaigns to drive immediate results
As we mentioned previously, pay-per click campaigns are online advertisements used to drive traffic directly to a web page. These include Facebook Ads, Google Ads, and similar platforms. Businesses spend most of their advertising budget on Google and Facebook. This is recommended because they have the largest audiences relevant to your law firm.
For example, you can get started with Google Ads by having your lawyer marketing department sign up for an account here.
Select "New Campaign" from the dashboard.
Choose one of the campaign options including leads, website traffic, or brand awareness. This will change depending on the individual campaign goals and what your firm is trying to achieve. For illustration, we will set up ads to generate leads.
Enter the URL of your firm's website if you wish to have leads contact you through a page. Otherwise, select one of the other options.
Assign the campaign a name and choose between Google's display network, search partners, or both.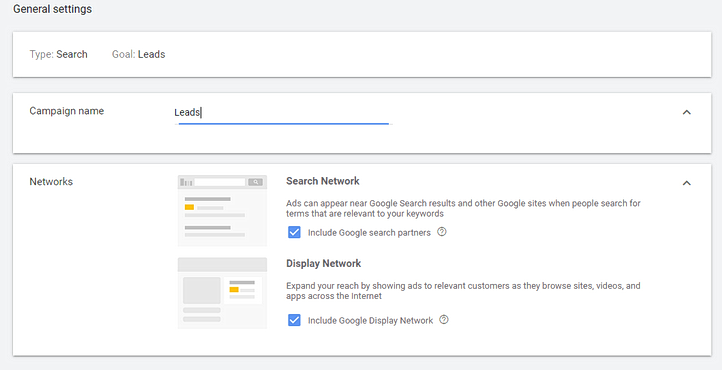 Under the "Locations" tab, it's recommended to niche down to the exact city you serve to reduce cost and improve advertising performance.
Adjust the budget according to the ad spend your marketing department has available and choose a bidding option like maximizing clicks.
Extensions like sitelinks and callouts are suggested as well since they increase click-through rate by up to 15%.
If you require a law firm marketing agency to take care of this for you, contact us today for a free consultation or read our PPC guide for personal injury lawyers. Nonetheless, on the next page, assign an ad group name and keywords that match your ads.
The final URL of the ad is where users will land once they click it. This can be a contact page, services page, or another important part of the funnel prospects go through before contacting you.
Headlines for Google Ads should accurately describe your firm, state a benefit, and use a call to action. The description should elaborate on this further. Once your ad is complete, save it and publish it for review. You can then track the conversion rates and other metrics from the main dashboard.
3. Leverage social media marketing to push your lawyer marketing
Social media marketing is mandatory for any firm looking to grow. It's essential for reaching your target audience, connecting with clients, and expanding brand awareness. Not investing in social media marketing will cause your firm to potentially miss out on all of these benefits. The world's most used social networks are currently Facebook, YouTube, WhatsApp, Facebook Messenger, and Instagram.
Ensure that your practice has accounts on all of the major platforms. This increases your reach to potential prospects and increases brand awareness. They should be professional and accurately represent your brand. For instance, look at Fasken:
The international law firm uses its logo in both the cover photo and display picture areas. Its description accurately describes the firm while neatly summarizing its values and size for credibility. Be active and post content on a regular basis. This keeps your practice on the mind of prospects and places you in front of them. Content should be contextual to both your business and the client. Share legal news, updates, blog posts, and content you produce.
4. Optimize on-page SEO
Search engine optimization is one of the most critical lawyer marketing practices. This is because every web asset you own can be found on Google. Neglecting SEO will result in lost traffic and opportunities. On-page SEO is the process of tweaking elements on a web page. You will be learning more about this ahead. Off-page SEO is the process of improving ranking factors found off of your website. This includes backlinks, social metrics, and others we will be teaching you below. According to the SEO authority Moz, these are some of the most important ranking factors:
If you require an expert to implement SEO, reach out to us at dNOVO to talk about how we can grow your firm.
Digital marketing departments that wish to take on these tasks manually should begin with optimizing on-page factors. As we previously discussed in the website section of this law firm marketing guide, metadata is the first step. Use a keyword research tool like Ubersuggest and find search terms related to the topic of the page you're writing.
Find keywords that have low competition, high volume, and a search difficulty on par to your domain authority. This will maximize the chance you are able to rank for it on the first page of Google and drive traffic. Place them in the:
URL
Title
Meta description
Introduction
Conclusion
Header tags
Alt text of media
That brings us to our next point.
5. Optimize off-page SEO
Optimizing elements that affect a website's organic rankings and performance are called off-page SEO. This is primarily through backlink building, social media engagement, and reputation management. The algorithm prefers brands that are receiving engagement all over the internet.
The first step is to build more high-quality backlinks. Think of these as a voting system. The more links that point to your firm's website, the more of an authority it appears to search engine algorithms. This will give it preference in the search engine results page for keywords you're targeting.
We recommend beginning your lawyer marketing by registering for legal directories. While this article will guide you through how to sign up for directories ahead, let's quickly discuss what they are. Legal directories are websites that list attorneys and firms in certain countries, cities, and practice areas. While they help generate traffic and leads, directories also include a link to your website. Since it is contextual and often authoritative, it has a large positive impact on a firm's search engine performance.
That brings us to our next point.
6. Take advantage of legal directories
Would you like to quickly place your firm in front of a large and target audience? Then using law firm directories is recommended. These are free and paid directories that list local, national, and industry-specific attorneys. They are an efficient method for being found by highly-targeted prospects and building backlinks. For example, you can visit a directory like Lexpert and sign up for a free account.
Fill out the required information such as full name, job title, email, company name, address, etc. Add the areas of expertise to help prospects find you and write a thorough description. Talk about what makes your firm better than others and the benefits of working with you. Learn more about advertising on legal directories.
7. Learn better practice management
Your firm can have the most effective lawyer marketing plan in order but still fail. Do you know why this is? This is because organization and management are needed to achieve KPIs, growth, and success in all areas of your law firm marketing.
It's crucial to learn management strategies that keep your practice in order and on the best trajectory. Invest in practice management services like what we offer at dNOVO Group. We will take the stress away and save you time that can be invested elsewhere. Our advisory board, rolodex, and experience working with hundreds of clients can help you make better business decisions.
We also deliver consulting advice that improves our client's operations and client retention. dNOVO consults on everything from HR policies to customer retention practices and staff training. You become a part of our team. We will discuss objectives, new strategies, goals, and each project is bespoke to a firm's situation.
8. Use email marketing to build a private audience
Email marketing is the strategy of using email as a channel to acquire clients and nurture relationships. Marketing departments use email to generate more leads, improve conversion rates, and boost other media engagement.
Email is an extremely effective law firm marketing channel. Practices can use it to generate trust, schedule meetings, and convert clients. It's also a simple medium for keeping in touch with large amounts of prospects at once. You can get started with email marketing today by using a free tool like Sendfox. This allows you to collect emails, build subscriber lists, and send out newsletters.
Begin by creating a list. This is a list of subscribers that can be sent newsletters and other content. It's wise to segment lists based on behaviour, demographics, etc.
Assign the list a name and choose a source such as CSV, Mailchimp, or Google contacts. Click "Create List" when you are finished.
Then, you require a form for prospects to fill out and be added to a list. Click "Forms" and "Create Form."
Assign the form a name, list, and layout. Optionally you can add reCAPTCHA (recommended), a URL redirect, and GDPR consent.
Click the publish button once you are finished and it will give you code to paste on your website. Hand this off to your lawyer marketing team or a developer if needed. Send out weekly or monthly newsletters to share content, updates, and news. This builds relationships with subscribers while increasing brand awareness. Click "Emails" from the Sendfox navigation and create a new email to begin.
The subject line should be contextual to the newsletter itself. Use copywriting strategies like urgency, benefits, or curiosity to increase open rates. Write the content in the body section and use links and formatting to make it more interesting. Schedule or send the email once it's finished.
9. Implement lead magnets and lead generation funnels
Maximize email marketing ROI by using lead magnets and lead generation funnels. Lead magnets are free resources you offer in exchange for a prospect's information. E-books, templates, and reports are common choices. Lead generation funnels are automated sequences you send prospects through to convert them in the backend of your legal marketing process. This is how the buyer journey of a legal client is experienced. It begins at the top of the funnel also known as awareness. The prospect becomes aware they have a certain problem that needs to be solved. Producing blog posts, videos, and podcasts are great ways to capture these users. Read our article on building effective top of the funnel awareness.
The middle of the funnel is where law firms can capture prospects in the consideration stage. These individuals are conducting research on which attorney to work with. Case studies, reports, and testimonials help attract these visitors. Lastly, people in the decision stage can be closed with free consultations.
10. Develop a referral program
Imagine that every client you worked with could bring you another. How fast and large could your practice grow? This is very possible thanks to referral programs. These are programs you can create which reward people for referring you clients. They receive a small commission and you gain a new loyal customer. In fact, customers are very likely togive your firm referrals if there are direct incentives or recognition. Read dNOVO Group's article on why referrals are the best clients you can work with.
You can create a referral program by using a program like ReferralCandy. Create a program to reward people for giving you legal clients. Rewards are paid out automatically which frees up massive amounts of time. Data-driven dashboards help you track traffic sources and give more attention to top-earning referrals.
Create a page for this on your website and promote it on social media. Communicate to clients and followers that they can be rewarded for referring the right client to you. This improves word of mouth and the amount of people exposed to your firm.
11. Leverage the power of video
Video marketing is a powerful tool in law firm marketing. According to a recent survey, 91% of companies find video marketing an important part of their overall strategy.
Your law firm can leverage the power of video to reach more potential clients, increase brand awareness, and drive targeted traffic back to assets like a website. It is still a relatively untapped channel in the legal industry meaning you will have a competitive advantage and stand out. This is especially the case in your local area where many firms won't be taking advantage of video marketing. We recommend getting started with legal video marketing through YouTube. For example, this is a lawyer that produces videos educating viewers on contextual legal topics. It attracts viewers that match their buyer persona.
Record videos on legal topics, introducing your team or showing behind the scenes footage. Upload these to YouTube, Vimeo, and other platforms. Share them on social media and via email newsletters.
12. Add a live chat to your legal website
Many people that visit a website expect to be able to speak to someone. They have questions, objections, and require information before converting. Live chat solutions are the perfect way to align with this growing trend. These are bots that are added to a website for answering questions and engaging with users before handing them off to a live sales representative. Live chat solutions can also be driven by artificial intelligence, gradually learning the user's language, questions, and demands. It can tailor content and information in real-time to drive the best results. Drift is one of the leading platforms. For example, if you visit the Hummingbird Lawyers LLP website, you're greeted by a live chat option in the bottom right corner.
Clicking this allows visitors to instantly connect with the firm. They can ask questions and get immediate help. This speeds up the buyer journey and how long it takes to convert prospects. You also don't need to hire as many representatives to conduct customer support as it becomes automated. Or, at a minimum, it can start the interaction and hand it off to a live agent. In fact, live chat solutions are 17-30% cheaper than a phone call.
13. Get organized with a CRM
Your law firm is going to have a lot of data. This includes client information, prospects, meeting dates, and more. It's critical for this reason that you remain organized. Otherwise, it's easy to miss out on opportunities or make marketing efforts more difficult than they have to be. A customer relationship management tool is the perfect solution for all of this. These tools neatly organize contacts, calendars, and tasks for your entire firm. Teams can log in directly to follow up with leads, call clients, and perform other important tasks. This centralizes data and performance of a firm's team members too. We recommend beginning with a CRM like HubSpot. It's free and includes up to one million contacts. There is an abundance of marketing sales features that will help you close more clients as well.
Learn more about dNOVO Group's lawyer lead generation services that will help you increase the number of clients you acquire.
14. Remarket to prospects that didn't take action
Many people that visit your website, watch a video, etc. will take no action and leave. These are people that may not need your legal services right now or require more information. Without a retargeting plan in place, a law firm will miss out on countless clients and revenue.
Remarketing is the process of tracking and targeting people once they leave a website. This allows you to have several touchpoints after the initial one to potentially close prospects. It can take many different interactions before someone is willing to become your client so you can't give up after one or two. Think of the process like this:
The most popular and effective way to remarket is through retargeting ads. This is done primarily through Facebook Ads. The first step is to install a Facebook Pixel on your website. Have your marketing team or a developer complete this. Facebook Pixels collect and track user data. This can then be used to create "lookalike" audiences to directly target the people that visit and leave your firm's website.
Retargeting ads empower firms to segment users based on different criteria. For example, you may target people who scheduled a free consultation, left on a contact page, or visited a services page. You can serve all of these different groups unique ads and messages for the highest conversion rate.
15. Develop a clear unique value proposition
What makes your firm better or different than competitors? Why should someone use your legal services versus another? This is what we call a unique value proposition. It's extremely important to develop as it gives clients a clear reason to hire you. This can be used on various marketing assets like web pages, social media, emails, and organic results. While it seems like a small detail, branding has a tangible return on investment and impact. As a matter of fact, it has a better return than direct mail, public relationships, and popular forms of advertising.
Begin developing a unique value proposition by analyzing what makes your firm unique. Do you provide services or have technology that others do not? Do you solve the client's problems in a unique way? Keep in mind that value propositions that don't have to be large. You can take small aspects of your practice, move them to the forefront of marketing, and suddenly you've depositioned competition.
16. Improve the user experience of your website
The experience someone has on your website plays a large role in whether they convert or not. A delightful user experience will give prospects a better impression of the firm. A slow and poor experience will increase the chances they leave and visit another firm's website. Forrester discovered that businesses can generate $100 for every $1 they spend on user experience.
However, what contributes to a positive user experience that increases conversions and overall improves lawyer marketing? These are some aspects to consider:
Speed: As we mentioned earlier, the speed of your website affects how people interact with it. Not only does this impact SEO, but it has a direct effect on how prospects interpret your practice.
Navigation: People should be able to easily navigate through your website's pages and content. Optimize the header, footer, and link structure to achieve this.
Layout: Websites should be laid out in a strategic way that helps readers understand the content. Each section and page of a website should have a specific topic and purpose. Separate ideas with headers, contrasting colours, and individual sections.
Colours: Each colour has a psychological connection and elicits specific emotions in visitors. Strategically use colours to create different experiences and improve branding. Take advantage of whitespace to make designs visually appealing and easier to navigate.
Journey: Map out a clear journey that prospects should experience from start to finish. For example, you might optimize everything from the homepage to the about page and services pages where clients funnel through before booking a consultation.
17. Use testimonials as social proof
One of the first steps prospects take before deciding which legal service provider they choose is to read testimonials and case studies. These show potential clients the type of experience they will have working with you. It also serves as storytelling, showing a previous client's pain point and how you solved it.
Online reviews are believed to be as authentic and trusted as personal recommendations.
The first place to leverage testimonials is on your law firm's website. These can be placed on the homepage, about page, service pages, and other important areas clients will see. Look how one of our client's Grillo Law has Google reviews on the homepage to build credibility and trust:
The dedicated testimonials page includes video testimonials from happy clients. A bold call to action is placed underneath to increase how many users on the website convert after viewing them.
18. Save time and energy with automation
There's no shortage of things to do while running a law firm. Your time is probably spent speaking with clients, managing your associates, and doing paperwork. On your lawyer marketing side, your firm's team will spend countless hours managing content, scheduling posts, and sifting through analytics. All of these things and more can be taken off their shoulders through automation. Automating routine tasks and processes empowers your practice to save countless time and energy. This can then be invested into higher ROI activities for the firm. However, how can a law firm take advantage and put this into practice? We recommend beginning with a platform like Zaper.
Zapier connects different software, websites, and tools you're using to create "Zaps." These are combinations of sequences that automate things you do every day. Register for an account and click "Make a Zap" from the left sidebar.
The first step is to choose a trigger. This is what will begin the automation. Search for an app to connect such as marketing software, an email inbox, etc. This will change depending on what you want to automate.
For example, we chose Google Calendar with the "New Event" trigger. When a new event is added to our calendar, we can automate another task to be performed.
We can then connect the SMS by Zapier action to have a text message sent to a phone number.
Be creative when using marketing automation. You can use it to automate client meeting reminders, filing information, or anything else you day on a regular basis.
19. Use analytics to improve campaigns
How do you know how your law firm's marketing campaigns are performing? How can you know which ones to focus on and what needs to be dialed back? Through the use of analytics and data. Marketing efforts are a shot in the dark if they can't be measured and analyzed.
We recommend law firms to get set up with Google Analytics. It's a free platform that connects to your website. It collects information like bounce rate, time on page, user behaviour, and more. It enables firms to discover more about prospects, website performance, and marketing efforts.
Visit the "Acquisition" section to learn more about your firm's traffic sources. These include direct, organic, social, referral, and more. Analyze which sources generate the most traffic and conversions. Focus on these to optimize marketing efforts.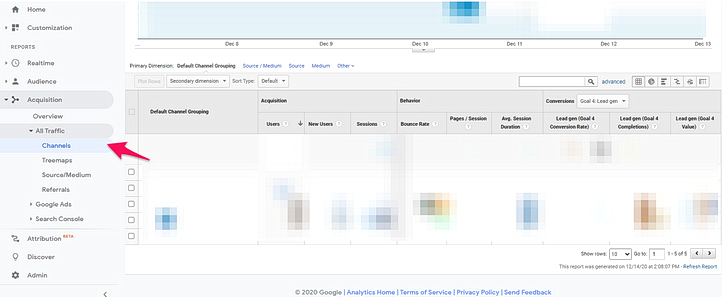 "All Pages" under "Behaviour" will display the top pages on your website. We recommend optimizing these by applying the lawyer marketing strategies covered in this article. In particular, write better copy, optimize for search engines, and leverage testimonials to increase conversions.
20. Study and learn from competitors
There is no need to reinvent the wheel. You simply have to out-market and out-perform competing law firms. Learning from them is a staple practice as you can uncover new law firm marketing ideas without needing to research them from scratch.
How can you do this? We suggest beginning by entering competitors into a tool like SimilarWeb. This is a competitive intelligence and analysis software that will help your firm uncover insights into competing practices.
SimilarWeb displays a company's traffic, website metrics, top landing pages, top keywords, and more. We recommend using this competitive intelligence to refine your practice's content strategy, backlink profile, and advertising.
21. Apply conversion rate optimization
A legal practice can have the nicest looking website, social accounts, and legal marketing assets, but they need to convert. Conversion rate optimization is the practice of fine-tuning business material like web pages to generate more results without completely rehauling them.
If you follow the techniques explained in our law firm marketing guide, you will greatly increase conversion rates. Here are some of the main things your firm should be doing moving forward:
Update your website to be more professional, modern, and easy to use. Contact dNOVO if you need a law firm website built or upgraded.

Produce content on a regular basis to boost trust, authority, and drive traffic.

Optimize web pages for SEO to generate organic traffic and leads.

Use analytics and data to find the best channels for driving performance.
Run tests on landing pages, social networks, and other channels to find winning legal marketing strategies.
Offer free consultations to get your foot in the door with prospects.
Use high-quality images and videos on assets like web pages.
Leverage customer testimonials, stories, and case studies as social proof.
Develop a unique value proposition to stand out from competing firms.
Streamline the customer journey that prospects go through from finding your practice to converting.
22. Start a legal podcast
Podcasting is one of the fastest-growing content distribution channels. In fact, 155 million people in America have listened to a podcast and 104 million have listened to one in the past month.
It's a popular yet untapped channel for law firms and attorneys to market their practice, increase authority, and generate leads. According to data, business and law-related podcasts make up a very small percentage of categories. This means that there is a great opportunity to create a competitive advantage.
Speak about legal topics that your clients would be interested in. Prove your expertise and bring on other experts as guests. Upload episodes to platforms like Spotify, Soundcloud, Google Play, iTunes, and Stitchr. Share these on social accounts and to your email list.
Final thoughts on law firm marketing
Lawyer marketing is one of the most important steps in generating new business, prospecting, and increasing brand awareness. Many firms market their practice incorrectly and end up falling behind the competition. However, if you use the legal marketing strategies we outlined today, you can look forward to generating more clients and becoming a market leader.
We understand that these processes take time, energy, and resources that are better dedicated to client relationships. That's why dNOVO offers legal marketing services including web design, SEO, practice management, lead generation, and more.
Reach out to us for a free call and learn about how we help law firms like yours grow.