Internet Advertising for Lawyers: 20 Effective Strategies
Finding the best internet advertising strategies for lawyers and how to implement them can be challenging. You need to narrow down the correct strategy, create a plan, and execute it on a regular basis. Without efficient advertising, you may become frustrated with a lack of leads and the competition surpassing you.
However, using the right advertising channels as a lawyer can help you generate leads, clients, and referrals. As a law firm marketing agency, we've discovered the most effective ways to advertise for lawyers throughout our years in the industry. In this article, we share 20 ways that lawyers can advertise their practice.
How to Advertise For Lawyers And Get More Clients
This guide will provide you with 20 different ways to advertise as a lawyer—all of which help you attract more leads, get them on the phone, and convert them into loyal clients.
1. Google My Business
Google My Business is a free service that helps attorneys increase local visibility and attract clients. It allows lawyers to create and post business information including hours of operation, location, contact information, photos, and more. Google My Business listings are listed on Google's search engine results page (SERPs). This helps potential clients find you when they are searching for practice areas in their city. After all, there are 3.5 billion searches done every single day on Google.
For example, we helped immigration lawyer Matthew Jeffery rank on the first page of Google with their GMB profile for search terms like "Immigration lawyer Toronto."
We were also successful in ranking their legal practice for "Toronto immigration lawyer." Read the full case study here to learn more.
An optimized Google My Business profile starts with up-to-date business information. Ensure that you have entered the correct hours, website URL, phone number, and location under the "Info" tab.
In addition, it's important for law firms to upload photos on their Google My Business profile. These are helpful for displaying your location, team, events, and building trust with prospects like this example:
We also recommend using keywords in your Google My Business profile to help boost organic rankings and visibility. These are search terms that describe your practice areas and the location you service. For instance, this listing's description uses keywords like "Toronto Business Lawyer" and "Small Claims Court Lawyer."
Place keywords in the description of your business, when creating posts, responding to reviews or using testimonials, and answering FAQs.
2. Avvo
Avvo is a website dedicated to helping individuals find the right lawyer, faster. Lawyers who advertise on Avvo are able to attract new clients by optimizing their profiles and providing information about their practice to potential leads. This includes a short 'skills summary' that allows lawyers the chance to spotlight any skills or areas of expertise they might have as well as compelling photos for people searching for legal services in your area. With over 9 million visitors per month, Avvo is a great way to advertise for lawyers.
To get started, sign up on Avvo's website by clicking "Grow your practice" from the top navigation.
Enter your first name, last name, city, and click "FInd your profile."
Claim your profile if it already exists or select "create a profile" at the bottom of the page if not.
Fill out the state bar license information on the next page, create an account, and accept Avvo's terms.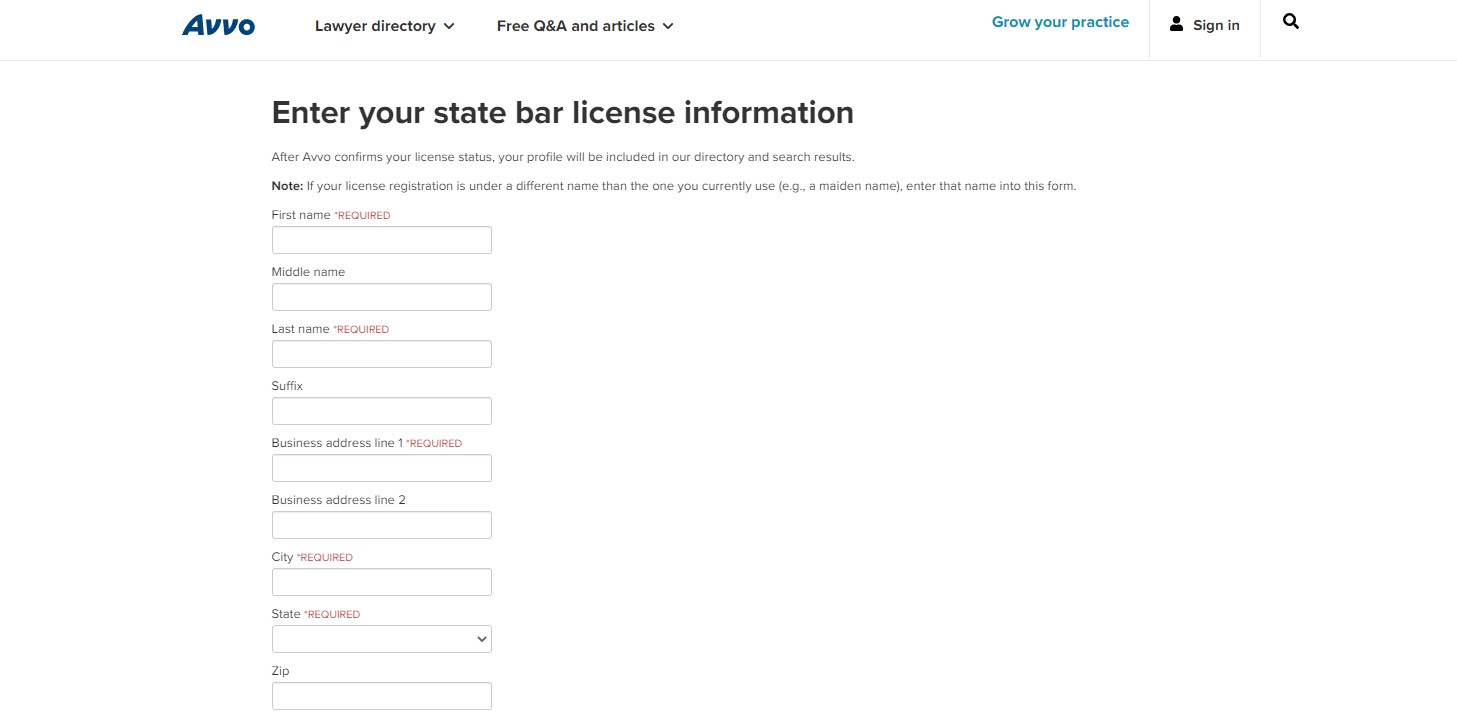 You can then log in to edit your profile with photos, practice areas, and more details to convert leads that find your profile.
3. Google's organic search (SEO)
You don't have to only run paid advertisements or use legal directories to advertise as a lawyer. By optimizing your attorney website for search engines like Google, you are able to generate awareness organically. On the first page alone, the first five organic results account for 67.60% of all the clicks. If you were to rank on the first of Google for legal-related keywords, it can drive organic leads and help you surpass the competition.
The first step is to optimize the website with keywords that people are using. An easy way to do this is by doing keyword research on Google and finding out what terms your target audience or potential clients have been typing in when they're looking for an attorney.
You can also use tools like SEMrush, Moz Keyword Explorer, or Ubersuggest, and more to find out which phrases will be most relevant. Once you know those terms, then populate them into different sections of your site so people who visit see these words repeated numerous times as they scroll through pages. To begin, enter a keyword related to the page or piece of content you're optimizing and click "Search."
This will display keyword recommendations along with search data. Ideally, attorneys should target keywords that have a low to medium search difficulty with moderate to high search volume. Although, don't be resistant to targeting low-volume keywords as they are often easier to rank for.
Marketing materials such as blog posts and case studies—or anything your firm publishes—needs to use keywords in these areas:
The H1 title.
Other header tags like H2 and H3.
The URL.
The meta description.
In the opening paragraph.
In the body.
In the conclusion.
Within alt text and file names of images/media.
That brings us to a similar internet advertising strategy for attorneys.
4. Guest posting on other legal websites
An effective way to advertise as a lawyer is by leveraging the audience of other businesses. You can potentially reach hundreds, thousands, or more people at once. Guest posting is one way to achieve this. It's the strategy of contributing an article to other websites and getting credit in the form of an author biography and backlinks.
The exposure helps generate traffic and leads while backlinks build up your website's authority. In fact, 60% of blogs contribute 1-5 guest posts per month to other websites.
This approach also allows you to reach people who may not have heard about you before or don't know that they need legal services yet but are interested in similar topics like those discussed in the article. It could also lead them to find out more information from other sources when they click through various articles linked within yours.
While you can manually perform outreach and write guest posts, there's a more efficient way to approach. That's with the help of SEO platforms like The Hoth. Create an account by clicking "Get Started" on the homepage.
Click "Place New Order" and select "HOTH Guest Post" from the dropdown.
Choose a package based on your budget. The higher the domain authority (DA), the better as you will get more visibility and backlinks have a larger impact.
Place the order and The Hoth will have you enter the anchor text and URL you would like to be put in the article. Turnaround time is approximately 30 days but it's often much quicker than that. You can also reach out to us at dNovo Group to learn more about our lawyer marketing services.
5. Invest in legal marketing services
Internet advertising for lawyers takes a lot of time, energy, and resources. It also requires expertise, budget, and a marketing department to carry out activities every day. As a matter of fact, up to 68% of law firms are focusing more on marketing to keep up with competitors and client demands.
Investing in legal marketing services like what we offer at dNovo Group can generate a great return on investment (ROI). Our digital agency offers turnkey digital marketing services for law firms, including:
Law firm SEO to get your practice on the first page of Google and beat local competition.
Web design to improve your firm's branding, recognition, and credibility.
Practice management to help you focus on key activities.
Content marketing, social media marketing, PPC, and video marketing to generate your firm high-quality leads and revenue.
Read our case studies to learn about the results we've generated for attorneys and how our process works to do the saem for you.
6. Blogging for lawyers
Does your law firm blog on a regular basis? If not, it may be missing out on traffic, leads, and revenue. Blogging is a popular content marketing strategy that helps attorneys advertise organically. Keep in mind that customer acquisition increase by 66% for businesses that publish blogs on a weekly basis.
Blogs are also great because they're timeless, meaning that your content will remain on the internet for years with minimal upkeep required by you. The only limit is how much time and energy you want to invest in blogging regularly or making sure your older blogs stay fresh through updates over time.
Before you begin blogging, use a tool like this content idea generator to find topic inspiration. Enter a keyword related to your practice areas and click "Generate idea."
This will provide you with a topic and description that your marketing team can use to start a blog post.
There's a good chance that your practice's website already includes a content management system (CMS). If you're on a platform like WordPress, you can begin blogging easily. Simply click the "Posts" tab and select "Add New."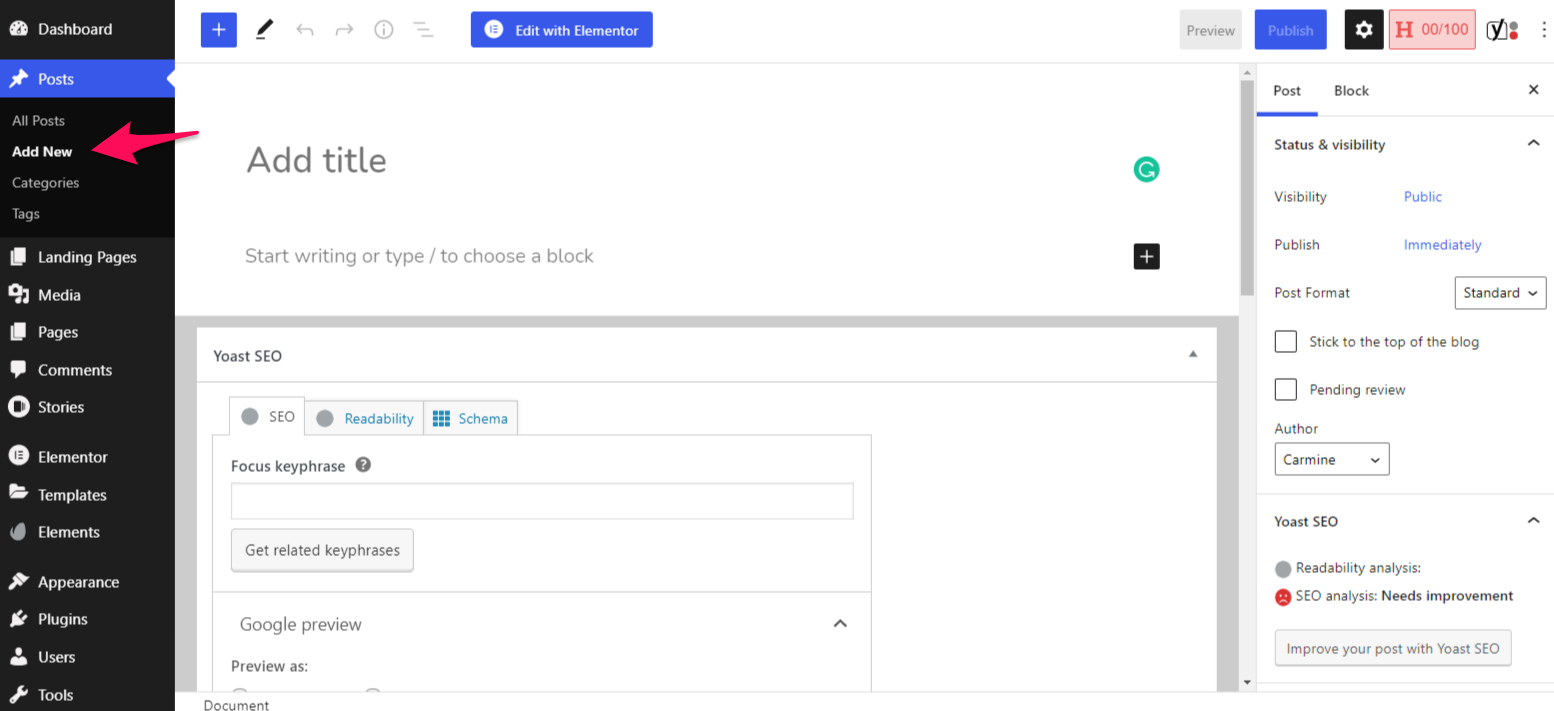 7. Using Facebook Ads to advertise as a lawyer
Facebook has 2.74 billion monthly active users. Attorneys can advertise on social networks to reach an incredible amount of prospects. Facebook Ads can also be used for a variety of purposes from driving awareness to generating leads and scheduling phone calls. To maximize the performance and return on investment of Facebook Ads, follow these steps:
Created an optimized Facebook page for prospects that view your firm for the first time.
Install the Facebook Pixel on your website to perform retargeting and create lookalike audiences.
Use strong calls to action in ads.
Create multiple versions of ads to find winning combinations.
Use video content within ads to boost engagement.
8. Google Ads
Similar to Facebook Ads, lawyers can use Google Ads to reach 90% of internet users across Google's network of audiences on desktop and mobile devices. With Google Ads, your advertisements appear on Google's search results and other networks. In fact, 73% of the paid search market share belongs to Google.
Visit Google Ads and click "Get Started" to begin.
Create an account if you haven't already and it will bring you to the following dashboard. Click "Create Campaign" to set up your first Google Ads campaign.
Choose a campaign goal on the next page.
We recommend selecting "Search" for the network type if you wish to run simple text ads on Google's organic search.
Attorneys can then set their budget, the keywords they wish to target (I.e. "Yorkville personal injury attorney), and set which landing pages people will visit when they click the ad. Read our full guide to law firm PPC to learn more.
9. Publish video content on YouTube
79% of internet users have a YouTube account. Lawyers can use YouTube as an advertising platform by publishing helpful video content. This takes advantage of YouTube's search engine (the second biggest behind Google). Additionally, videos can rank on Google's organic search, driving more visibility, awareness, and leads.
We suggest uploading educational videos, case studies, testimonials, and showcasing awards. For illustration, this firm publishes a variety of videos that drive traffic back to their website, build authority, and educate prospects about important legal topics.
To get the highest conversion rate from your YouTube videos, follow these steps:
Use a call to action in the video and description such as booking a consultation.
Place SEO keywords in the title, description, and comments when you reply to them.
Upload on a regular basis.
Share videos across channels like social media and your email list.
Research the competition to discover ways your firm can stand out with better content.
10. Use YouTube video ads
63% of businesses plan to increase their budget for YouTube ads. Advertising on YouTube can help attorneys reach more leads, increase brand awareness, and drive traffic to key assets like service pages.
To create a YouTube ad, visit here and click "Start Now."
Since Google owns YouTube, the steps are once again completed through the Google Ads platform. After selecting a campaign type and network, you can choose "Video."
Unlike traditional Google Ads, however, you will have to set up conversion tracking to measure ad performance.

Select the action you'd like to track such as contact requests and assign it a name. Add a value in the third field depending on the action you choose.
Select how many actions you wish to count per click ("One" is best for leads) and leave the other default options.
Have your marketing team complete the tracking setup via the website tag Google provides.
You can then follow the setup wizard to create video ads that will appear before or during videos.
11. Leverage your attorney Facebook page
63% of the U.S. population uses Facebook. Across generations, it's one of the most widely used social networks. This makes it an effective channel for internet advertising for lawyers.
A Facebook page is an excellent way of increasing your social media exposure as it allows you to interact with a larger number of people who may not have found out about you through other channels. It's one of the most cost effective ways for attorneys looking to market themselves online because it doesn't require any special skills or knowledge beyond what's required when creating a personal profile in order to use all its features effectively.
Visit Facebook's page creation tool here. Assign a name, category, and description for the page. This should be your firm's information.
Upload your practice's logo or a headshot as the page's profile photo. The cover photo can be a picture of your team, slogan, location, or similar.
12. Yelp
Yelp is one of the most popular and trusted review sites. If you're looking for a way to get online reviews and clients, Yelp is a good choice. 92% of people make a purchase after visiting Yelp and 42% make their decision within a day. That means people that find your profile have a great chance of contacting you for legal services or a consultation.
Create a free listing by visiting this link and clicking "Manage my free listing."
Enter your business name on the following page. If there is an existing page, you can claim it. If not, you can create one.
To get the most out of your Yelp page as an advertising channel, use these strategies:
Place SEO keywords throughout the profile related to your location and practice areas.
Ask clients for reviews and respond to the reviews you receive.
Add up-to-date business information and hours.
Publish photos and videos of your legal practice.
13. Apple Maps
Apple Maps is a free channel for attorneys to have their firm listed on Apple's map service. This can help more people visit your physical location and discover your legal practice. Begin by visiting Maps Connect and signing up with your Apple ID. You can create a free one as well.
Enter your firm's name and city to determine if your practice is already listed.
Claim your profile if it appears or "Add new place" to create one from scratch.
Add your practice's business information, choose the location on Apple's map, and once they verify it, people will be able to find it through their map services.
14. Justia
Justia is an online legal directory that attorneys can use to advertise their legal practice. The site is used by over 30 million people per year, giving you access to a very wide audience that can convert into leads. You can create a free account here by clicking "Lawyers, Get Listed For Free."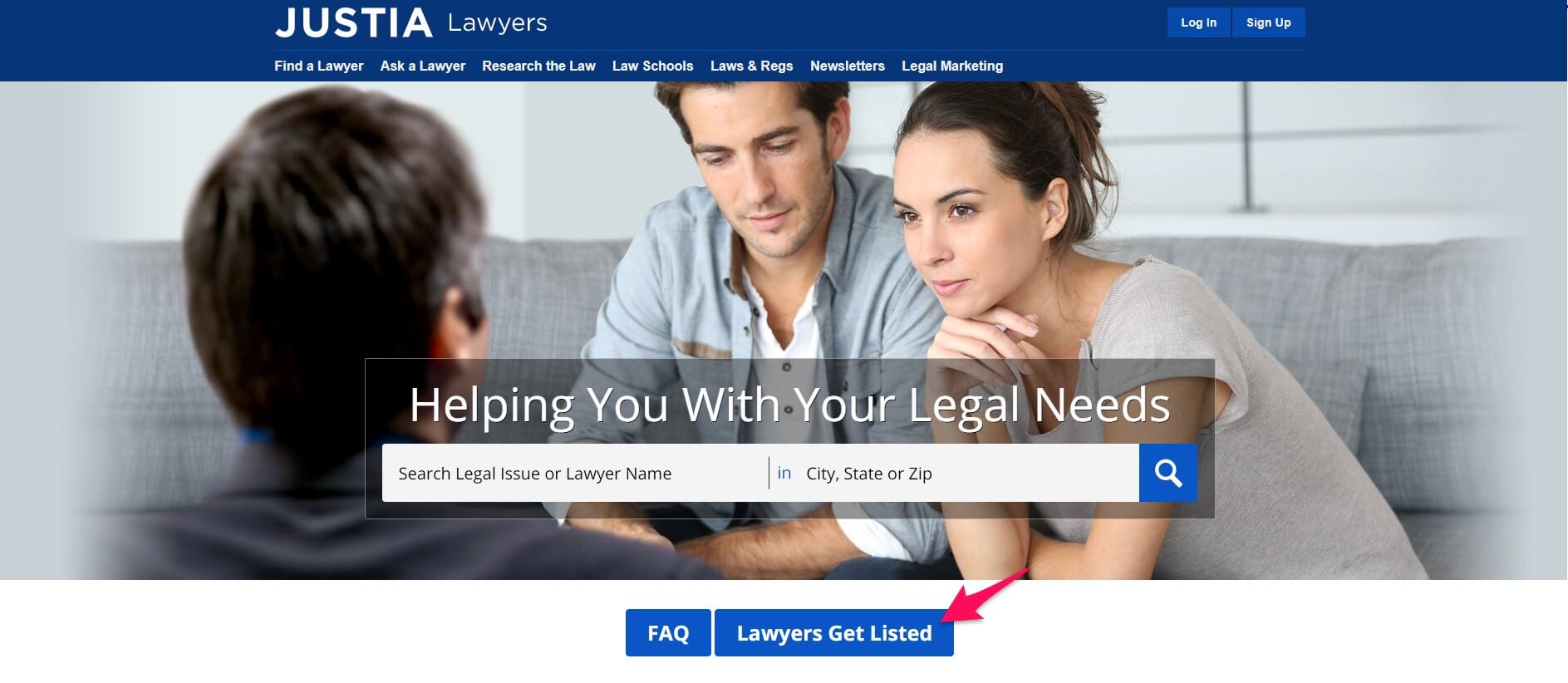 Enter your email, name, address, and phone number on the following page. Click "Get Started" once you're finished.
You should then add a professional photo (or logo), biography, practice areas, and other information to help educate prospects on why they should work with your firm. Here's an example of an optimized profile:
15. LegalZoom
Similar to Justia, LegalZoom is one of the largest online directories for lawyers. Listings are free and LegalZoom has a network of over 20 million people you can reach. Attorneys can use it to create a listing and get found by more prospective clients. Visit this page and fill out the form.
You must meet the requirements of:
You have practiced law for 5+ years.
Passion for providing great client service.
A spotless state bar record and online reputation.
The ability to explain complex legal issues in simple ways.
Experience with technology, and comfort with virtual collaboration.
LegalZoom's team will follow up with you with the next best steps to get your firm listed on their directory.
16. Lawyers.com
Lawyers.com is a legal directory owned by the company Martindale which owns a network of sites that have a total reach of 15 million monthly visitors. You gain massive exposure and visibility by advertising on their platforms. Similar to LegalZoom, you must contact the Lawyers.com team about "Professional Profiles" through the contact form here.
To maximize the chance you're accepted, give them information about your practice, years in business, and why you would like to create a profile through their network of directories.
17. Speak at virtual and live summits
70% of business professionals say public speaking is crucial for their career success. It's one of the most lucrative skills an attorney can learn as it helps you be a better leader and exposes your firm to targeted audiences. For instance, public speaking opportunities like summits and keynotes often have hundreds or thousands of people attending.
You can find public speaking opportunities by visiting event websites like Eventbrite and searching for relevant events.
Click an event and scroll down the page to find the organizer's information.
You have to click the "Contact" button and pitch them to be a speaker at one of their next events. Ensure to explain your background, expertise, and how people will benefit from you presenting on a legal-related topic.
18. Build an email list
Email marketing is one of the most effective ways to advertise as a lawyer. It is the process of building email lists and sending subscribers news, content, and offers to drive traffic and revenue. In fact, email marketing generates $40 for every $1 spent.
It is important to build a list of people who are interested in the content that you'll be sending out. This can be done by targeting leads and high-value prospects from current clients, past cases, or contributors for publications as well as forming relationships with other professionals (e.g., accountants) within specific industries through referrals.
The best way to start building your list though is to create an opt-in form on your website using a tool like Sendfox. Enter your email and click "Get started" on the homepage.
Once you're registered, click "Forms" from the top navigation and "Create Form."
Assign a name to the form, a list of subscribers (lists can be created via "Lists"), and the URL of your firm's website. Click "Publish Form" when you're finished to receive a code that can be added to your website.
Forms can be placed on specific pages, in sidebars, or in the footer of your website. As you begin to build your subscriber list, avoid spamming email subscribers because they will unsubscribe which means less revenue coming into our company. Instead, send out newsletters when you have content, news, or important updates to share. This keeps your firm on their mind, educates them, and builds authority.
19. Invest in a professionally designed lawyer website
Websites are the new business card. Without a professionally designed law firm website, you will miss out on leads and revenue. Other competing law firms with modern websites will also stand out and potentially win over clients that could've been yours. 38% of people will stop browsing a website if they find it unattractive and 94% base their impression of a business on web design.
However, what makes a good attorney website? Here's a checklist you can use to benchmark against your practice's site:
Design and layout: It needs to be accessible, easy to navigate, and represent your firm's values. The design should also be up-to-date, professional, and modern.
Whitespace: Is the design cluttered or take advantage of space to make it more appealing and easier to interact with?
Sales copy: Pages should provide users with the most accurate and helpful information.
Speed: Your website should load faster than 2 seconds according to Google's guidelines.
Accessibility: Can the content, tools, and pages on your website be used by people with disabilities? Learn more about making a site accessible with W3's official documentation.
Authority: Leverage testimonials, reviews, badges, and trust signals to build credibility.
Want to have a professional take care of these things for you? Learn how our web design services for attorneys can help you attract new visitors, retain them, and convert them into clients.
20. Create an employee advocacy program
Consider all of the employees and lawyers you have. Even if you're a small firm, you can be leveraging their reach and network with an employee advocacy program. Employee advocacy gives employees content and resources to share on their social accounts and other channels. This helps you take advantage of their audiences to drive more traffic, visibility, and awareness.
Your firm can reach up to 28% more prospects through employee advocacy programs without having to spend more on social ads. It also is found to increase client satisfaction by 18% and employee engagement by 22%.
You can use services like Social Horse Power to instantly set up an advocacy program with little hassle. These types of software allow your employees to login, choose from relevant content your company has curated, and share them directly onto social networks. For example, if you had 10 employees reaching an extra 200 people per day, that's an extra 2,000 impressions that can convert into leads.
The bottom line on internet advertising for lawyers
With the legal service industry steadily growing, it's never been more important to have a strong internet advertising strategy. Attorneys should take advantage of digital and in-person channels to drive the most awareness and leads. It also assists you in standing out and beating local competition.
Begin with building a professional and modern website. It should educate users about your practice areas, team, and make it easy to schedule a consultation. Web pages and content also need to be optimized for search engines to increase visibility and traffic from the SERPs.
Use online directories to reach more prospects through LegalZoom, Avvo, Google Business Messages, and Yelp. Similarly, you can have your firm published on other websites through contributing articles as a guest author.
Lawyers should also invest in PPC campaigns on platforms like Facebook and Google. Use these to drive traffic to your service pages or free resources to build trust and authority. Social advocacy programs take advantage of social media's reach in a similar fashion.
Lastly, physical advertising campaigns through public speaking events are effective. Both help you reach large audiences at once while educating people about your firm.
Do you need help growing your law firm and generating more clients or referrals? Get a free consultation with dNovo Group to learn more about our law firm marketing services.