Your Google My Business (GMB) listing needs to be properly set up if you want to get the most of local searches. Local search traffic can give you so much traffic and it should be a priority for law firm SEO.
This listing allows Google to understand who and where you are. If not properly set up, you could miss out on qualified leads and lots of potential clients.
In fact, businesses receive 26% of their impressions from Google Maps results. Ranking your Google My Business listing will expose your firm to high-quality prospects that are interested in legal services. It's also an effective strategy to surpass local competition if you find you are competing with many other firms.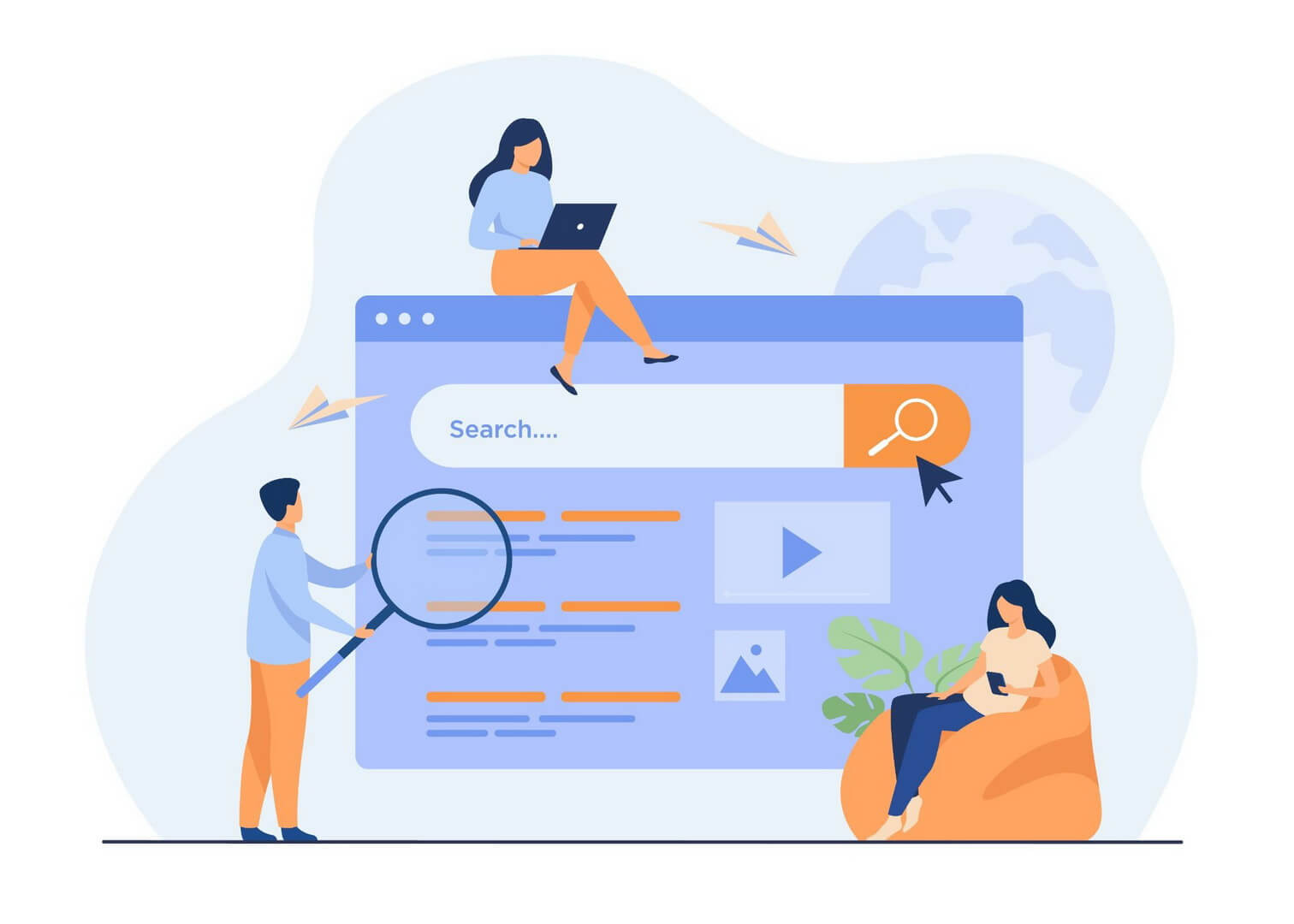 How To Optimize Google My Business Listing For Lawyers
This guide will teach you how to optimize your Google My Business listing as a lawyer to increase its ranking and the traffic and leads it generates.
What's GMB?
GMB is a platform that anyone can use at no cost. It targets businesses, brands, organizations, and personalities that want to manage their online presence on Google. Previously, you would use Google + pages or Google Places for Business to manage your business information on Google. However, the search engine made an important upgrade that enables all businesses to manage their listing on GMB.
Having a GMB profile is essential as a lawyer because 76% of people who search for something nearby on their smartphones (like legal services) visit that business within a day.
Simply put, Google My Business enables you to optimize and manage your Google Business Profile – your business listing on Google. These profiles show up in Google Maps and Google Search.
For example, if we search Google for 'car dealers in LA,' here are the resulting Business Profiles:
On Google Search: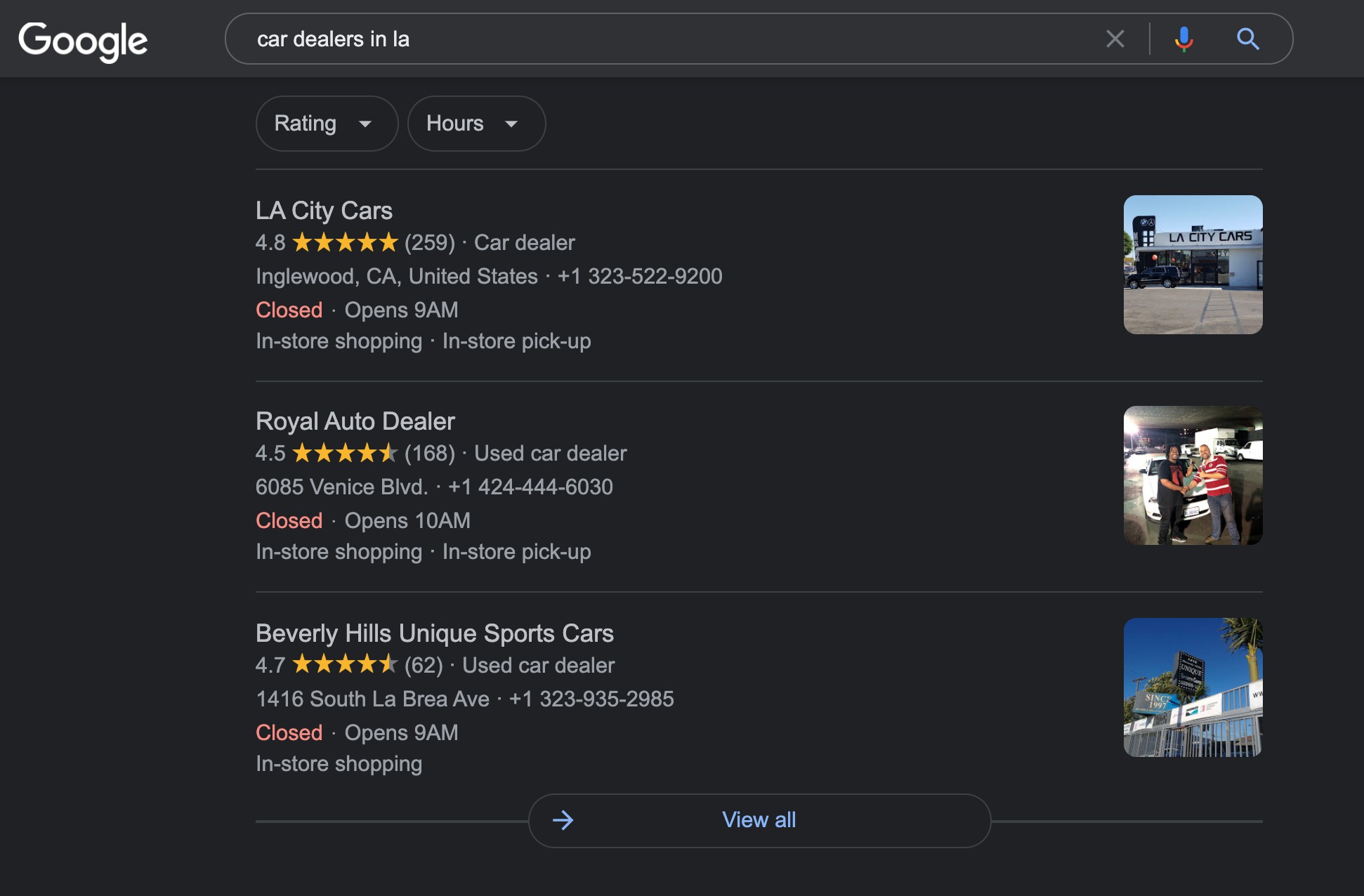 Here's how they look on Google Maps:
Clicking a Business Profile on Maps looks like this: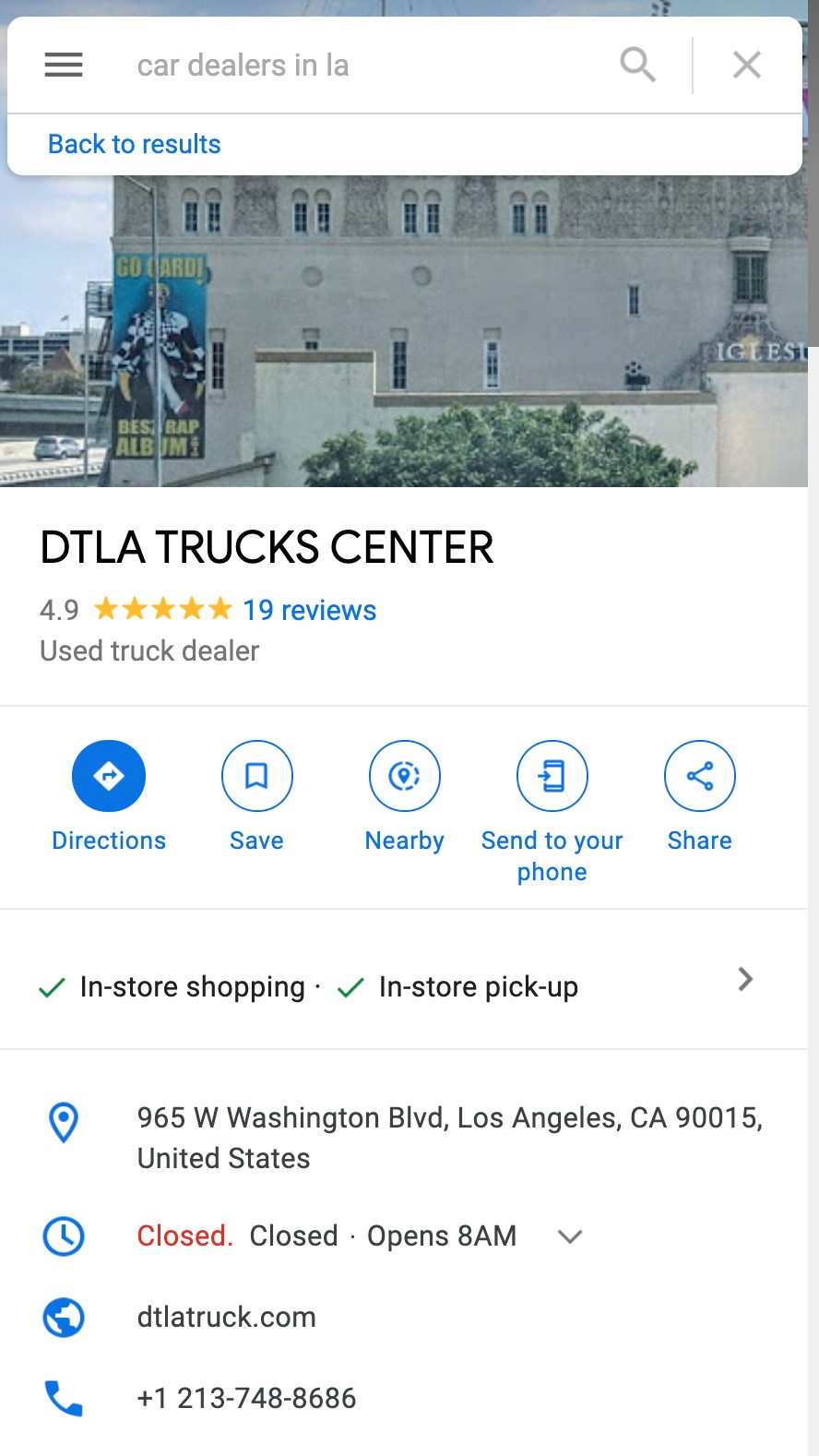 Creating a Business Profile is like adding a listing of a new place to Google Maps. Google requires you to provide the following information:
Business Name
Location
Category
As soon as Google confirms that there are no duplicate listings, a Business Profile can then be created for that location or business. That business listing will then be open for Google's users to peruse, review, as well as add photos to, ask questions about, and answer questions regarding it.
Take note that if you're a business owner, it doesn't necessarily mean that you are the one who needs to create your Business Profile. You might even find that one already exists on the internet. This is because anyone can create a business listing, like a user who wants to leave a review.
A Google My Business account, however, allows you to manage the information displayed on your profile, as well as the reviews collected. This is why it's important to create a Google My Business account on top of your Business Profile—so you can customize, access, manage, and highlight the desired aspects of your Business Profile on Google.
Why is GMB important?
With GMB, you can update important information about your business such as the name, address, telephone number and business hours. Once you update this, you can be assured that the information will appear consistent across Google products. With 3.5 billion searches per day, attorneys shouldn't miss out on the large amount of exposure GMB offers law firms.
Consolidate Information About Your Law Firm
To start with, Google will retrieve the information about your law firm on GMB and put it on a server where it is matched with all the other information about your law firm listings across the web. Therefore, it is important to ensure that the information on your GMB is set up correctly and updated before it's verified.
Better Search Visibility
Secondly, GMB can help you to get better search visibility. Other than your law firm website showing up on the regular search engine results, you have an opportunity of showing up on the right-hand column which gives you better exposure.
Get Discovered on Google Map Searches
Additionally, GMB listing can put your law firm on the map. By listing your information, your law firm can show up on Google Maps giving you an opportunity to get more leads and conversions.
Like we mentioned earlier, a high percentage of people who search for nearby services or businesses on their smartphones visit those businesses on the same day.
Keep Customers Informed
Most importantly, GMB listing allows you to easily manage all your law firm information and ensure that Google users see updated information when they search for your business. It simply allows you to make a change in one place (your GMB page) and this will reflect everywhere else.
Some of the information that you can quickly change on your GMB listing include your business address, telephone number, website details, operating hours and photos.
Build Customer Trust
With GMB, you get an opportunity to connect with your previous customers, who can quickly review and rate your law firm. Other potential clients also get a chance to go through your reviews and have an idea of how others perceive your law firm. Great reviews can allow you to establish trust among potential and current customers who may be interested in your services.
With GMB, you get an opportunity to connect with your previous customers who can quickly review and rate your law firm. Other potential clients also get a chance to go through your reviews and have an idea of how others perceive your law firm.
How does Google My Business benefit a law firm's SEO?
Google My Business can be a great resource for lawyers who want to drive traffic and leads. After you complete a profile, Google will automatically take your law firm's information and publish it on the local map results to help potential clients find you.
It can be particularly helpful for attorneys whose target clients may be going through personal challenges such as divorce or financial issues, and therefore may need legal counsel. It may also be in the fields of bankruptcy or criminal defense, which a lot of lawyers specialize in. Due to the sensitivity of their concerns, these clients will likely conduct private local searches via Google instead of publicly following a Facebook page.
Having a Google My Business listing allows your business to be found by potential clients who might not necessarily be comfortable following or liking your public page on Facebook.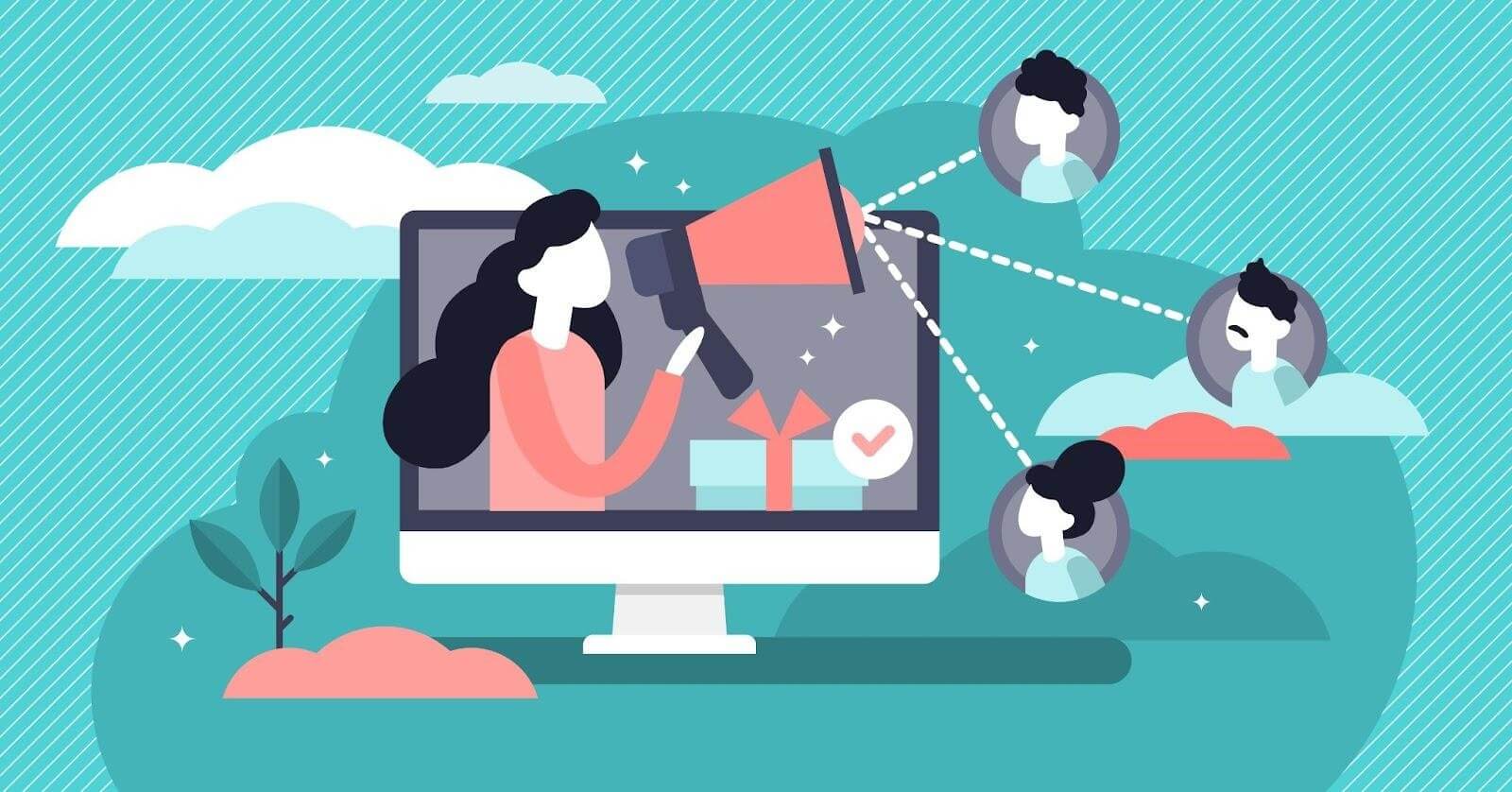 Your Google My Business listing will display prominent links to web pages on your site and the directions page as well. This gives your website a backlink and helps the algorithm understand that your firm uses different channels to reach audiences.
The Google search engine considers many factors when selecting the ranking of a site's information. No one fully understands how it determines levels of relevance, but SEO experts have been able to identify optimizations that do raise rankings.
For local businesses, the key three criteria for determining relevancy are relevance, location, and authority. Let us explain these further.
Relevance
Relevance refers to the compatibility of your content with users' search terms on Google. One way of making sure your content is relevant and prioritized on Search is by paying attention to your title tag, as it 'tells' Google what your website or page is about.
Two of the most influential factors when it comes to search engine optimization are relevancy and keyword phrases. The key for optimizing your site will be in making sure that you use relevant keywords in both the title tags and content throughout the website.
For example, a law firm we've worked with, Matthew Jeffery, uses keywords like "Canadian immigration law" in their Google My Business description. This search term and others used across their profile help them rank higher and attract clients.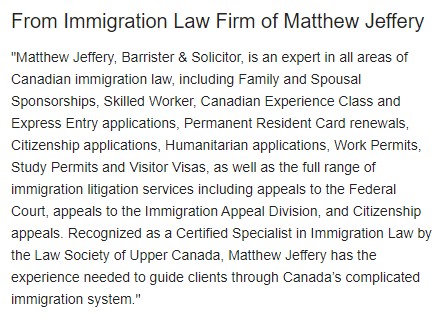 This was one of many strategies that allowed us to rank Matthew Jeffery for "Immigration lawyer Toronto."
They also rank for the keyword variation "Toronto immigration lawyer" as you can see below. Read the full case study to learn more.
Keyword research is important for all businesses, but it's especially advantageous when you are building your Google My Business profile. You can find keywords by choosing categories that match your business and looking at what other people have chosen in the same category.
Location
Make sure that all of your online profiles and website display accurate location information. Always highlight your location by providing accurate, detailed information across all platforms, especially if you're a local firm seeking to expand your business within the local community.
It is possible to control the geographic location on your Google My Business account in the admin area too. Mention the cities you service in the description so the algorithm picks up on them as well.
Authority
In SEO, 'authority' is associated with high-quality links and content. For example, websites that have high authority domains are the ones that have other high-quality sites linking to them and vice versa. Various sites build up authority in SEO by having other websites link to them. However, Google takes many factors into consideration when determining a site's authority level. Having a high-level of authority usually means your website is the best place for someone to find information related to the search query.
One of the main approaches to boosting authority is through backlink building. This is beneficial for both local and national search engine strategies. The average #1 result on Google has upwards to 35,000 backlinks. Simply put, by linking to other high-quality sites and having them link to you, Google establishes your website and content as authoritative.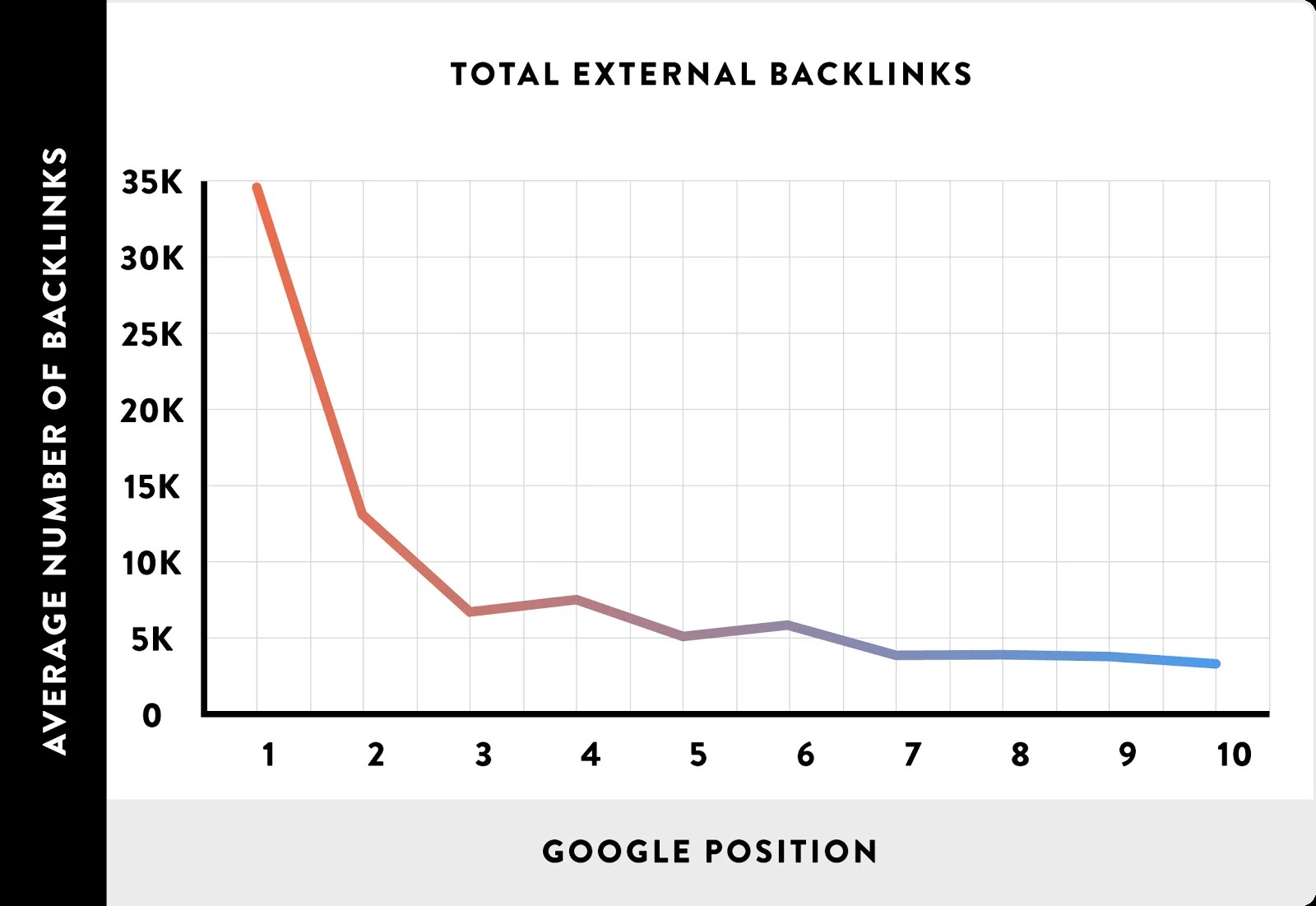 You can build links through:
Creating other citations on platforms like Better Business Bureau, Yelp, Facebook, and legal directories.
Guest authoring on legal publications which include a link back to your firm's website.
Filling out all of your social profiles to include a website URL.
Having your lawyer marketing department reach out to legal websites and asking if they will link to your website or content.
Finding broken backlinks on websites and asking if they'll replace missing links with one of your pages.
Pitching websites with roundup lists (I.e. "Best Toronto Lawyers") and asking to be included.
Improving these three factors will benefit your firm's search engine performance as a whole along with your GMB listing.
How to create a Google My Business listing
Creating a GMB listing is very easy. Visit the Google My Business dashboard and log in using your email address or G-mail account details.
You can search Google for your business name to be sure it has a GMB account and take ownership of the profile. If your law firm is not listed, go to the Google My Business page and sign in using your Google account.
After setting up your Google My Business profile, you can create a listing thereby entering all of the necessary information. In order to optimize your Google My Business profile for SEO, you will need the following:
Your business name (with correct capitalization)
Your business address (in its usual format)
Your other contact details (telephone number, email address, etc.)
Opening times
Your service area
The relevant business category
You can edit all of your law firm's information via the sidebar. More details follow about how to optimize all the information on your Google My Business listing.
Filling Out Your Business Name
This is an important part of the listing process. It requires you to use your business name, which should be written as it appears in Google My Business but without including any keywords or keyword phrases. Make sure that all capitalizations are correct and that the punctuation between words is inserted correctly. To avoid getting your listing reported, ensure that the name matches the one on your website.
Select the Business Category Fitting Your Business
You can find your business when people search for legal help by typing in the name of your industry followed by "lawyer". In some cases, the list might already cover practicing areas of law that your office focuses on.
The good news is that if there are more than one category you could list your business under, you can choose one listed category then add the other(s) later. If there isn't a specific category for your business's niche (which would be the case 90% of the time), choose the broader, general term.
Add Your Firm's Location
You can choose to add or not to add the exact physical location for your business for it to show on Google Maps. It is always a good idea to allow and add your location details, especially if you don't mind people walking into the firm. Enter your address, city, province, postal code, and it will find it automatically on the map.
Add Contact Information of Your Legal Practice
Furthering the confirmation process, Google will provide you with a list of possible locations for your business. If none of these suit your needs, you will be prompted to make a selection so that Google can complete the profile setup and include it in its search engine results pages (SERPs).
Finishing and Managing Your Listing
Lastly, enter your phone number and website URL, then click 'Finish.' You can also create a free Google My Business website if you don't have one yet, based on your information. As much as possible, provide individual phone numbers for each location of your business to help users find their respective locations sooner.
Adding more details to your Google My Business page increases its usefulness and effectiveness in generating leads, so add as many important details as possible, such as:
Business Hours: Add your opening and closing times to help potential customers schedule bookings and visits.
Appointment URL: You can add an appointment URL to facilitate bookings online.
Photos: Upload your business logo as well as a cover photo and other related images that will convey what type of legal service you offer. You can also add photos of your office if you wish.
Reviews: Encourage customers, especially those you have great working relationships with, to write positive reviews. A five-star rating will allow you to showcase stellar service and client preference. Make it a point to respond to each review (even the bad ones) to show potential and existing clients that you value their insights and feedback.
Posts: GMB has a feature that allows you to share snippets of content or important events from your blog. Google will remind you to update this section weekly.
Adding these details and maintaining your GMB profile by responding to reviews and posting content won't take much of your time but will greatly impact your business' presence online.
GMB Listing Verification
To verify your Google Maps business page more quickly, you can choose to do so over the phone – this is recommended. If it takes too long, verifying later should still work. However, not verifying immediately will mean that you cannot fully control the page.
Your listing can be verified in a few different ways. The first is via mail where a postcard will be sent to your business address. You can then enter the code on the postcard on the GMB dashboard to verify your account. Secondly, you can verify your account instantly if you're already confirmed your business through Google Search Console.
Here are the different ways to verify your GMB account, in further detail:
Phone Verification
Phone verification is quick and only takes a few moments. Not all businesses have this option readily available as a verification option, though. So if it's available in your list of options, here's how you can proceed with phone verification:
Choose between getting an automated call or having a text message sent to your phone.
You will then get a five-digit code that you'll have to enter into the code field.
During a verification call, listen carefully to the code dictated by the Google representative, and write it down for future use.
Remember that during a verification call, Google will not:
Ask you for money in exchange for services concerning your GMB listing
Ask you for passwords, your verification code, or other personal information
Offer services to improve or enhance your listing
If you get a call from someone who claims to be from Google and asks for the above information, beware, as these are likely to be fraudsters looking to extort businesses by posing as Google employees.
Postcard Verification
Postcard verification is the most commonly used means of verifying a business. The purpose of sending a postcard is to confirm your business address, as well as the existence of your business at the said address. Delivering the postcard usually takes around two weeks in most locations. However, Google doesn't send verification letters to PO boxes.
Until you have verified your address, keep in mind to not change any business information such as your business name, address, and category. Changing these details before full verification will result in delays in the verification process.
After you have provided your business name and address, you will get a pop-up notification from Google saying that a postcard is on its way to you. The postcard will contain a five-digit verification code.
Once you receive it, log into your GMB account, select your business, and select the 'Verify now' option. Proceed to enter the five-digit code you got into the code field, and you're good to go.
Email Verification
Eligible businesses may also have the option to verify through email. Simply double-check if you keyed in the right email address and click 'Verify now.'
You will then get an email from Google My Business containing a verification code and an activation link. Simply key in your code when prompted after clicking the activation link, and your business should be verified.
Video Chat
Although not widely available, Google deems some businesses eligible for verification via video chat. If your business is qualified, you can simply chat with a Google specialist via Google Hangouts.
Google usually does this for those with storefront and service area businesses. In the case of a storefront business, the Google representative may ask you to show them around your workplace, check your equipment, or meet a couple of employees and clients on location if possible.
Those with service area businesses may be asked to show their branded work vehicle, tools for providing the service, as well as their license plate.
Instant Verification
Keep an eye out for instant verification, as it is a very easy way to verify your listing. If your site is already verified on Google Search Console, you're usually also qualified for instant verification.
In cases of new businesses or those that do not have much of an online presence, the instant verification option may not be available.
However, if you have an established business with a robust online presence, there's a good chance you're eligible for instant verification. To instantly verify, simply log into GMB using the same account you use for Google Search Console.
Bulk Verification
If you need to verify more than ten locations of your business, this option is for you. If for example, you own a food chain in 50 locations, then you'll likely be eligible for bulk verification.
To do this, simply sign in to GMB and click 'Get verified' next to any location. Then, pick 'Chain.' Fill out the forms with the necessary information, then submit. After this, google may take a week to review your submission before you are fully verified.
Ask clients for reviews
89% of consumers read businesses' responses to reviews. We recommend asking current and previous clients to leave a review on your Google My Business listing for this reason. It creates social proof and improves your listing's ranking on Google's organic search.
if you want to be successful, it's important that you attract reviews for your Google My Business listing. One way of doing this is by asking clients how their experience was once they have finished with or concluded your services. You can manage and respond to reviews via the "Reviews" tab.
Responding to reviews is equally important because it shows you're willing to take the time to do so and appreciate clients. Whether it is a positive or negative review, thank them for their time and feedback to create a positive brand image.
The importance of verifying your GMB listing
Once you set up your GMB listing, it is important to ensure that it's verified. Verification is usually done by mail or via post. This verification step is important because it's what proves that you are the genuine owner of the business.  A pin number will be sent to you which you will enter on the verification page in order to complete the verification process.
A verified GMB listing comes with several advantages:
First, it enhances trust in your business and people are likely to consider you as a reputable law firm if your GMB page has been verified.
Once your GMB page is verified, you're able to make changes to ensure the page has updated information and that it stands out from the rest. You can change the images to higher resolution pictures in order to improve the way your GMB page looks.
When you move out to a new business premise, it is important to update your GMB listing so that the previous business no longer claims the space. Having a verified GMB page allows you to make these changes and avoid misinformation on the web.
With a verified listing, you are able to specify the category of your business. Google usually decides the category in which your business falls under based on the information you provide. It's best to specify your category so that you can get closer to finding the most relevant customers.
Google My Business Features That Can Help Lawyers
Google My Business Posts
Google Posts is a relatively new feature on Google My Business that allows you to share blog-type posts about your firm. With Google Posts, you can share news, upcoming events, and other recent information about your firm, and these will show up directly on search results.
To create a Google Post:
Log in to your My Business dashboard.
Go to 'Posts.'
Upload an image, text, or both to share a post or update.
You can maximize this feature to keep clients updated on your law firm's activities. Here are some examples of updates that people may want to know about:
Updates on new staff or partners
Current events like consultations and seminars
Links to articles and press coverage regarding your law firm
Updates on successful cases
Positive reviews from clients
Keeping your profile updated with regular activity is also a great way to let Google know that your business is well-managed and trustworthy.
Google My Business Messaging
Google My Business also has a messaging or chat feature. It's an easy way for clients and service providers to communicate with each other. Through the messaging feature, your clients can chat with you in real-time and you can answer their questions immediately.
Here's how it works:
Turn on 'chat' on your GMB profile. This will allow clients to see a chat button on your profile. They can now message you at any time for business inquiries or bookings.
The automated welcome messages sent to customers who message you are customizable. Change it to suit your law firm better.
Sharing photos of charts, e-flyers, etc. is allowed in-chat and is a useful feature to quickly inform clients about your services.
Google My Business Videos
You can also add videos to your GMB page. These videos will appear in search results and local listings and can help your business attract potential clients. You can create videos that promote your services or your brand to increase awareness, drive revenue, and keep clients updated.
Here's how you can add videos to your Google My Business account:
Log into your Google My Business account.
Click on 'Photos.'
On the top portion of the menu, click on 'Video.'
Select 'Post videos.'
Drag and drop a video file to upload a video.
As per Google's content guidelines, videos should be:
Relevant: Video visuals shouldn't be stock photos
Clear: No filters and unclear images
Composed of images and footage only: No drawings and other graphic elements
Composed of minimal text: No text is also preferable
As for the technical specifications, videos should follow these specifications:
Size: Up to 100MB
Resolution: 720p or higher
Length: Up to 30 seconds
Some great content ideas for videos are presentation videos for your services, explainer videos involving staff, processes, awards, and office tours.
Google My Business Questions & Answers
Users such as clients and potential clients can not only leave reviews and photos on your GMB page but also ask questions regarding your business. Make sure to answer all questions as much as possible. This will help Google see your business as even more of an authority figure on the subject matter.
Here's how:
Log into your Google My Business account.
In the right-hand sidebar, navigate to 'Questions & Answers.'
Click on 'See all questions (#)'
Pick a specific customer question and click on 'Answer.'
We recommend taking the time to answer with well-structured sentences instead of just keying in a simple 'yes' or 'no.' This will create a good impression among clients. You'll also have the opportunity to connect with them and inform them about your services.
However, if you come across spam or malicious questions, feel free to use the flag button. You can flag questions that are inappropriate, or convey hate and violence, spread incorrect information, or are just not relevant in general.
Google My Business Booking Button
To make it easier for clients to book appointments with you, you can manage bookings via Google My Business. You can choose one of Google's scheduling providers if you don't have a provider yet.
Here are the steps:
Sign in to Google My Business.
Open the location you wish to manage.
On the menu, click 'Bookings.' (If this tab is not available to you, it might mean that it's not available for your business category or region of business.)
Sign up with the provider of your choice (from this list).
Your booking account will be linked automatically to your GMB account in a week. You can then use it to schedule bookings via Google.
If you already have a provider:
This means that you're already eligible to receive bookings.
See your booking history via the 'Bookings' tab on GMB.
Fees may apply depending on the terms and conditions of your service provider.
Tips to optimize your GMB page
There are certain guidelines that you need to follow in order to optimize your GMB page.
To start with, make sure you follow Google's basic recommendations. For instance, the name of the business should be exactly how it's stated on the website and known to customers, don't add any unnecessary information.
Your address should also be very precise so that users can get your exact location. The website URL should be specific to the business location. Make sure you also select the right category. Choosing the right category can boost Google My Business SEO for lawyers.
This is because when you choose the right category, you communicate to both users and Google crawlers the kinds of services your law firm provides. Be as specific as possible when choosing a category. Nonetheless, we will discuss more of these strategies in-depth ahead.
Ensure That Business Details Are Accurate and Consistent (Contact, Location, Name)
Google Search favors relevant results that best match searchers' intent. This means that when you input details for your Google My Business account, make sure to encode detailed, accurate information about your business name, contact details, and location.
This will help search index your service better and match it to potential clients looking for a business like yours in their general location.
Also, ensure that your business name and your store signage name are identical. Remember how we discussed that Google verifies businesses in different ways? This is because they want to ensure that the businesses that rank on search are trustworthy. In short, they want to make sure that you have a legitimate business that exists in the real world, as stated online.
Otherwise, your business might be tagged and penalized if details don't match, as Google would consider this as spam.
Be meticulous about your other listings, too. Since Google scours the web for information about your business, make sure that all other listings you manage on different platforms have matching information.
As much as possible, have a consistent format for your address and other contact info (Ex. Settle if you want to use 'Street' or St.', 'Company' or 'Co.'). This is because Google's algorithm usually reads these inconsistencies and factors them in assessing your credibility online.
Add Your Official Business Website
Lead your clients to your official website to let them know more about your services. Not only will you earn client trust by having a legitimate, well-designed website, but you'll also allow Google to see that your business is trustworthy and is backed by a robust, (hopefully) SEO friendly website that it can use to provide users with more information regarding your business and field of expertise.
Add Accurate Opening Hours
A lot of users search Google for business hours, so it's incredibly important to put the correct opening and closing hours for your firm. It's also very important to update these hours every time they change, as much as possible. Indicate both regular and holiday hours to keep clients informed about when they should or should not visit your office.
Google allows businesses to adjust hours especially during holidays and special occasions. Keeping these details updated will add points to site accuracy and user-friendliness, and it won't take up too much of your time.
Add photos of your staff and your business
Google understands the importance of images. Google My Business show off your business, and the first thing you see is a prominent image at the top of their site when viewing your listing in search engine results pages (SERPs).
To the top left of the page is an option to "See photos". Clicking on this will reveal more details and images. A Google My Business profile will help people recognize your company and start to trust it.
In fact, Google points out that businesses with photos on their GMB listings receive:
42 percent more requests for driving directions on Google Maps and
35 percent more click-throughs to websites than those without.
Take many high-quality photos of your lawyers, meeting rooms, and reception area. Uploading an eye-catching photo to your Google My Business listing can help get you more leads and traffic. You can manage all of these things from "Photos."
It's important to keep these tips in mind when uploading a photo:
Include a Google My Business account with your law firm's logo and contact information: people want to see friendly faces when they reach out.
Make sure to include a logo on your profile as well, as it's all part of your branding.
All photos should be between 10KB and 5MB in size.
Photos must be at least 720px wide.
When you upload an image, it will be cropped to a 16:9 aspect ratio so make sure that the image you select has all necessary elements accessible.
Use picture files in JPG or PNG formats.
You could also create a 360-degree virtual tour of your office. This is ideal if people can't visit your office physically during certain times.
Write a captivating description
Your Google My Business description of your business is where you should give a summary of what you do and how your practice can help them. The keyword here is how – how does your practice help people? How does it make their lives better or easier?
The limit for character count on this page is 4,000 so choose the words wisely. Speak about your firm's practice areas, the results you've generated, and why your legal practice is different than others.
This will show up in search results and if you want to drive traffic through this page, it's vital that your description is compelling enough for someone to click on it. It also should use keywords, which we'll talk about next, to boost organic rankings and visibility.
Use SEO keywords
70% of marketers see SEO as more effective than PPC. It helps lawyers naturally attract clients and put their business in front of the right audience at the right time. One of the most important components of SEO is keyword research and placement.
You can find keyword ideas by using a tool like Google's Keyword Planner. Click "Keyword Planner" from "Tools." Then, select "Discover new keywords."

Enter a word or phrase related to your law firm and click "Get Results."
This will provide you with keyword ideas and search data. Ideally, you will target search terms that relate to your services like "Immigration lawyer."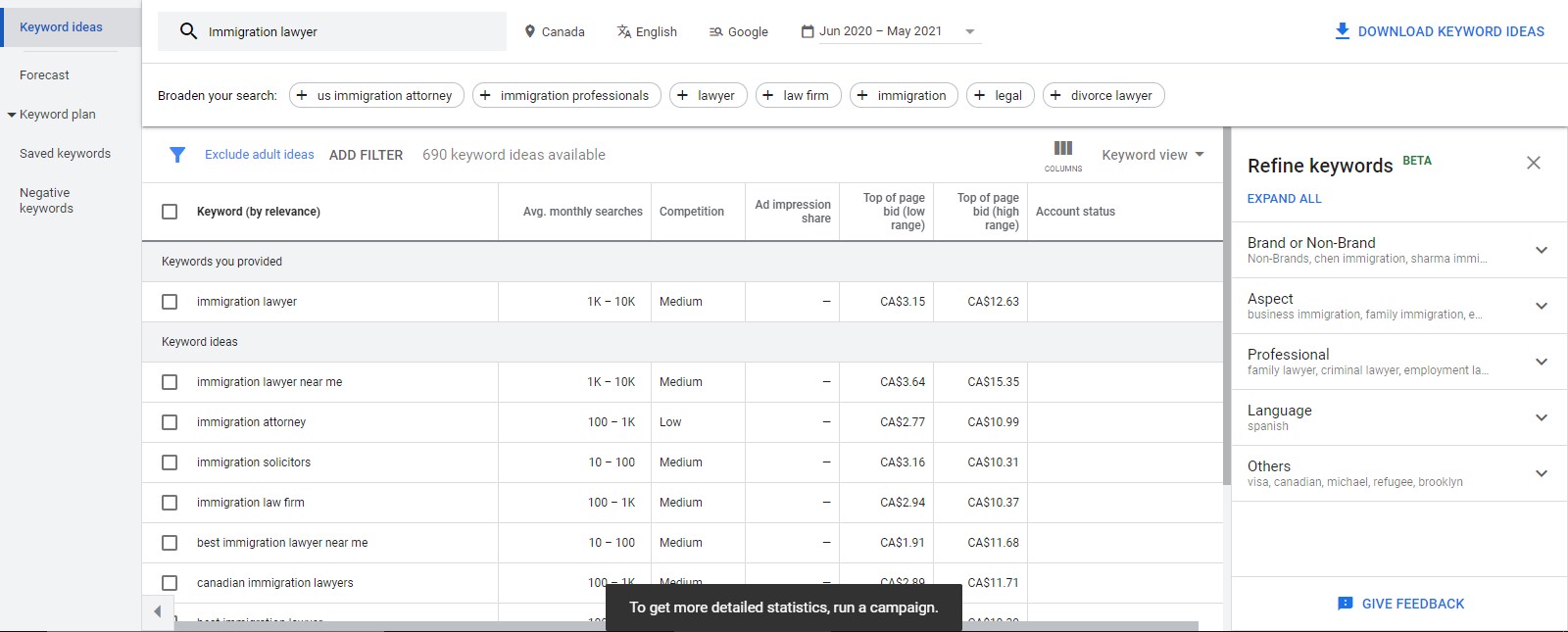 Export these or save them individually to add to your Google My Business profile. Keep in mind that you should not keyword stuff your listing. This is when a business overuse keywords with the goal of ranking. In fact, it can actually hurt your rankings to do so. It is also very important that you do not place them in the name of your business unless it's present on your website.
Post content on a regular basis
Google rewards businesses that use Google My Business on a regular basis to help customers and users. This is why it's important to take advantage of Google's Post feature. It allows you to share content, news, and updates that can be seen directly on Google when viewing your listing.
Click the "Post" option from the left sidebar and the blue plus button. You can then create a new post with different call to action options.
Here's more information about the different types of posts you can make.
What's New
This type of post should answer any questions potential customers have about what you offer. You can also use the posts to highlight anything new with your business, and they will automatically expire after 7 days. Regular posts about your business will make the site much more interesting for prospective customers.
Events
You can now promote your upcoming and current events directly on your Google listing in Search and on Maps. It's a great way to let customers and potential customers know what will be happening at your business. You'll need to set the time frame for designation of day, month or longer for each event.
Take advantage of messaging to connect with leads
This tab is also an app. It allows for customers to send you private messages, similarly to texts, from their phone or desktop. This means that they can respond more quickly when working in the office and ensure better grammar by typing on a keyboard rather than a touchscreen interface. In fact, 79% of consumers prefer live chats because they offer instant responses.
The flexibility that comes with multiple platforms also ensures you're able to interact more easily with customers, as well as ensuring they receive a speedy response time. If you want your profile to stay incomplete, then feel free not to use this feature.
To get started, however, click "Messages" and "Turn on messaging."
You will then receive a notification that messaging has been enabled.
You will be able to manage and respond to messages on the same tab after it's enabled. We understand that not everyone can answer text messages from people all day via Google all the time, and we hope Google also understands this is a feature you should have the option to set up an automatic response for.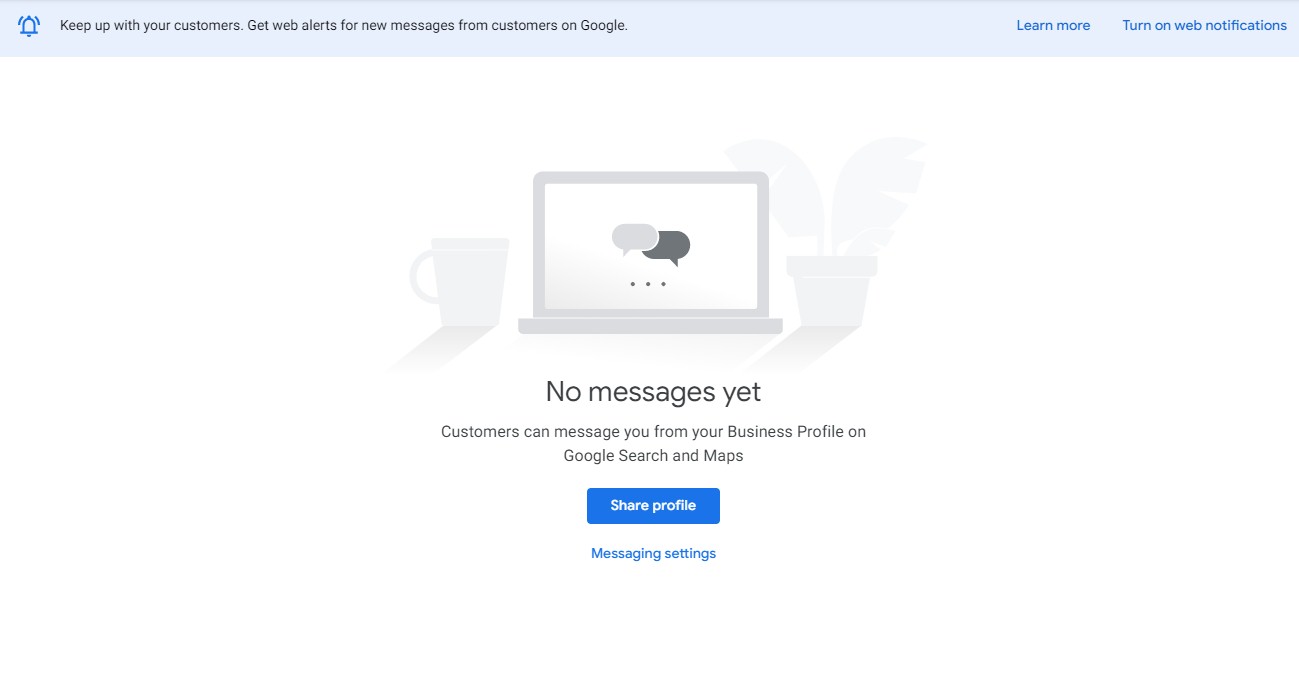 Link In Your Other Marketing Efforts
Maximizing Google My Business as a platform can help improve your overall marketing strategy, especially if you work on optimizing your GMB profile so that it ranks high on search results. Make it a point to include the upkeep and maintenance of your GMB profile as part of your overall marketing strategy.
It should always be treated as an active channel where you can generate leads and connect with clients, much like social media. The best thing about GMB is that it's generally free and allows nearby clients to find you easily on search and maps! This means that the more traffic you get on your profile and website, you can ideally improve your return on investment as well.
Use Insights to Improve Your Performance
Insights are extremely helpful because they show you how users find your listing online. Given that most Google My Business users either find you through Search or Maps, Insight gives you a peek into views, searches, and actions from organic search that will help you understand your target market or audience better.
Common Mistakes to Avoid
GMB is a fairly nuanced and feature-rich system – which means that there's a great deal of bad advice and common mistakes surrounding it. Here's a quick primer on what to stay clear of, to keep your firm's GMB listing in top shape:
Spammy Business Names
It's a no-no to try to improve your SEO by using an inaccurate business name just so you can include keywords in the hopes of ranking on search. Having a different business name is a violation of Google's guidelines and may incur penalties.
Make sure that you use the same name (including formatting and abbreviations) across all profiles online and offline, and even on your business signage.
Unclaimed Listings
Not claiming your business listing on Google will limit the functions that you can perform on your profile. For instance, you cannot directly edit important information such as contact details, business hours, and website URL.
You also can't reply to reviews and post updates. Generally, it's best to claim your listing right away and populate it with clear, accurate information.
Missing or Incorrect Information
If your listing is lacking vital information or has incorrect information, it will be difficult for your customers to connect with you or know when and where to contact you or visit your office.
Furthermore, you're telling Google that your business is poorly managed (at least online) and its algorithm might bypass your business in favor of another firm with more updated, accurate information.
No Photos
Another common mistake is not uploading photos onto your GMB profile. This might lead Google to scour the internet for an unrelated photo from the wrong business, not to mention that it might be confusing or off-putting to clients.
It's generally a good practice to post five or more photos of your building or office (exterior and interior) as well as photos of the office with staff. The goal is to create a good impression about your business and familiarize them with how your office or building looks.
Wrong Map Pins
Another often overlooked detail is map pins. Since a lot of people use GPS, it's always good to double-check if your business location is pinned correctly. This way, your pins won't confuse first-time clients or give the impression that you might have already transferred or closed down.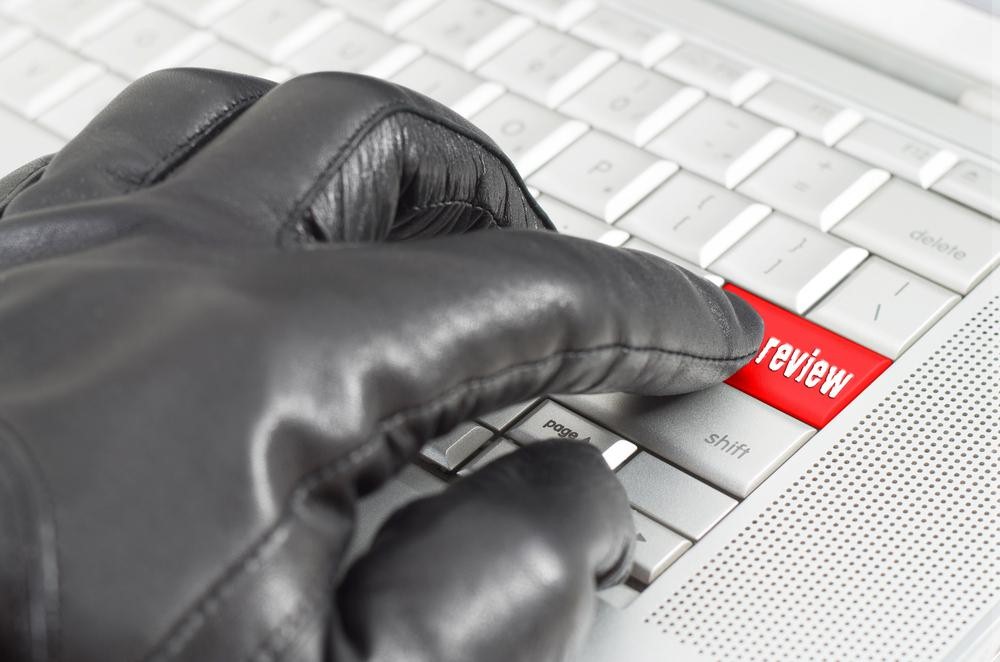 Solicited or Fake Reviews
Incentivizing or paying users in any way, shape, or form, so that they leave positive reviews is a violation of Google's guidelines. If found out, this may result in penalties or being removed from search results entirely.
No Reviews
Reviews are one of the top-ranking factors for search. If your profile has no reviews, it creates an air of distrust among potential customers, not to mention that you won't be visible on search.
To remedy this, get in the habit of asking clients to leave reviews by encouraging honest feedback. You can do this in person after a transaction, via email, or over the phone.
What if you have multiple locations?
If your law firm has multiple locations, make sure you only have one listing per location. Each location needs to have a unique phone number. However, the name and category of the business listing should remain the same. Do not add the city on the business name.
Why you need to get rid of duplicate listings
If you notice that your local business has more than one GMB listing for one location or phone number you need to remove this duplicate. Getting rid of duplicates is the first step. If you have duplicates, they often end up outranking each other. This means that the listing that has an outdated address or phone number can get the highest rank. This eventually misleads consumers causing you to lose so much business.
Additionally, customers will review different listings causing you to have 30 reviews distributed amongst several listings instead of having them on one profile and helping you build your reputation. Some of the duplicate listings have bad data that can show up on search and kill your local SEO efforts. Furthermore, managing duplicate listings is somewhat confusing. You can make changes to the wrong listings and outdated information would keep on showing on search.
How to remove duplicate listings
First and foremost, perform a thorough check on Google to see if you already have an existing GMB page set up. Open your Google Maps and search for your business name and phone number. If you find a few duplicate listings, pick the strongest one and find out if there are reviews on the listing which you will need to move. You may need to contact GMB support to remove the listing or merge both listings for you if need be.
If you need help with Google My Business SEO for lawyers, we're always ready to assist. We can help you to optimize your GMB listing in order to get the most of local search results.
Do Random People Have the Authority to Make Changes to My Google My Business Listing?
Yes, anyone can suggest adjustments or edit your listing. This is probably because Google does not want businesses to make false claims about their businesses. Hence, clients can suggest changes for transparency.
The best solution to this is for business owners to regularly check their GMB profile to make edits if there are fraudulent claims or incorrect details on their profile.
Can I Get Fake Google My Business Reviews Removed?
Yes, Google allows businesses to remove unwanted reviews through the following means:
By asking the author to remove the review
By flagging the review for Google's investigation
Through taking legal action against the reviewer
With the use of SEO and Online Reputation Management
What to Do if Someone Else Has Claimed Your Business?
It might be confusing or alarming if this happens to you, but luckily Google has a specific set of instructions that you can follow to request ownership and control of your business.
The tough part is that you'll need to find out who owns the current listing. Then, you can submit a transfer of ownership request to Google. Here are the instructions.
Final thoughts on Google My Business for lawyers
Google's organic search is one of the most widely used channels to find attorneys and receive answers to legal questions. As a law firm, you can create a Google My Business profile to increase your online visibility, generate leads, and surpass the competition.
Take the first step by creating a Google My Business listing for free. Fill out all of the necessary information, choose relevant categories, and verify the listing once it's complete. It should be optimized for your practice areas and location to maximize its return on investment.
Use Google's post feature to share content, news, and updates. Publish photos and videos that help people learn about your practice, team and how to navigate to your location.
It's also essential to optimize your Google My Business profile for SEO keywords. Using a tool like SEMrush, Ahrefs, or Ubersuggest, find search terms related to your firm's location and services. Place these throughout your profile to improve your visibility for them.
If you need help improving your organic rankings and generating leads through your Google My Business profile. schedule a free consultation with dNovo Group today.