SEO & Web Design For Bolton Dental Practice
Smiles On Queen Dentistry
Smile on Queens Dentistry is a brand new clinic that brings high-quality dental and cosmetic services to the residents of Bolton and Caledon.
dNovo Group was selected to provide digital marketing services and aid in kick-starting the firm's branding through implementing a complete 360° online marketing campaign.
dNovo Group was tasked with creating a new brand identity from scratch for a newly established business in a new location. It was paramount to ensure that all aspects of digital marketing were addressed.
Additionally, the goal was to establish a strong online presence that converts website visitors into potential clients. Reputation and trust are key to the success of any business, yet alone a dental office, thus showcasing credentials and customer satisfaction was essential.
To create an effective marketing campaign which generates leads, we incorporated a turnkey approach. A strong digital marketing presence which builds online awareness and increases client flow requires clear industry understanding and strategy.
A wide range of elements such as web design, SEO, social media, paid search and more, in addition to industry-specific know how, are used to achieve online lead generation. It is key to address each individual element of the digital marketing chain, in order to achieve the most ROI in our efforts.
Website is the first impression and dictates the impact of online presence. Our initial objective was to create a comprehensive web design that is secure, responsive and captivating. By using the latest industry trends we developed a logo and a custom website that is family oriented, user-friendly and reflects professionalism of Smiles on Queen Dentistry.
It is important to demonstrate service quality and educate potential clients about relevant procedures offered by the clinic. Creating the right type of content is key, since it aid in converting website visitors into patients. The more complex a procedure the more information you want to provide.
We therefore focused on image optimization as well as creating an in depth FAQ section on the website.
Part 1: Organic Traffic Generation
On-Page SEO
On- Page SEO focuses on the correct optimization of the website structure, its content, images as well as the coding of the site, in order to appeal to the Search Engines. By addressing these elements for the website as a whole, and more specifically service pages, the site becomes better suited for showing up under search results. This process also addressed images, mobile friendliness and speed of the site.
For Smiles on Queen Dentistry the main target was to display meaningful and informative content with keyword research and lead generation in mind.
Off- Page SEO
Off-page SEO, the part of optimization process that has to do with matters that are not on the website itself, is necessary to create exposure, showcase credentials and build a reputation. Link building and generating brand mentions among other strategies allows to create interest and boost trustworthiness.
There is a lot more to attracting potential customers than just website and content. Incorporating off-page SEO allows a firm to maximize customer acquisition, thus achieve business goals more efficiently. By demonstrating to Google the numbers and quality of websites that are featuring and linking back to our target site, we increase its relevance and organic positions.
Part 2: Local SEO and customer feedback
Local SEO and customer feedback are essential, especially for a community and family oriented business like Smiles on Queen.
By using tools like Google My Business, it's possible to do two things at once, target your local clientele as well as improve your brand.
As the clinic is new, we implemented various client outreach strategies to generate positive reviews across multiple platforms. Establishing communication channels influences business reputation, by targeting multiple aspects of off-page SEO we significantly increased website traffic and conversion rate.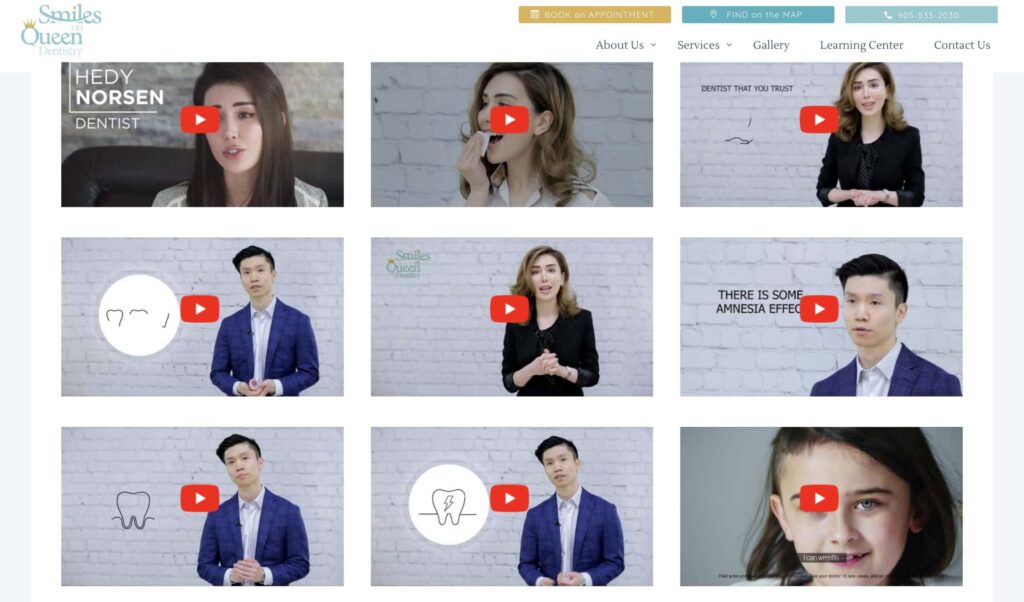 Part 3: Photo and video production
Converting visitors into patients in the medical industry requires trust and reliability. Our goal was to showcase the core principles and expert services provided by Smiles on Queen Dentistry.
Through photo and video production we give the opportunity to get to know the people and the values behind the business. We created video series that address different aspects of the related medical field and inform prospective patients about relevant procedures and services.
To further promote the clinic, we demonstrated the before and after results of the provided services.
Part 4: Social Media
Social media is crucial to a successful online marketing plan. Consistent interaction through various channels combined with authoritative SEO helps reach a larger audience and reinforces brand reputation. It is also an effective tool in generating traffic and links, which leads to more potential clients.
Part 5: Ongoing
Medical SEO requires the full 360° approach. Combining different digital marketing strategies to target all areas of online branding is only part of the process. Maintaining leading positions and continuously monitoring campaign performance is integral to the long-term success.
The team at dNovo Group constantly innovates and stays on top of industry trends. We continue to fine-tune our efforts and improve your brand to attract customers and grow your online presence.